Porsche Subsidiary MHP Expands its Management
Frank Dettke takes over Finance Department
Stuttgart. On October 1, 2008 Frank Dettke (45) will be taking on the newly-created position of Chief Financial Officer in the management and IT consulting enterprise MHP, (Mieschke Hofmann und Partner Gesellschaft für Management- und IT-Beratung mbH), Freiberg am Neckar. At the same time Dr. Ralf Hofmann (45) Managing Partner and until now sole Managing Director of MHP, will be appointed Chairman. In future he will be responsible for operational business, sales and marketing and human resources, as well as the strategic development of the enterprise, in which Dr. Ing. h.c. F. Porsche AG, Stuttgart, holds a 74.8 percent interest.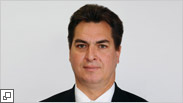 In Frank Dettke, a native of Hanover, MHP has gained a finance expert with broad international experience, combined with a detailed knowledge of both the VW and Porsche Groups. After studying business administration at the Lüneburg university of applied sciences, Dettke acted in various managerial capacities in Volkswagen AG between 1991 and 1997. In 1997 he was appointed Director of Controlling and Finances of VW Finance Japan in Tokyo. In 2000, he went to Porsche Japan K.K. as Chief Financial Officer. Since 2004 he has been Managing Director of Porsche Business Services Inc., Wilmington/Delaware, USA.
Just now MHP is the sports car manufacturer's fastest-growing subsidiary. It has an annual turnover around 60 million Euros at present and in the course of the last business year its workforce expanded to over 400 employees.
GO
Please note: Photographic material on Frank Dettke is available to accredited journalists from the Porsche Press Database at the Internet address http://presse.porsche.de/
06.08.2008