Dr. Wolfgang Porsche 'christens' endangered imperial eagle chicks
Nature Conservationists Praise Commitment of the Chairman of the Supervisory Board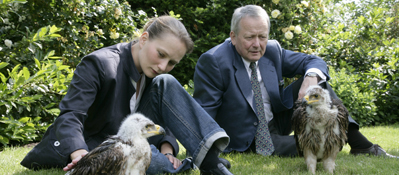 Stuttgart. Today Dr. Wolfgang Porsche, Chairman of the Advisory Board of Dr. Ing. h.c. F. Porsche AG, Stuttgart, and his daughter Stephanie 'christened' two imperial eagle chicks in Stuttgart, naming them Asta and Artus. The two young birds of the species aquila heliaca, which is threatened worldwide with extinction, hatched six weeks ago in Greifvogelpark Hellenthal, falconer Horst Niesters' sanctuary park for birds of prey in the Eifel region. This successful hatching is regarded as a sensation in expert circles.
Dr. Porsche was chosen as 'godparent' to the imperial eagle babies on the initiative of the International Council for Game and Wildlife Conservation (CIC). "With this gesture, we should like to say 'thank you' to Dr. Porsche for his many years of great personal commitment to the international protection of species and to the sustainable use of nature", said Dieter Schramm, President of the CIC.
"If we wish to bequeath an intact ecological heritage to following generations, we must be more careful with nature and our environment. A reckless or indifferent attitude to flora and fauna leads to damage which can never be made good. This is why the protection of endangered species is especially close to my heart", said Dr. Wolfgang Porsche.
The young imperial eagles, who as adult birds will attain a wingspan of two meters, will continue to live in the Hellenthal sanctuary park in future.
GO
12.06.2008