Adrian Sutil enthusiastic about the 911 TurboFormula 1 pilot tests Porsche
Stuttgart. Race drivers love sporty cars. Formula 1 pilot Adrian Sutil is particularly enthusiastic about the Porsche 911 Turbo. During a two-week test drive, the 25-year-old motorsport professional, who competes for the Formula 1 Force India squad, put the 480 hp sports car from Zuffenhausen through its paces, above all the driving dynamics.
"I have always wanted to drive a Porsche 911 Turbo. And the car has surpassed all my expectations by far," concluded Adrian Sutil. "I was particularly impressed with the massive torque of the Turbo engine and the excellent handling at high speed. The car is easy to drive fast and is very comfortable over long distances." The Formula 1 pilot also praised the Porsche Ceramic Composite Brake (PCCB) in the Guards-red test car: "The deceleration is immense and above all constant. I only know such great brakes from race cars."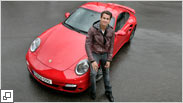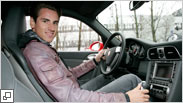 Ex-factory, the Porsche 911 Turbo features all-wheel-drive with an electromagnetically controlled multiple plate clutch. With its six-speed manual gearbox, the 911 Turbo takes just 3.9 seconds for the sprint from 0 to 100 kph. Top speed is 310 kph.
GO
30.04.2008