Bose Automotive GmbH named as Porsche Supplier of the Year
Stuttgart sports car manufacturer announces "Supplier Awards 2008"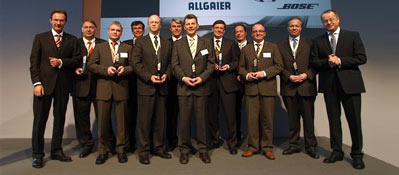 Stuttgart. Dr. Ing. h.c. F. Porsche AG, Stuttgart, named Bose Automotive GmbH as Supplier of the Year yesterday evening at the Development Center in Weissach. The Esslingen-based company has been working with the Stuttgart sports car manufacturer and making an impression, particularly with its outstanding achievements in the development and manufacture of sound systems for all vehicles in the sports car manufacturer's range, since 2001.
Dr. Wendelin Wiedeking, Chairman of the Porsche AG Executive Board, pointed out to about 300 guests that the Porsche success story could not be imagined without efficient and reliable suppliers: "Our suppliers have a very special responsibility, not least because of the fact that, with an average of 15 percent, Porsche has the lowest real net output ratio in the entire automotive sector", declared the head of Porsche. The sports car manufacturer said that this is why he expects not only the highest quality standards but also strict observance of deadlines from his suppliers. "The best of them are the yardstick for all the others" Wiedeking stressed.
Nine other suppliers besides Bose received awards: Allgaier-Werke GmbH (Uhingen), Automotive Group ISE GmbH (Bergneustadt), Bridgestone Europe NV/SA (Zaventem/Belgium), Eisenmann GmbH Exhaust Systems (Hemmingen), Emcon Technologies Germany GmbH (Augsburg), Küster Automotive Door Systems GmbH (Ehringshausen), LUK GmbH & Co. OHG (Brühl), Werner Bayer GmbH Maschinenfabrik (Esslingen) and TAT Express GmbH (Entzheim/France).
GO
04.04.2008