Federico Magno new Managing Director of Porsche Consulting Italia
Market with Great Potential
Stuttgart/Milan. Federico Magno (35) has been appointed as new Managing Director of Porsche Consulting Italia S.r.l., Milan. He had already been in charge of business operations since the founding of this subsidiary in November 2006, with overall responsibility then resting with Eberhard Weiblen, Managing Director of Porsche Consulting GmbH, Bietigheim-Bissingen, Germany.
Magno is an Italian national and has studied business administration at the Universities of Milan and Berkeley, USA. Following three months as a trainee with Double Impact Consulting in San Francisco, he joined Porsche Consulting as a consultant in January 2000. He was appointed Area Manager in 2006. The customers of Porsche Consulting Italia S.r.l., which at present has a team of 14 employees, include well-known companies in the aircraft, commercial vehicles and automotive industries. The consulting enterprise sees considerable additional potential in the Italian market. The aim is to generate ten per cent of Porsche Consulting's total turnover in Italy.
Porsche Consulting was created in 1994 as a result of the successful restructuring process of the Stuttgart sports car maker. It focuses on the basic concept of lean enterprises without waste of resources. Its consultants are characterized by their practical approach. In the business year 2006/07 (July 31), Porsche Consulting employed a workforce of 172 and achieved a turnover of 45.8 million Euros.
GO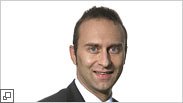 15.02.2008