Christian Marti is new CEO of Porsche Cars Canada
15 years of experience with premium brands
Stuttgart/Toronto. With the founding of an independent subsidiary in Canada, Dr. Ing. h.c. F. Porsche AG, Stuttgart, will be even better able to meet the special sales, marketing and service requirements of the North American market. From April Christian Marti, (41) is taking on the newly-created position of Chief Executive Officer of Porsche Cars Canada.
Marti, who is changing to Porsche from Jaguar France, has extensive international experience in the automotive industry. He has worked for more than 15 years for various premium brands in locations that include Germany, Austria, France and China. Under the leadership of the German manager, Porsche will be on course to further exploit its growth potential in Canada.
In the business year 2006/2007 (July 31, 2007), Porsche delivered 1,885 vehicles in Canada. During the first six months of the current business year, the 12 Canadian dealers have already handed over 14 per cent more vehicles to customers than in the equivalent period of the previous year. Peter Schwarzenbauer, Chief Executive Officer of Porsche Cars North America, said at the Toronto Auto Show: "With Christian Marti at the head of our sales organization in Canada, we shall be able to provide an even better service both for Porsche customers and for dealers, thus giving our growth even more momentum."
GO
Please note: Photographic material on Christian Marti is available to accredited journalists from the Porsche press database at the Internet address http://presse.porsche.de/.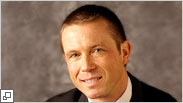 13.02.2008