Hybrid Drive on the Porsche PanameraGran Turismo Particularly Fuel-Efficient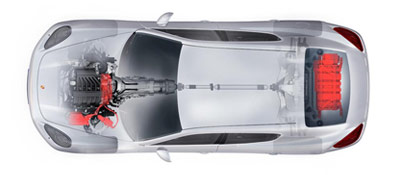 Stuttgart. Dr. Ing. h. c. F. Porsche AG, Stuttgart, will also be building a hybrid drive version of the new Panamera. This four-door Gran Turismo with sporting driving dynamics so typical of Porsche will boast the proven components featured in the Cayenne Hybrid entering the market at the end of the decade. And thanks to its newly developed full parallel hybrid, Porsche's Sports Utility will offer average fuel consumption of less than 9 litres/100 kilometres.
The new Porsche Panamera will be the first four-door sports model to feature particularly fuel-efficient full parallel hybrid technology. At the same time the Panamera will also benefit from the experience then gained by the Porsche Cayenne as a pioneer in hybrid drive.
The newly developed full parallel hybrid system will consist primarily of the battery unit positioned in the luggage compartment, the power electronics, and the hybrid module between the engine and transmission comprising an additional clutch and the electric motor. Depending on driving conditions, the hybrid module is able to disengage either the combustion engine or the electric motor, or to combine both drive systems as one joint power unit. Hence, the Panamera may be driven in a number of different modes ranging from all-electric drive absolutely free of emissions all the way to the sporting style of motoring so typical of a Porsche.
The fourth model series coming from the sports car manufacturer in Stuttgart also boasts other striking features, the wide and low body offering dynamic proportions and muscular design for an outstandingly sporting and at the same time compact overall look.The space available inside the car offers a brand-new experience of roominess. The two sporting and comfortable single seats at the rear will allow adults to relax with surprisingly generous headroom, in full comfort and, if they wish, with all the performance and speed of a genuine Gran Turismo.
Sitting in the elegant and modern cockpit with its high-quality materials, the driver will enjoy all the sporting and unmistakable driving dynamics so typical of every Porsche. The new Panamera Gran Turismo will be making its world debut in 2009 and will be introduced initially with proven drive concepts. The hybrid version will follow later, depending on market requirements.
GO
Note: A technical illustration of the new Porsche Panamera Hybrid including a full view of the car's systems is available to accredited journalists in the Porsche Press Database at http://presse.porsche.de/.
07.01.2008