DHL Global Mail main sponsor for Porsche customer team
Customer sports: Prototype for the American Le Mans Series (ALMS)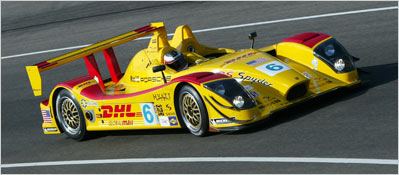 Stuttgart. At its premiere on the circuit of Laguna Seca (USA) on 15th October, the Porsche sports prototype RS Spyder, will fly the corporate colours of the new main sponsor DHL Global Mail. This was announced today by the global logistics provider and Porsche Cars North America.
DHL Global Mail – a wholly-owned subsidiary of Deutsche Post World Net – will also partner Penske Motorsports as main sponsor for the entire 2006 racing season. The famed American team initially runs the Porsche in-house developed RS Spyder at the Laguna Seca race with drivers Lucas Luhr (Monaco) and Sascha Maassen (Belgium). For the 2006 season, Penske Motorsports, as Porsche's exclusive customer and development partner, enters two RS Spyder racers for all rounds of the American Le Mans Series (ALMS).
Commissioned by Porsche Cars North America, Dr. Ing. h.c. F. Porsche AG, Stuttgart, de-veloped the RS Spyder for racing customer contesting the American Le Mans Series. Thanks to an integrated light-weight concept, the sports prototype, powered by a new 3.4-litre V8 endurance racing engine delivering 480 horsepower, weighs in at exactly the stipulated minimum weight of 750 kilograms.
GO
Note: Photos of the RS Spyder are available to accredited journalists on the Porsche Press Database at http://presse.porsche.de/.
06.10.2005