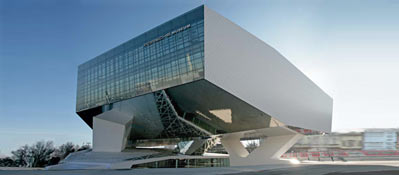 If you're curious and would like to know more about our Porsche magazine, you'll find selected articles here for you to read as a sample.
We hope you enjoy reading them – and if you want to read more, you can apply for subscription to 'Christophorus' online now.
Take a Look, The Future from Above
We zoom in closer. Europe, Germany, Stuttgart, Zuffenhausen, Porscheplatz. Welcome from above the new Porsche Museum. The dynamically shaped, monolithic structure in unadulterated white lies below us, appearing to float above the ground. It stands out — from every point of view. A futuristic edifice. Across the street are the Porsche headquarters (in photo below), and diagonally opposite the new 911s roll off the assembly line at the Werk 1 plant. The future is taking shape here — and yet this most spectacular building is supposed to house the past? One thing is clear: any company that gives its history a home like this has nothing to hide. On the contrary. Past and future united in such harmony are only rarely found in this world. We continue our search. Porscheplatz, Zuffenhausen, Stuttgart, Germany, Europe…
다운로드 PDF/ 264 KB
Floating Asset
Porsche has opened a house of treasures, but that's not all — the new museum adds another architectural attraction to Stuttgart. Not only the contents but also the packaging is spectacular.
다운로드 PDF/ 415 KB
Insights
Every tour a delight: All those who enter the all-encompassing white of the Porsche Museum will have their own unique views and insights. But everywhere the common feature is motion.
다운로드 PDF/ 379 KB
"Encountering Porsche Anew"
Achim Stejskal, manager of the new museum, talks about a building that exudes incredible power and a place where the past comes alive. The magic of history.
다운로드 PDF/ 57 KB
Patron Saint of Gourmands
All this history whets the appetite: A very special restaurant opens in a superb museum. Readers of the Porsche magazine will find it easy to remember the name — "Christophorus."
다운로드 PDF/ 45 KB
Grand Plan
The "Porsche idea" runs like a lane marker through every aspect of the museum — accompanied by a historical timeline. We provide an overview of the complete exhibit and its services.
다운로드 PDF/ 54 KB
Unveiled
Selecting the best exhibit in the Porsche Museum is impossible — there are too many extraordinary candidates. But 12 cars with special stories have been chosen to represent 80 outstanding vehicles.
다운로드 PDF/ 240 KB
At First Glance
The Type 64 is the original Porsche, containing all the sports car genes still evident today. Its vehicle body stands at the start of the exhibition — the result of a remarkable reconstruction.
다운로드 PDF/ 374 KB
Passion in Two Volumes
Available at the counter: Two impressive volumes on automobiles and architecture have been published by Piper to mark the opening of the new museum: Passion Porsche and Perspektive Porsche.
다운로드 PDF/ 82 KB
Spanish Eyes
The new Cayman and the Spanish city of Seville — both are made for passionate relationships. This issue's trip report chronicles a fiery encounter.
다운로드 PDF/ 486 KB