FORMULA 1 GRAN PREMIO DE ESPAÑA 2017, Catalunya (Rounds 1+2)
Overall result
| POS | NO | DRIVER | ENTRANT | LAPS | TIME | GAP | KPH | BEST | LAP |
| --- | --- | --- | --- | --- | --- | --- | --- | --- | --- |
| 1 | 1 | M. AMMERMUELLER | Lechner MSG Racing Team | 14 | 27:36.212 | | 141.381 | 1:51.760 | 4 |
| 2 | 4 | D. OLSEN | Walter Lechner Racing Team | 14 | 27:46.654 | 10.442 | 140.496 | 1:53.051 | 7 |
| 3 | 2 | D. CAMMISH | Lechner MSG Racing Team | 14 | 27:47.983 | 11.771 | 140.384 | 1:53.029 | 5 |
| 4 | 11 | R. LUKAS | Olimp Racing | 14 | 27:48.691 | 12.479 | 140.324 | 1:53.202 | 6 |
| 5 | 7 | M. CAMPBELL | FACH AUTO TECH | 14 | 27:48.990 | 12.778 | 140.299 | 1:52.852 | 10 |
| 6 | 5 | J. WEBSTER | FACH AUTO TECH | 14 | 27:50.940 | 14.728 | 140.135 | 1:53.286 | 8 |
| 7 | 28 | M. DRUDI | Dinamic Motorsport | 14 | 27:51.513 | 15.301 | 140.087 | 1:53.311 | 11 |
| 8 | 24 | D. PEREIRA | Lechner Racing Middle East | 14 | 27:52.592 | 16.380 | 139.997 | 1:53.271 | 5 |
| 9 | 15 | Z. ASHKANANI | MRS GT-Racing | 14 | 27:53.537 | 17.325 | 139.918 | 1:52.662 | 8 |
| 10 | 30 | T. OLIPHANT | Lechner Racing Middle East | 14 | 27:55.418 | 19.206 | 139.761 | 1:53.345 | 11 |
| 11 | 29 | D. DI AMATO | Dinamic Motorsport | 14 | 28:00.543 | 24.331 | 139.334 | 1:53.766 | 5 |
| 12 | 12 | I. WALILKO | Olimp Racing | 14 | 28:03.339 | 27.127 | 139.103 | 1:53.891 | 6 |
| 13 | 21 | P. REES | MOMO-Megatron Team PARTRAX | 14 | 28:04.282 | 28.070 | 139.025 | 1:54.082 | 12 |
| 14 | 18 | S. PALETTE | Martinet by Almeras | 14 | 28:06.188 | 29.976 | 138.868 | 1:54.226 | 8 |
| 15 | 19 | P. MORIN | Martinet by Almeras | 14 | 28:10.133 | 33.921 | 138.544 | 1:54.552 | 9 |
| 16 | 14 | M. PEDERSEN | MRS GT-Racing | 14 | 28:10.867 | 34.655 | 138.484 | 1:54.010 | 8 |
| 17 | 23 | E. PERFETTI | MOMO-Megatron Team PARTRAX | 14 | 28:11.457 | 35.245 | 138.435 | 1:54.244 | 8 |
| 18 | 9 | C. BAUER | FOERCH Racing by Lukas Motorsport | 14 | 28:11.664 | 35.452 | 138.418 | 1:54.487 | 10 |
| 19 | 25 | F. AL ZUBAIR | Lechner Racing Middle East | 14 | 28:11.868 | 35.656 | 138.402 | 1:54.091 | 7 |
| 20 | 26 | T. SHARP | IDL Racing | 14 | 28:15.993 | 39.781 | 138.065 | 1:54.566 | 9 |
| 21 | 3 | R. CULLEN | Walter Lechner Racing Team | 14 | 28:19.559 | 43.347 | 137.775 | 1:53.838 | 8 |
| 22 | 16 | R. LINDLAND * | MRS Cup-Racing | 14 | 28:20.358 | 44.146 | 137.711 | 1:53.949 | 8 |
| 23 | 8 | S. CREEL | FOERCH Racing by Lukas Motorsport | 14 | 28:21.074 | 44.862 | 137.653 | 1:54.951 | 9 |
| 24 | 20 | R. BERVILLE | Martinet by Almeras | 14 | 28:23.229 | 47.017 | 137.479 | 1:55.151 | 7 |
| 25 | 6 | G. SOLIERI | FACH AUTO TECH | 14 | 28:27.264 | 51.052 | 137.154 | 1:55.427 | 7 |
| 26 | 27 | M. RADCLIFFE | IDL Racing | 14 | 28:37.179 | 60.967 | 136.362 | 1:55.938 | 9 |
| 27 | 31 | K. KOBAYASHI | MRS Cup-Racing | 14 | 28:42.005 | 65.793 | 135.980 | 1:56.497 | 8 |
| 28 | 17 | C. LANGER | MRS Cup-Racing | 14 | 28:49.641 | 73.429 | 135.379 | 1:54.813 | 7 |
| Not classified | | | | | | | | | |
| - | 10 | P. PARYS | Olimp Racing | 3 | 7:12.286 | DNF | 115.248 | 2:36.473 | 2 |
| - | 34 | G. BERTON | Dinamic Motorsport | 0 | | DNF | | | |
| - | 22 | N. RINDLISBACHER | MOMO-Megatron Team PARTRAX | 0 | | DNS | | | |
| Fastest Lap | | | | | | | | | |
| - | 1 | M. AMMERMUELLER | Lechner MSG Racing Team | | | | 149.946 | 1:51.760 | 4 |
| | | | | | . | | | | |
| POS | NO | DRIVER | ENTRANT | LAPS | TIME | GAP | KPH | BEST | LAP |
| --- | --- | --- | --- | --- | --- | --- | --- | --- | --- |
| 1 | 1 | M. AMMERMUELLER | Lechner MSG Racing Team | 14 | 26:26.850 | | 147.561 | 1:52.503 | 5 |
| 2 | 4 | D. OLSEN | Walter Lechner Racing Team | 14 | 26:27.292 | 0.442 | 147.520 | 1:52.301 | 7 |
| 3 | 7 | M. CAMPBELL | FACH AUTO TECH | 14 | 26:29.206 | 2.356 | 147.342 | 1:52.682 | 9 |
| 4 | 2 | D. CAMMISH | Lechner MSG Racing Team | 14 | 26:33.215 | 6.365 | 146.972 | 1:53.024 | 4 |
| 5 | 24 | D. PEREIRA | Lechner Racing Middle East | 14 | 26:36.381 | 9.531 | 146.680 | 1:52.764 | 7 |
| 6 | 30 | T. OLIPHANT | Lechner Racing Middle East | 14 | 26:38.675 | 11.825 | 146.470 | 1:53.034 | 3 |
| 7 | 19 | P. MORIN | Martinet by Almeras | 14 | 26:40.825 | 13.975 | 146.273 | 1:52.952 | 9 |
| 8 | 29 | D. DI AMATO | Dinamic Motorsport | 14 | 26:42.283 | 15.433 | 146.140 | 1:53.186 | 5 |
| 9 | 11 | R. LUKAS | Olimp Racing | 14 | 26:42.671 | 15.821 | 146.105 | 1:53.159 | 8 |
| 10 | 18 | S. PALETTE | Martinet by Almeras | 14 | 26:44.712 | 17.862 | 145.919 | 1:53.349 | 6 |
| 11 | 21 | P. REES | MOMO-Megatron Team PARTRAX | 14 | 26:44.850 | 18.000 | 145.906 | 1:53.353 | 6 |
| 12 | 14 | M. PEDERSEN | MRS GT-Racing | 14 | 26:44.957 | 18.107 | 145.896 | 1:53.309 | 6 |
| 13 | 25 | F. AL ZUBAIR | Lechner Racing Middle East | 14 | 26:48.843 | 21.993 | 145.544 | 1:53.469 | 10 |
| 14 | 26 | T. SHARP | IDL Racing | 14 | 26:52.763 | 25.913 | 145.190 | 1:53.934 | 6 |
| 15 | 16 | R. LINDLAND | MRS Cup-Racing | 14 | 26:53.200 | 26.350 | 145.151 | 1:53.309 | 4 |
| 16 | 3 | R. CULLEN | Walter Lechner Racing Team | 14 | 26:54.241 | 27.391 | 145.057 | 1:52.984 | 6 |
| 17 | 9 | C. BAUER | FOERCH Racing by Lukas Motorsport | 14 | 26:55.363 | 28.513 | 144.957 | 1:53.534 | 3 |
| DQ | 12 | I. WALILKO * | Olimp Racing | 14 | 26:56.736 | 29.886 | 144.834 | 1:53.004 | 5 |
| 18 | 10 | P. PARYS | Olimp Racing | 14 | 27:03.311 | 36.461 | 144.247 | 1:54.227 | 7 |
| 19 | 5 | J. WEBSTER | FACH AUTO TECH | 14 | 27:03.866 | 37.016 | 144.198 | 1:52.981 | 2 |
| 20 | 20 | R. BERVILLE | Martinet by Almeras | 14 | 27:16.816 | 49.966 | 143.057 | 1:54.960 | 6 |
| 21 | 6 | G. SOLIERI | FACH AUTO TECH | 14 | 27:17.845 | 50.995 | 142.967 | 1:55.085 | 5 |
| 22 | 8 | S. CREEL | FOERCH Racing by Lukas Motorsport | 14 | 27:20.802 | 53.952 | 142.709 | 1:55.055 | 5 |
| 23 | 17 | C. LANGER | MRS Cup-Racing | 14 | 27:21.498 | 54.648 | 142.649 | 1:55.254 | 8 |
| 24 | 22 | N. RINDLISBACHER | MOMO-Megatron Team PARTRAX | 14 | 27:23.849 | 56.999 | 142.445 | 1:54.357 | 12 |
| 25 | 27 | M. RADCLIFFE | IDL Racing | 14 | 27:43.828 | 76.978 | 140.734 | 1:56.770 | 6 |
| 26 | 31 | K. KOBAYASHI | MRS Cup-Racing | 14 | 27:49.677 | 82.827 | 140.241 | 1:57.290 | 8 |
| 27 | 34 | G. BERTON | Dinamic Motorsport | 13 | 25:20.750 | DNF | 142.956 | 1:54.165 | 4 |
| Not classified | | | | | | | | | |
| - | 15 | Z. ASHKANANI | MRS GT-Racing | 3 | 6:17.655 | DNF | 131.920 | 1:59.048 | 2 |
| - | 23 | E. PERFETTI | MOMO-Megatron Team PARTRAX | 3 | 6:26.987 | DNF | 128.738 | 1:59.757 | 2 |
| | 28 | M. DRUDI | Dinamic Motorsport | 1 | 2:18.557 | DNF | 117.672 | | |
| Fastest Lap | | | | | | | | | |
| - | 4 | D. OLSEN | Walter Lechner Racing Team | | 1:52.301 | | 149.223 | | 7 |
| | | | | | . | | | | |
Race report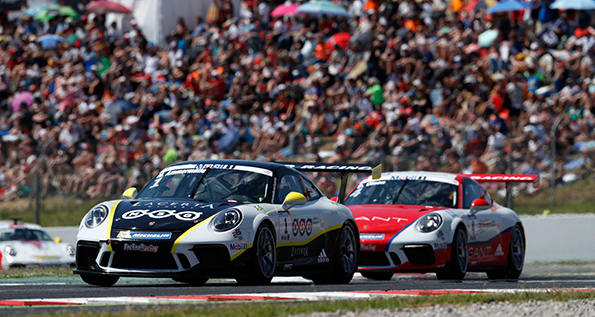 Ammermüller ranks first with two victories
An exciting season-opening weekend for the Porsche Mobil 1 Supercup: At the Circuit de Catalunya on the outskirts of Barcelona, 31 drivers kicked off the anniversary season of the Porsche one-make cup series that has run as support to the Formula 1 races for the last 25 years. In the new 485 hp...
Read more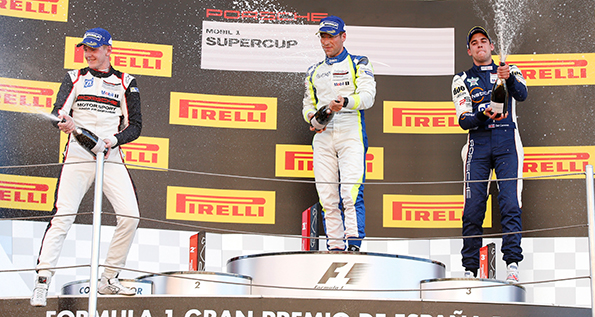 Ammermüller wins season-opener, Germany leads the Nations League
Michael Ammermüller has won the season-opening round of the Porsche Mobil 1 Supercup in Barcelona/Spain on Saturday evening. The German from Rotthalmünster finished on first place for the Lechner MSG Racing Team and also secured maximum points towards the newly-created Nations League. Second place...
Read more