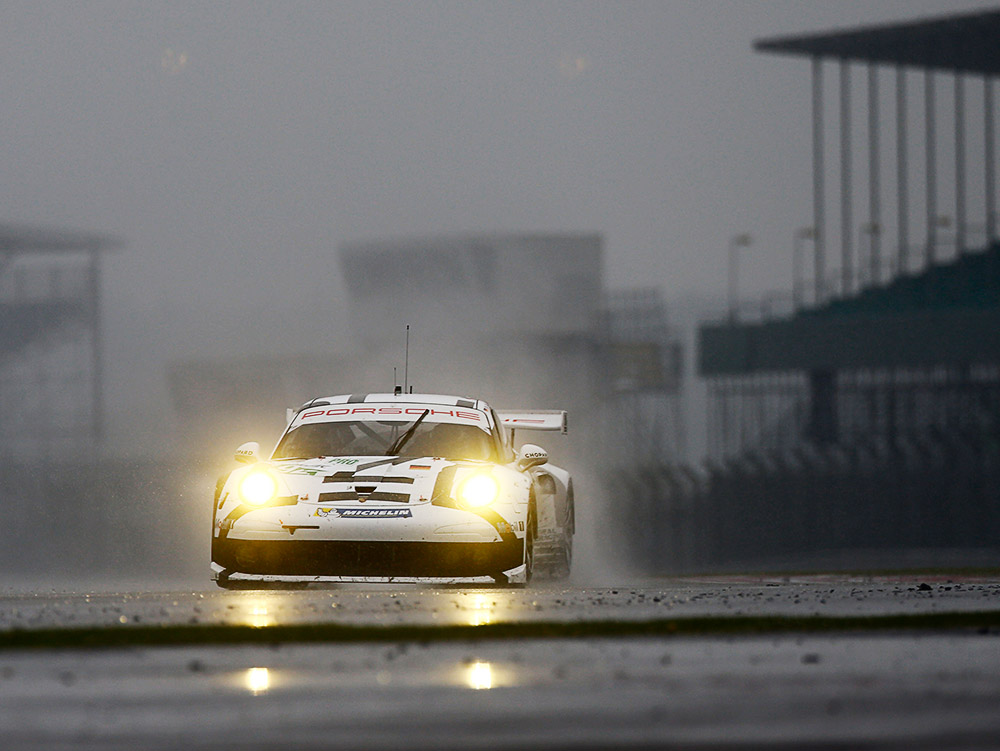 Race report
FIA World Endurance Championship, Sports Car World Endurance Championship WEC, round 1: Silverstone/Great Britain, GT, Race report
Double victory for Porsche at season-opener
Stuttgart . Scoring a double victory at the six-hour race in Silverstone at the season-opening round of the sports car World Endurance Championship WEC, the Porsche Team Manthey made an excellent start to the season. Facing difficult conditions on the storied British circuit, Porsche works drivers Marco Holzer (Germany), Frédéric Makowiecki (France) and Richard Lietz (Austria) won the well-supported GTE-Pro class with the Porsche 911 RSR. Their factory pilot colleagues Patrick Pilet (France), Joerg Bergmeister (Germany) and Nick Tandy (Great Britain) finished the hotly-contested first race in second place.

At the Silverstone Circuit, spectators witnessed a gripping race with changeable weather conditions from start to finish. Taking up the race from the first grid row at the wheel of the #91 Porsche 911 RSR, Nick Tandy took the GT lead for the first time in lap eleven. A stop-and-go penalty, which his teammate Joerg Bergmeister served after the driver change, saw them lose their lead for just a brief time. Over the remainder of the race, the 470 hp winning racers from Weissach, based on the seventh generation of the iconic 911 sports car, often swapped positions for the lead spot. In the end it was newcomer Frédéric Makowiecki who settled at the front of the pack and brought home this important maiden win of the season at his very first race as a Porsche factory driver.

After winning at Le Mans in 2013, the 911 RSR took off into this season scoring victory at the long distance classics at Daytona and Sebring. This success at Silverstone is another step forward, particularly with an eye on this year's Le Mans 24 Hours in June. Just how tight the competition was in the GTE-Pro class and how strong the factory-entries from Aston Martin and Ferrari were is underlined not least by the fact that the first four vehicles reached the chequered flag within the same lap. Due to heavy rain, the race was red-flagged 26 minutes before the scheduled finish.

Hartmut Kristen, Porsche Head of Motorsport: "Our drivers did a very good job at this truly exciting race. Just thinking about Frédéric's overtaking manoeuvres – now that was a lot of fun to watch. What we saw today was racing at its very best. The stewards made the right decision to stop the race. Towards the end the rain came bucketing down. For the first race of the season this is of course a terrific result and we'll be doing everything to continue like this. Our 911 RSR cars were the ones to beat today in the dry and the wet. Fortunately none of our rivals managed this."
Marco Holzer (#92): "It is of course a fantastic feeling to kick off my first WEC season with a victory. We faced extremely difficult conditions today, the track conditions changed constantly. When I took over the cockpit, the circuit was dry. After two laps it began to drizzle which made it very difficult to drive consistent lap times. My first priority was not to fly off the track. It's been a long time since I've had to compete under such changeable conditions. You enter a corner that looks completely dry on slicks only to suddenly find your car going sideways and you're looking ahead out of the side window. That was pretty hair-raising."
Frédéric Makowiecki (#92): "That is exactly how I imagined my first race as a Porsche works driver. What a great race, but it was really challenging. We started on a dry track, then it began to rain which made our tyre choice difficult. We changed the rubber quickly without losing too much time. Even switching back to slicks went without losing much time thanks to our swift pit crew. A big compliment to our whole team. That was a great job."
Richard Lietz (#92): "I'm really thrilled that I could help my teammates Marco and Frédéric to start the season with a win. The balance of our car was very good. We were able to match the pace of the fastest GT cars without any problems over the whole distance. The track was dry during most of my stint, and it was great fun to drive. I sometimes lost a bit of time while lapping the slower cars because they left little room, but that's how it goes sometimes. That's not important now after such a win."
Patrick Pilet (#91): "This is a great result for Porsche. The race highlighted that we've been heading in the right direction the whole time. Thank you to everyone who has contributed to this. Even though we didn't manage to win today, I'm thrilled for the team. This success is the just reward for hard work."
Joerg Bergmeister (#91): "There are for sure worse things for a race driver than to start the season in second place behind his teammates. I'm pleased. My stint was real fun, apart from the stop-and-go penalty that was handed to Nick of course. But our car ran so well on slicks that I reclaimed the lead relatively quickly. That was somehow my weather today. I really enjoy driving on slicks under such changeable conditions. That's definitely one of my strengths."
Nick Tandy (#91): "We had a very good car, regardless of whether the track was dry or wet. This was shown by the super result for Porsche. In my first stint I enjoyed a great fight with a Ferrari. The rain gave us a few hairy moments but I love it when unexpected things happen in a race and you have to adjust your strategy. It proved really difficult today not to make a mistake and bring the car home safely. I'm pleased that everything went so well, especially here at Silverstone. Driving on this circuit is simply fun, particularly in such difficult conditions."

Round two of the sports car World Endurance Championship WEC takes place on 3 May at Spa-Francorchamps/Belgium.

Race result
GTE-Pro class
1. Holzer/Makowiecki//Lietz (D/F/A), Porsche 911 RSR, 147 laps
2. Bergmeister/Pilet/Tandy (D/F/GB), Porsche 911 RSR, 147
3. Turner/Mücke (GB/D), Aston Martin Vantage, 147
4. Bruni/Vilander (I/SF), Ferrari 458 Italia, 147
5. Rigon/Calado (I/GB), Ferrari F458 Italia, 146
6. Griffin/Parente (IRL/P), Ferrari F 458 Italia, 146

GTE-Am class
1. Poulsen/Hansson/Thiim (DK/DK/DK), Aston Martin Vantage, 144 laps
2. Dalla Lana/Lamy/Nygaard (CDN/P/DK), Aston Martin Vantage, 144
3. Wyatt/Rugolo/Bird (AUS/I/GB), Ferrari F 458 Italia, 143
4. Ried/Bachler/Al Qubaisi (D/A/UAE), Porsche 911 RSR, 142
5. Mowlem/Patterson/Collins (GB/USA/GB), Ferrari F 458 Italia, 141
6. Perez Companc/Cioci/Venturi (ARG/I/I), Ferrari F 458 Italia, 141

The Sports Car World Endurance Championship WEC
Sports prototypes and GT vehicles contest the sports car World Endurance Championship WEC in four classes: LMP1 (eg. Porsche 919 Hybrid), LMP2, LMGTE-Pro (eg. 911 RSR) and LMGTE-Am (eg. 911 RSR and 911 GT3 RSR). They all compete together in one race but are classified separately.


All reports on the previous season can be found in our archive.