Go-ahead for the extension of the Porsche site
Turning of the first sod in Weissach: start of extensive building work at the Development Centre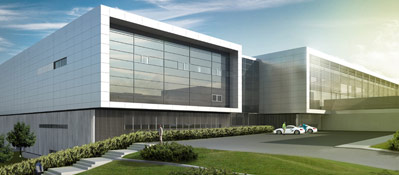 Stuttgart. With the symbolic turning of the first sod, Dr. Ing. h.c. F. Porsche AG, Stuttgart, today heralded the start of the extension of its Research and Development Centre in Weissach (Baden-Württemberg). The site is being enlarged through the addition of a highly modern design studio, a high-tech wind tunnel and an electronics integration centre. Porsche is investing around 150 million euro in this respect. Matthias Müller, Chairman of the Board of Management, welcomed Ursula Kreutel, Mayor of Weissach, Thomas Fritsch, Mayor of Mönsheim, Roland Bernhard, Chief Executive of the Böblingen District, and Karl Röckinger, Chief Executive of the Enz District, at the sod-turning ceremony.
"The extension of our Development Centre is a good, far-sighted investment in the future of Porsche", said Matthias Müller, Chairman of the Board of Management of Porsche AG. "The expansion being made by Porsche in Weissach also represents a clear commitment to Baden-Württemberg as an industrial location. "Uwe Hück, Chairman of the Group Works Council, added: "These investments which we agreed in July 2010 to safeguard the site – 'Independence through competitive advantage' – will not only protect the jobs of our permanent staff, but will actually increase the number of permanent jobs. This will strengthen the independence of Porsche."
The new wind tunnel will also enable the Stuttgart-based sports car manufacturer to cope with technological challenges in vehicle development in future. "Good aerodynamics make a major contribution towards low fuel consumption and high performance – both of which are important aspects in implementing Porsche Intelligent Performance", said Wolfgang Hatz, Board member in charge of Research and Development of Porsche AG. The new electronics integration centre will combine segments which were previously spread over several buildings. "Our objective is also to continue developing electric and hybrid technology. We are creating the ideal conditions for attaining this objective with our new electronics integration centre", added Hatz.
"Thanks to Porsche, we have the highest per capita trade tax revenue in the whole of Germany. The town will also profit from the extension of the Development Centre", said Ursula Kreutel, Mayor of Weissach with confidence. Thomas Fritsch, Mayor of Mönsheim, agreed with his fellow Mayor: "Porsche is a great addition for the surrounding towns. We are therefore now all the more delighted with the extension of the Research Centre."
In addition to the extension of the site, Porsche is starting a wide-ranging human resources campaign. In the first six months of 2011, the company recruited well over 100 new engineers. Over 100 new employees will also be appointed by the end of 2011 in order to support the around 3,400 staff currently working in Weissach.
The new offices and the design studio will probably be ready for occupation in summer 2013. The wind tunnel will be completed in the first six months of 2014.
GO
Please note: Images of the turning of the first sod can be obtained by accredited journalists from the Porsche press database at the Internet address: http://presse.porsche.de/
28.07.2011