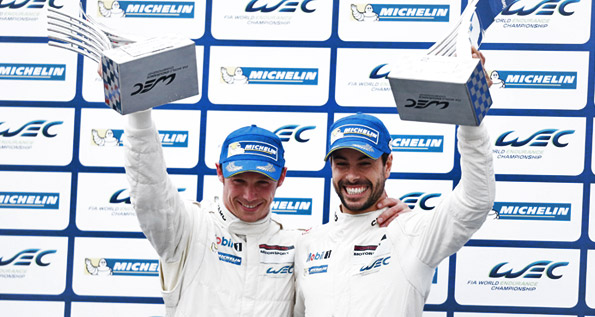 Race report
Porsche Team Manthey: Pilet, Makowiecki
FIA World Endurance Championship, round 8 in Sao Paulo/Brazil – GT, Race report
Porsche 911 RSR second in exciting season finale
Stuttgart. A successful conclusion to the Sports Car World Endurance Championship WEC for Porsche Team Manthey: With a strong performance at the gripping six-hour race in Sao Paulo, the French Porsche works drivers Frédéric Makowiecki and Patrick Pilet scored second in the fiercely competitive GTE-Pro class at the wheel of their Porsche 911 RSR. With this, the pair notched up another podium result with the 470 hp GT racer from Weissach to add to the two double victories at Silverstone and Shanghai. In the manufacturers' championship, Porsche secured runner-up honours.

Witnessed by 50,000 spectators at the Autodromo José Carlos Pace, the number 92 Porsche 911 RSR got away cleanly amongst the front-runners in temperatures reaching 28 degrees Celsius. After a good qualifying performance, Frédéric Makowiecki took up the last race of the season from the first grid row and treated the Brazilian fans to some breathtaking fights for positions and spectacular overtaking manoeuvres. His teammate Patrick Pilet snatched the lead for the first time early in the third hour. With an hour to the flag, Makowiecki was running at the front of the GT field before pulling into the pits for the last refuelling stop and driver change. As dusk turned to darkness, Patrick Pilet returned to the track in third and launched a furious pursuit. But after pushing his way up to second place, a safety car phase which lasted until the end of the race robbed him of the chance of victory. This caution phase was triggered by a serious accident in which the Porsche LMP1 pilot Mark Webber was involved.

The season finale proved not as successful for Jörg Bergmeister and Richard Lietz in the second 911 RSR campaigned by the Porsche Manthey squad. After a difficult qualifying which yielded them the fourth grid spot, they were unable to fight for victory and were also hampered by a slow puncture and a stop-and-go penalty after a collision. The pair eventually saw the flag in sixth place.

For the Porsche 911 RSR, which is based on the seventh generation of the iconic 911 sports car, a successful season drew to a close in Sao Paulo. The promising start with a double win at the Silverstone season opener was followed up with podium placings at Spa-Francorchamps, at the Le Mans 24 Hours and Austin. In Shanghai, Porsche Team Manthey could finally celebrate their second double victory of the season. And the Porsche 911 RSR not only notched up successes in the World Endurance Championship: Prior to the start of the WEC season, the Porsche sports car campaigned by Porsche North America won two of the most prestigious long distance races – the 24 Hours at Daytona and the 12 Hours of Sebring.
Quotes after the race
Dr. Frank-Steffen Walliser, Porsche Head of Motorsport: "We had a very good strategy and could have won. Today we definitely witnessed one of the most exciting races – it was a tough battle with gripping wheel-to-wheel duels. It's a shame that it wasn't enough for a victory. All in all we are not satisfied with the season in which we failed to win a title. We certainly have some work to do, and we'll tackle it, but we also expect some of the rule parameters to be adjusted."

Patrick Pilet (Porsche 911 RSR #92): "Obviously we're a little disappointed. The whole team did a great job and our strategy was good. But unfortunately the caution phase threw a spanner in the works. Had the Aston pitted again that would have put us further ahead and perhaps even yielded us a victory. Still, second place is a good result and we can be proud of it. All in all it was a tough season for us. After our one-two at the first race in Silverstone we certainly had expected a little more. We never gave up and always did our utmost, but at some of the races we simply lacked the necessary performance."

Frédéric Makowiecki (Porsche 911 RSR #92): "It was a good race and a hard fight for victory. At the halfway mark we had a bit of bad luck with the caution phase which our opponents used for their pit stop and hardly lost any time. Other than that we were within striking distance to the front the whole time and actually in a position to win. When a season concludes with second place, it's a good result that we can build on."

Jörg Bergmeister (Porsche 911 RSR #91): "That wasn't so great. I struggled with the car today. Plus we suffered a slow puncture and the stop-and-go penalty for the collision. I viewed the situation somewhat differently than the stewards, but what can you do. The season started well for me, and Shanghai yielded another good result. The last two races, however, weren't particularly encouraging."

Richard Lietz (Porsche 911 RSR #91): "We certainly didn't deserve to finish in sixth. We were much faster, our performance was better and our effort was better than the result shows. On top of that came the bad luck of the caution phase. But that's how it is in racing – sometimes you're lucky, sometimes you're not."
Race result
GTE-Pro class
1. Turner/Mücke (GB/D), Aston Martin Vantage, 221 laps
2. Makowiecki/Pilet (F/F), Porsche 911 RSR, 221
3. Rigon/Calado (I/GB), Ferrari F458 Italia, 221
4. Bruni/Vilander (I/SF), Ferrari 458 Italia, 220
5. MacDowall/O'Young/Rees (GB/CAN/BRA), Aston Martin Vantage, 220
6. Bergmeister/Lietz (D/A), Porsche 911 RSR, 220

GTE-Am class
1. Lamy/Dalla Lana/Nygaard (P/CAN/DK), Aston Martin Vantage, 219 laps
2. Poulsen/Heinemeier-Hansson/Thiim (DK/DK/DK), Aston Martin, 219
3. Wyatt/Rugolo/Bertolini (AUS/I/I), Ferrari F458 Italia, 219
4. Ried/Bachler/Al Qubaisi (D/A/UAE), Porsche 911 RSR, 217
5. Collard/Perrodo/Vaxivière (FRA/FRA/FRA), Porsche 911 RSR, 217
6. Fittipaldi/Segal/Pier Guidi (/BRA/USA/I), Ferrari F458 Italia, 186

Points standings after 8 of 8 races

FIA World Endurance Cup GT Drivers
1. Giancarlo Bruni, Toni Vilander (Ferrari) 168 points
2. Frédéric Makowiecki (Porsche) 134,5
3. Richard Lietz (Porsche) 111
4. Patrick Pilet (Porsche) 108,5
5. Stefan Mücke, Darren Turner (Aston Martin), 102
6. Jörg Bergmeister (Porsche) 99

FIA World Endurance Cup GT Manufacturers
1. Ferrari 288 points
2. Porsche 262
3. Aston Martin 232

FIA Endurance Trophy GTE-Pro Teams
1. AF Corse (Ferrari #51) 168 Punkte
2. Porsche Team Manthey (Porsche #92) 148
3. Aston Martin Racing (Aston Martin #97) 138
4. Porsche Team Manthey (Porsche #91) 122
5. AF Corse (Ferrari #71), 98
6. Aston Martin Racing (Aston Martin # 99), 70

FIA Endurance Trophy GTE-Am Drivers
1. David Heinemeier-Hansson, Kristian Poulsen (Aston Martin) 198 points
2. Christoffer Nygaard, Paul Dalla Lana, Pedro Lamy (Aston Martin) 164
3. Nicki Thiim (Aston Martin) 144
4. Christian Ried, Khaled Al Qubaisi (Porsche) 121
5. Klaus Bachler (Porsche), 111
6. Luis Perez-Companc, Marco Cioci, Mirko Ventura (Ferrari) 76

FIA Endurance Trophy GT-Am Teams
1. Aston Martin Racing (Aston Martin #95) 198 points
2. Aston Martin Racing (Aston Martin #98) 164
3. Proton Competition (Porsche #88) 121
4. AF Corse (Ferrari #61) 102
5. AF Corse (Ferrari #81), 68
7. Prospeed Competition (Porsche #77), 58

The Sports Car World Endurance Championship WEC
Sports prototypes and GT vehicles contest the WEC (Sports Car World Endurance Championship) in four classes: LMP1 (e.g. Porsche 919 Hybrid), LMP2, LMGTE-Pro (e.g. 911 RSR) and LMGTE-Am (e.g. 911 RSR). They all compete together in one race but are classified separately.


Tous les rapports de course de la saison précédente peuvent être trouvés dans nos archives.