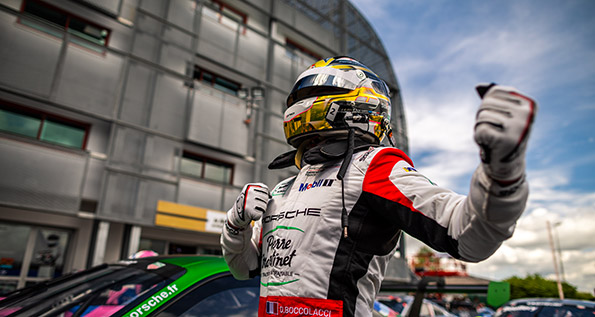 Porsche Carrera Cup France, Circuit de Nevers Magny-Cours – Course 1 & 2,
Boccolacci speeds to victory double on debut
Almost 30 drivers took to the track at Magny-Cours for the 2021 Porsche Carrera Cup France season curtain-raiser. The opening two races of the campaign witnessed a dominant display by Dorian Boccolacci on his debut in the fiercely-disputed single-make series. Having clinched pole position for both contests in qualifying, the Martinet by Alméras driver went on to convert them into a brace of victories, as he adapted to the new 911 GT3 Cup type 992 with consummate ease.
In race one, the Frenchman narrowly pipped 2021 Porsche Carrera Cup France Junior Alessandro Ghiretti (Martinet by Alméras) and Marvin Klein (CLRT) to the top step of the podium. In race two, Boccolacci prevailed ahead of Dylan Pereira (BWT Lechner Racing) and Martinet by Alméras stablemate Ghiretti, who once again reached the rostrum. In the Pro-Am category, Jérôme Boullery (YDEO by Racing Technology) threw down the gauntlet to his rivals with a similar double triumph, notably defeating three-time defending champion Nicolas Misslin (BWT Lechner Racing) and Martinet by Alméras' Christophe Lapierre. Maxence Maurice (Imsa Performance) also produced a commanding performance to win both races in the Am class.
The drivers will have little time to catch their breath before the Porsche Carrera Cup France resumes at Paul Ricard for another double-header in just a week's time (15-16 May). At his home circuit, Boccolacci will clearly be targeting a repeat of his Magny-Cours success, whilst Ghiretti, Klein, Florian Latorre, Jean-Baptiste Simmenauer (BWT Lechner Racing) and the rest of the field will all be aiming to stop him in his tracks and have their sights firmly fixed on the podium. Another bumper 30-car grid is expected at Paul Ricard, promising an ultra-competitive battle for supremacy.


Tous les rapports de course de la saison précédente peuvent être trouvés dans nos archives.