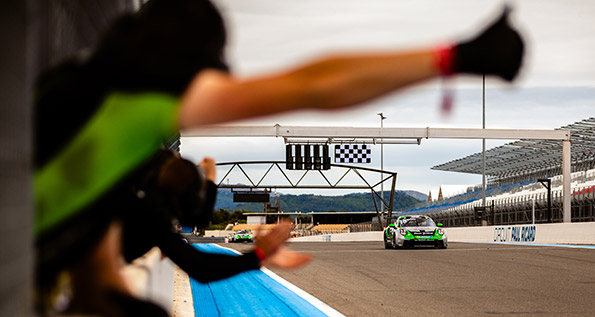 Porsche Carrera Cup France, Circuit Paul Ricard – Course 3 & 4,
Boccolacci moves clear
After winning both races last weekend at Magny-Cours, Dorian Boccolacci (Martinet by Alméras) was runner-up in race 1 at Paul-Ricard but nonetheless scored full points, as race winner and last year's champion Jaxon Evans (Martinet by Alméras) is not entered in this year's Cup. He then finished first in race 2 to move clear at the top of the Porsche Carrera Cup France standings. Dorian Boccolacci (Martinet by Alméras) was considered as one of the series favourites after he switched from single-seater and GT racing. And the 22 year-old Frenchman has thus far more than lived up to expectations, making the perfect start to the season in the new 911 GT3 Cup (992 generation). He started the second round of the Porsche Carrera Cup France on the Paul-Ricard racetrack by grabbing pole position for both races held this weekend. However, as light rain fell at the start of the first race, he was beaten into the opening corner by defending champion Jaxon Evans (Martinet by Alméras), competing in the south of France as part of his preparations for the Porsche Mobil 1 Supercup, which kicks off next weekend in Monaco.
The New-Zealander held onto to his advantage right to the chequered flag, despite Boccolacci's efforts to rein him in. Behind the top two, Jean-Baptiste Simmenauer (BWT Lechner Racing) rounded off the podium, whilst Jérôme Boullery (YDEO by Racing Technology) converted his pole position in Pro-Am into a win, his third in as many races, and Maxence Maurice (Imsa Performance) enjoyed the same success in the Am class. Race 2 on Sunday proved to be another head-to-head scrap between Boccolacci and Evans, this time the pretender to the crown taking the win. Florian Latorre (CLRT) claimed a fine third place after an extended battle with his team-mate Marvin Klein (CLRT). In Pro-Am, Nicolas Misslin (BWT Lechner Racing), the defending three-time champion, scored his maiden win of the season, whilst first place in the Am class, held for part of the race by Tugdual Rabreau (CLRT), eventually went to Maxence Maurice as he secured his fourth win of the year. After two meetings held on successive weekends, the Porsche Carrera Cup France drivers now have a short break over the next month and an opportunity to learn the lessons from the first four races. They will hope to be sharper than ever when they return to racing in their 911 GT3 Cup at Spa-Francorchamps on the famous Belgian roller-coaster (18-20 June).


Tous les rapports de course de la saison précédente peuvent être trouvés dans nos archives.