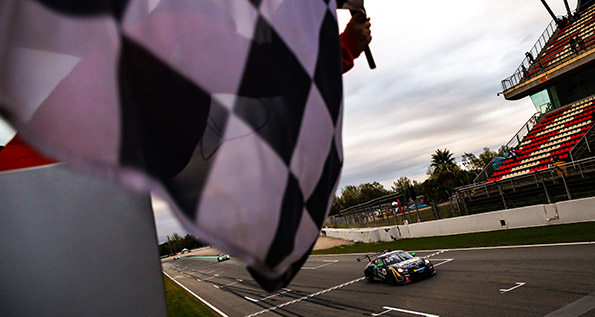 Porsche Carrera Cup France, Circuit de Catalunya Barcelona – Course 9 & 10,
Clean sweep for Klein throws Cup wide open!
A dramatic, action-packed weekend in Barcelona saw the fight for the title in the Porsche Carrera Cup France hot up as Marvin Klein (CLRT) won both races, making up significant ground on Dorian Boccolacci (Martinet by Alméras) ahead of what now promises to be a nail-biting final round in Portimao (22-24 October)! After qualifying in second position for each race, Marvin Klein went on to claim two stylish wins, taking his tally for the year to five. He is therefore now level on race wins with his main rival, Boccolacci. Although Boccolacci limited the damage on Saturday by finishing as runner-up in the opening race, followed by the 2021 Porsche Carrera Cup France Junior Alessandro Ghiretti (Martinet by Alméras) in third, the Cote d'Azur driver had to settle for fourth position in Sunday's race. He produced a spectacular fightback in the race, moving up from twenty-fourth on the starting grid, after several of his lap times were ruled out in qualifying for failing to stay within the track limits. Alessandro Ghiretti and Florian Latorre (CLRT) took the remaining podium places in race two, meaning Boccolacci's lead over Klein at the top of the Cup standings has now been cut to just five points ahead of the season's final round. The outcome of the Pro-Am category remains equally uncertain. Jérôme Boullery (YDEO by Racing Technology) thought he had made a big step towards the title after winning race one from pole position on Saturday, but he then had to retire in Sunday's race, a result that may prove costly at the end of the season. Meanwhile, Nicolas Misslin (BWT Lechner Racing), the defending three-time champion, took the honours on Sunday, adding to his second-place finish in Saturday's race and retaking top spot in the category standings. There was similar drama in the Am class, where Maxence Maurice (IMSA Performance), virtually unbeatable so far this season winning no fewer than seven of the eight races before this round, had a tough weekend, including one retirement. Tugdual Rabreau, his closest rival, seized the opportunity by winning both races, thus making up significant ground on Maurice and shaking up the title fight considerably.


Tous les rapports de course de la saison précédente peuvent être trouvés dans nos archives.