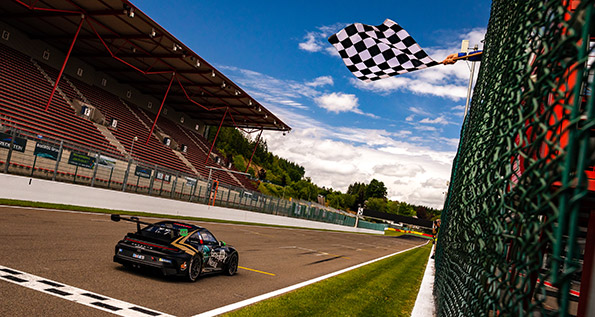 Porsche Carrera Cup France, Circuit de Spa-Francorchamps – Course 5 & 6,
Klein at the double at Spa-Francorchamps!
The third meeting of the 2021 Porsche Carrera Cup France – the always very highly anticipated round at Spa-Francorchamps – saw Marvin Klein (CLRT) enjoy a clean sweep of wins in the 911 GT3 Cup (992 generation). A result that puts him right back in the race for the title. Marvin Klein claimed both pole positions, each time finishing ahead of his CLRT team-mate Florian Latorre and Dylan Pereira (BWT Lechner Racing), whilst Dorian Boccolacci (Martinet by Alméras) could do no better than eighth. Klein confirmed his excellent form in race 1, producing a controlled performance to run clear of the field and start the weekend with his first win of the season, a first win also whilst racing on behalf of the Côme Ledogar team. Behind him, Pereira got the better of Latorre on the opening lap and the two men went on to complete the podium places in that order. Just outside the top-three, the very consistent 2021 Junior Porsche Carrera Cup France contender Alessandro Ghiretti (Martinet by Alméras) continued to impress. So much so that he won the Rookie class and finished ahead of his team-mate Dorian Boccolacci, who fought back up the field thanks to some aggressive driving. Meanwhile, there was turmoil in the Pro-Am class on the warm-up lap as Nicolas Misslin (BWT Lechner Racing) was ruled out of the race after a clash, allowing Raymond Narac (Imsa Performance) to make the most of his experience on this demanding track to take victory, whilst Maxence Maurice (Imsa Performance) claimed the Am class win. Race 2 saw Marvin Klein produce another flawless performance to score a second undisputed win. Dorian Boccolacci initially took advantage of a racing incident to climb from eighth on the starting grid to third place. From there, he tried to put pressure on Dylan Pereira. The Luxembourger held firm, however, until he was handed a penalty for driving outside of the track limits, meaning second place – and invaluable points in his quest for the overall title – went to Boccolacci. In the Pro-Am class, Jérome Boullery (YDEO by Racing Technology) returned to winning ways whilst Maxence Maurice continued his impressive series in the Am class to take his sixth consecutive victory this season.


Tous les rapports de course de la saison précédente peuvent être trouvés dans nos archives.