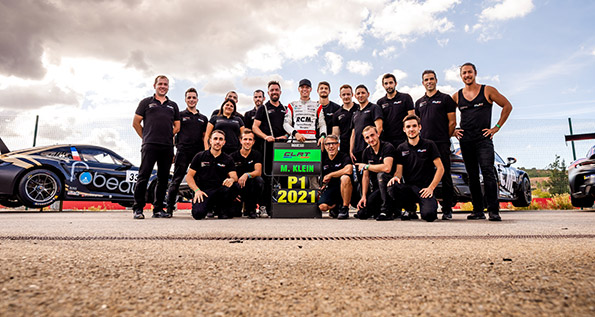 Porsche Carrera Cup France, Autódromo Internacional do Algarve Portimao – Course 11 & 12,
Marvin Klein takes the title in thrilling climax!
Marvin Klein (CLRT) won the thirty-first edition of the Porsche Carrera Cup France, pipping Dorian Boccolacci (Martinet by Alméras) to the title in the final race of the year. Many questions remained unanswered as the competitors arrived in Portimao (Portugal) for the final meeting of the season. Not least who was going to succeed Jaxon Evans, the overall champion in 2020, with just five points between the leader Dorian Boccolacci (Martinet by Alméras) and Marvin Klein (CLRT) at the top of the standings? The tension ramped up a notch after the opening race of the weekend, which was won by Marvin Klein, ahead of his team-mate Florian Latorre (CLRT) and Dorian Boccolacci. For the first time this year, Klein moved top of the overall standings, just three points clear of Boccolacci, ahead of the final race of the season on Sunday. The next day, Florian Latorre started once again on pole, whilst Klein and Boccolacci lined up in second and third positions on the grid. Once the race got underway, the title fight reached its climax: the two rivals clashed on the second corner, ending the races of both drivers at that point. Despite retiring at this early stage, Klein therefore won the 2021 Porsche Carrera Cup at just 22 years old in his third season in the category, whilst Boccolacci had to settle for the Rookies' title. Meanwhile, Florian Latorre went on to claim his first race win in 2021, finishing ahead of Alessandro Ghiretti (Martinet by Alméras), the 2021 Porsche Carrera Cup France Junior, who has enjoyed a very successful debut season this year, and Cooper Murray (Pierre Martinet by Alméras), a 20 year-old Australian competing here to fine-tune his racing skills in preparation for the forthcoming Porsche Junior International Shootout. There was also a very close finish in the last race of the Pro-Am class, as Nicolas Misslin (BWT Lechner Racing) pipped Jérôme Boullery (YDEO by Racing Technology) at the wire to claim his fourth consecutive title in the category. Last but not least, Sébastien Dussolliet (ABM) proved his stunning debut in Monza was no fluke, winning both races this weekend on his second appearance only in the Am class. However, Maxence Maurice (IMSA Performance) finished third and second in the two races to secure a well-deserved title in the category.


Tous les rapports de course de la saison précédente peuvent être trouvés dans nos archives.