Results for Porsche
919 Hybrid No. 01: Bernhard, Webber, Hartley
1st position; 194 laps; fastest lap: 1'40.609
919 Hybrid No. 02: Dumas, Jani, Lieb
4th position; 194 laps; fastest lap: 1'40.844
Overall result
P
Driver
No.
Team
Car
Class
Laps
Best Lap
Gap
1
Timo BERNHARD
Mark WEBBER
Brendon HARTLEY
1
Porsche Team
Porsche 919 Hybrid
LM P1
194
1'40.609
2
Lucas DI GRASSI
Loïc DUVAL
Oliver JARVIS
8
Audi Sport Team Joest
Audi R18
LM P1
194
1'40.779
53.787
3
Marcel FÄSSLER
André LOTTERER
7
Audi Sport Team Joest
Audi R18
LM P1
194
1'40.325
54.483
4
Romain DUMAS
Neel JANI
Marc LIEB
2
Porsche Team
Porsche 919 Hybrid
LM P1
194
1'40.844
1'37.324
5
Anthony DAVIDSON
Sébastien BUEMI
Kazuki NAKAJIMA
5
Toyota Gazoo Racing
Toyota TS050 - Hybrid
LM P1
193
1'41.277
1 Laps
6
Stéphane SARRAZIN
Mike CONWAY
Kamui KOBAYASHI
6
Toyota Gazoo Racing
Toyota TS050 - Hybrid
LM P1
190
1'41.472
4 Laps
7
Mathéo TUSCHER
Dominik KRAIHAMER
Alexandre IMPERATORI
13
Rebellion Racing
Rebellion R-One - AER
LM P1
178
1'47.335
16 Laps
8
Nicolas PROST
Nick HEIDFELD
Mathias BECHE
12
Rebellion Racing
Rebellion R-One - AER
LM P1
171
1'47.925
23 Laps
9
Simon TRUMMER
Oliver WEBB
Pierre KAFFER
4
Bykolles Racing Team
CLM P1/01 - AER
LM P1
98
1'47.806
96 Laps
P
Driver
No.
Team
Car
Class
Laps
Best Lap
Gap
1
Gianmaria BRUNI
James CALADO
51
AF Corse
Ferrari 488 GTE
LM GTE Pro
170
1'57.728
24 Laps
2
Davide RIGON
Sam BIRD
71
AF Corse
Ferrari 488 GTE
LM GTE Pro
170
1'57.936
24 Laps
3
Nicki THIIM
Marco SØRENSEN
95
Aston Martin Racing
Aston Martin Vantage V8
LM GTE Pro
170
1'57.293
24 Laps
4
Stefan MÜCKE
Olivier PLA
66
Ford Chip Ganassi Team UK
Ford GT
LM GTE Pro
169
1'57.890
25 Laps
5
Richie STANAWAY
Darren TURNER
97
Aston Martin Racing
Aston Martin Vantage V8
LM GTE Pro
169
1'58.068
25 Laps
6
Richard LIETZ
Michael CHRISTENSEN
77
Dempsey - Proton Racing
Porsche 911 RSR (2016)
LM GTE Pro
169
1'58.307
25 Laps
7
Marino FRANCHITTI
Andy PRIAULX
Harry TINCKNELL
67
Ford Chip Ganassi Team UK
Ford GT
LM GTE Pro
155
1'57.297
39 Laps
Race report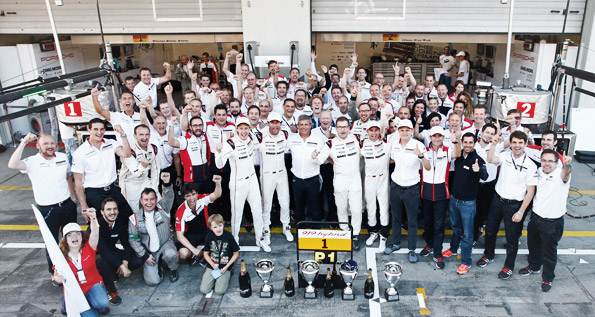 Porsche repeats last year's victory at the Nürburgring
Stuttgart. The reigning world champions Timo Bernhard (DE), Brendon Hartley (NZ) and Mark Webber (AU) repeated their last year's win at the six-hour race at the Nürburgring (DE). By doing so, Porsche, with the 919 Hybrid, extended their lead in the manufacturer standings of the FIA World Endurance...
Read more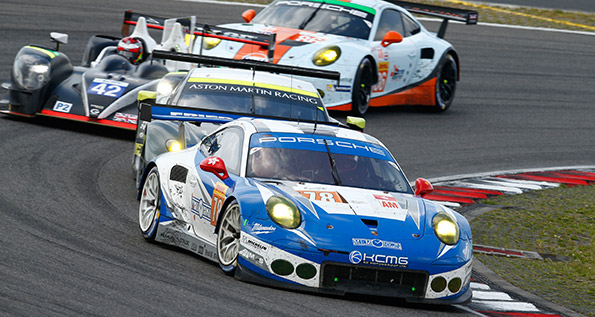 First podium for the Porsche customer team KCMG
Premiere for KCMG: The Porsche customer team from Hong Kong has secured its first podium result with the Porsche 911 RSR in the Sports Car World Endurance Championship WEC at Sunday's six-hour race on the Nürburgring. In front of 58,000 spectators, Wolf Henzler (Germany), Christian Ried (Germany)...
Read more