6 Hours of Spa-Francorchamps
Results for Porsche
919 Hybrid No. 14: Dumas, Jani, Lieb
4th position; 170 laps; fastest lap: 2'01.898
919 Hybrid No. 20: Bernhard, Webber, Hartley
8th position; 148 laps; fastest lap: 2'02.682
911 RSR No. 91: Pilet, Bergmeister, Tandy
2nd position; 151 laps; fastest lap: 2'20.000
911 RSR No. 92: Holzer, Makowiecki, Lietz
6th position; 148 laps; fastest lap: 2'20.042
Fastest lap: Patrick Pilet
Overall result
1st Toyota Racing, Toyota TS 040 - Hybrid no. 8
171 laps; fastest lap: 2'01.327
2nd Audi Sport Team Joest, Audi R18 e-tron quattro no. 1
171 laps; fastest lap: 2'02.600; gap: 1'13.926
3rd Toyota Racing, Toyota TS 040 - Hybrid no. 7
171 laps; fastest lap: 2'02.089; gap: 1'20.861
4th Porsche Team, Porsche 919 Hybrid no. 14
170 laps; fastest lap: 2'01.898; gap: 1 laps
5th Audi Sport Team Joest, Audi R18 e-tron quattro no. 2
170 laps; fastest lap: 2'03.018; gap: 1 laps
6th Audi Sport Team Joest, Audi R18 e-tron quattro no. 3
169 laps; fastest lap: 2'03.383; gap: 2 laps
7th Rebellion Racing, Rebellion R-One - Toyota no. 12
161 laps; fastest lap: 2'08.928; gap: 10 laps
8th Porsche Team, Porsche 919 Hybrid no. 20
148 laps; fastest lap: 2'02.682; gap: 23 laps
- Rebellion Racing, Rebellion R-One - Toyota no. 13
47 laps; fastest lap: 2'13.217; gap: - laps
1st AF Corse, Ferrari F458 Italia no. 51
152 laps; fastest lap: 2'19.653
2nd Porsche Team Manthey, Porsche 911 RSR no. 91
151 laps; fastest lap: 2'20.000; gap: 1 laps
3rd AF Corse, Ferrari F458 Italia no. 71
151 laps; fastest lap: 2'19.624; gap: 1 laps
4th Aston Martin Racing, Aston Martin Vantage V8 no. 97
151 laps; fastest lap: 2'20.289; gap: 1 laps
5th Aston Martin Racing, Aston Martin Vantage V8 no. 99
150 laps; fastest lap: 2'20.217; gap: 2 laps
6th Porsche Team Manthey, Porsche 911 RSR no. 92
148 laps; fastest lap: 2'20.042; gap: 4 laps
1st Toyota Racing, Toyota TS 040 - Hybrid no. 8
171 laps; fastest lap: 2'01.327
2nd Audi Sport Team Joest, Audi R18 e-tron quattro no. 1
171 laps; fastest lap: 2'02.600; gap: 1'13.926
3rd Toyota Racing, Toyota TS 040 - Hybrid no. 7
171 laps; fastest lap: 2'02.089; gap: 1'20.861
4th Porsche Team, Porsche 919 Hybrid no. 14
170 laps; fastest lap: 2'01.898; gap: 1 laps
5th Audi Sport Team Joest, Audi R18 e-tron quattro no. 2
170 laps; fastest lap: 2'03.018; gap: 1 laps
6th Audi Sport Team Joest, Audi R18 e-tron quattro no. 3
169 laps; fastest lap: 2'03.383; gap: 2 laps
7th Rebellion Racing, Rebellion R-One - Toyota no. 12
161 laps; fastest lap: 2'08.928; gap: 10 laps
8th G-Drive Racing, Morgan - Nissan no. 26
160 laps; fastest lap: 2'10.112; gap: 11 laps
9th Jota Sport, Zytek Z11SN - Nissan no. 38
160 laps; fastest lap: 2'10.657; gap: 11 laps
10th KCMG, Oreca 03 - Nissan no. 47
159 laps; fastest lap: 2'10.625; gap: 12 laps
11th SMP Racing, Oreca 03 - Nissan no. 37
158 laps; fastest lap: 2'11.096; gap: 13 laps
12th SMP Racing, Oreca 03 - Nissan no. 27
158 laps; fastest lap: 2'10.686; gap: 13 laps
13th AF Corse, Ferrari F458 Italia no. 51
152 laps; fastest lap: 2'19.653; gap: 19 laps
14th Porsche Team Manthey, Porsche 911 RSR no. 91
151 laps; fastest lap: 2'20.000; gap: 20 laps
15th AF Corse, Ferrari F458 Italia no. 71
151 laps; fastest lap: 2'19.624; gap: 20 laps
16th Aston Martin Racing, Aston Martin Vantage V8 no. 97
151 laps; fastest lap: 2'20.289; gap: 20 laps
17th Aston Martin Racing, Aston Martin Vantage V8 no. 99
150 laps; fastest lap: 2'20.217; gap: 21 laps
18th AF Corse, Ferrari F458 Italia no. 61
149 laps; fastest lap: 2'20.590; gap: 22 laps
19th Aston Martin Racing, Aston Martin Vantage V8 no. 95
149 laps; fastest lap: 2'20.748; gap: 22 laps
20th Aston Martin Racing, Aston Martin Vantage V8 no. 98
149 laps; fastest lap: 2'20.334; gap: 22 laps
21st Porsche Team Manthey, Porsche 911 RSR no. 92
148 laps; fastest lap: 2'20.042; gap: 23 laps
22nd Proton Competition, Porsche 911 RSR no. 88
148 laps; fastest lap: 2'20.506; gap: 23 laps
23rd Porsche Team, Porsche 919 Hybrid no. 20
148 laps; fastest lap: 2'02.682; gap: 23 laps
24th AF Corse, Ferrari F458 Italia no. 81
148 laps; fastest lap: 2'20.367; gap: 23 laps
25th Prospeed Competition, Porsche 911 GT3 RSR no. 75
146 laps; fastest lap: 2'21.617; gap: 25 laps
26th AF Corse, Ferrari F458 Italia no. 60
145 laps; fastest lap: 2'20.688; gap: 26 laps
27th 8 Star Motorsports, Ferrari F458 Italia no. 90
142 laps; fastest lap: 2'20.020; gap: 29 laps
- Rebellion Racing, Rebellion R-One - Toyota no. 13
47 laps; fastest lap: 2'13.217; gap: - laps
Race report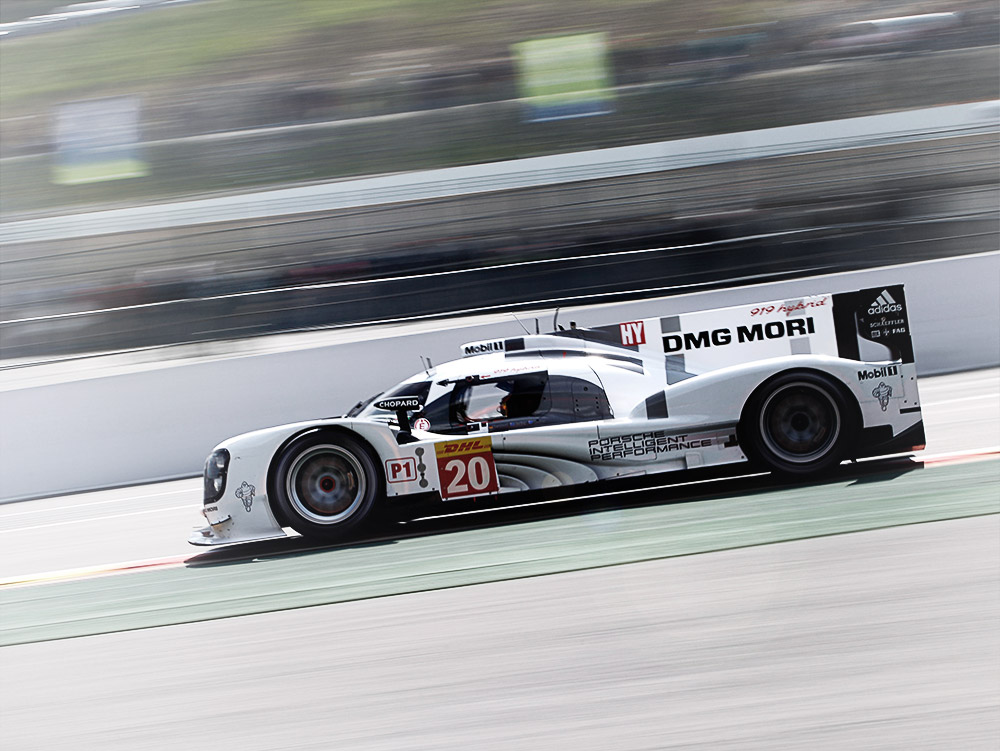 Porsche 919 Hybrid finishes fourth in Spa
Stuttgart . Following the podium finish at the season's opener in Silverstone, the new Porsche 919 Hybrid came fourth at the second round of the World Endurance Championship (WEC). Drivers Romain Dumas (France), Neel Jani (Switzerland) and Marc Lieb (Germany) had started with the car no. 14 from...
Read more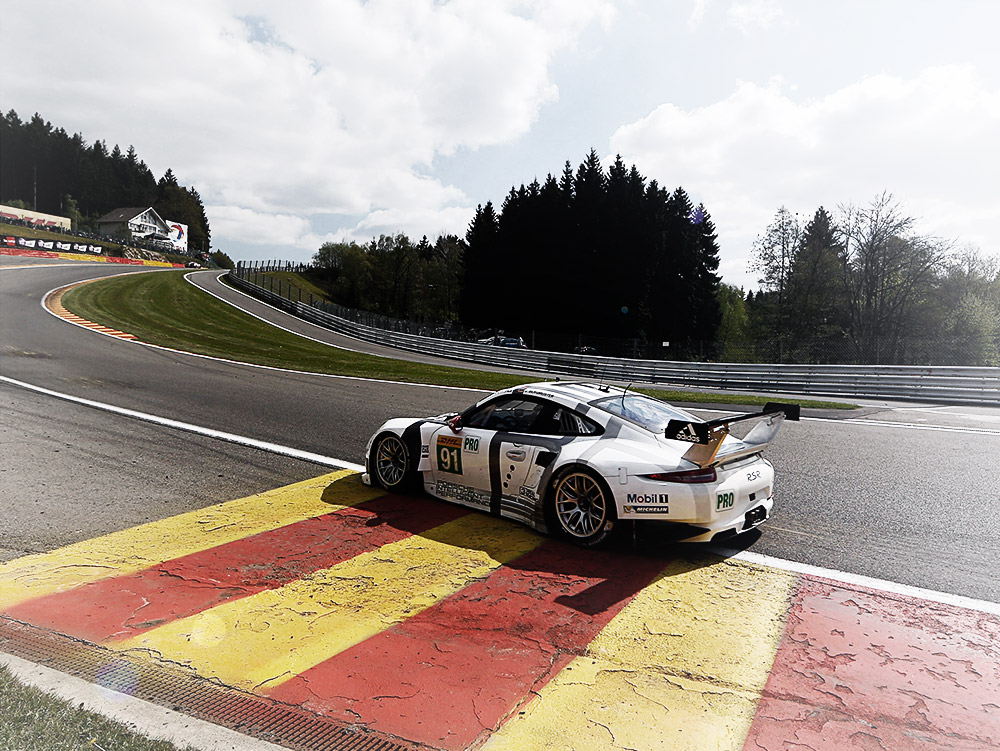 Porsche clinches second after remarkable charge
Stuttgart. After a successful start to the season with a double victory at Silverstone, Porsche scored second place in the GTE-Pro class at the six-hour race in Spa-Francorchamps, round two of the sports car World Endurance Championship (WEC). With the Porsche 911 RSR, which is based on the iconic...
Read more