The apprenticeship focusses on the communication of established specialist knowledge in the relevant occupation with a special emphasis placed on the further development of personal and social skills
The ability to work as part of a team and show mutual respect are more than just empty words. They are part of our recipe for success. Everybody should be able to depend on each other. Everybody has to give 100 %. Everybody should fit their role perfectly. This is only possible when the best possible training is provided.
And what happens during your first few days with us?
At the beginning of your apprenticeship, you are given the opportunity to get to know your environment. Besides receiving the necessary tools and your clothing, you will spend several days getting to know the other trainees. This is an opportunity for you to meet and get to know the trainers and the other apprentices properly for the first time.
On other occasions, for example during our team and project days, we strengthen the bonds between the apprentices.
And after the apprenticeship? Of course, learning does not suddenly come to an end. When you consider the challenges that we face every day and the speed of technology changes, you will always need further qualifications.
We offer all of our employees the chance of further professional and personal development at the end of their apprenticeship. If they wish, they may work abroad for a period of time. We will support any interest you have in further professional education, whether you want to become a foreman/forewoman or study at university.
Training Centre with high-tech equipment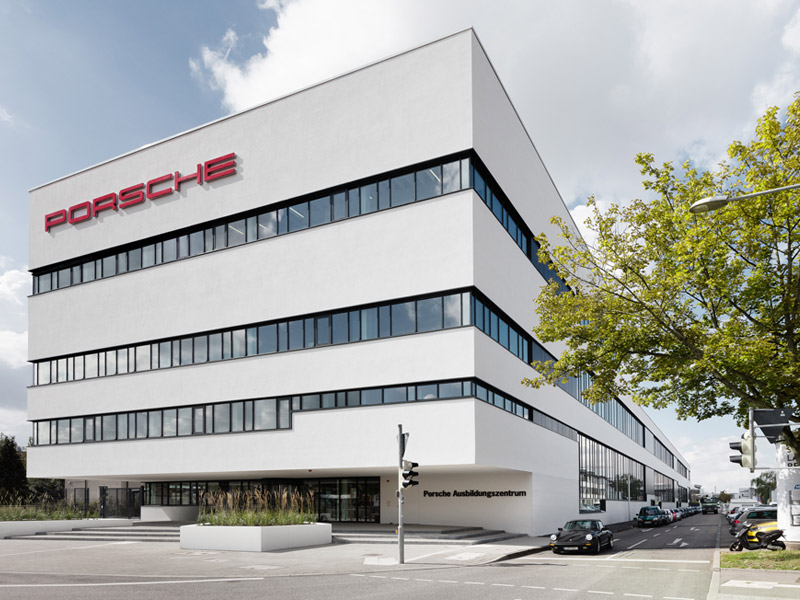 At the start of the new apprenticeship year, Porsche opened one of the most advanced training centres in the automotive industry. On an area totalling 14,000 square metres, the new building on the site of the former tram depot in Zuffenhausen offers space for up to 500 trainees and students of the Baden-Württemberg Cooperative State University. The new training centre creates the best conditions to prepare the next generation of young professionals for the rapidly rising challenges in the automotive industry.
With the new training centre, in particular the technical-industrial apprentices will train under conditions that are unique in the industry. In addition to three learning and media rooms as well as a complete paint shop and logistics training workshops, the building houses an event room for up to 120 people, changing rooms and a cafeteria.