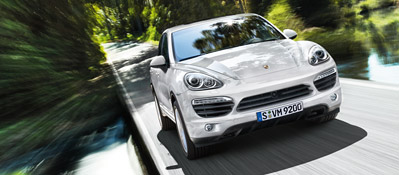 If you're curious and would like to know more about our Porsche magazine, you'll find selected articles here for you to read as a sample.
Take a Look at a Trailblazing View
Here it is, a view of one of the automotive world's most exciting control panels. It may be a concept for the future of sports-car design—though the steering wheel, instruments, and controls are all very real. Take a seat in the cockpit of the 918 Spyder.
Download PDF/ 120 KB
The 918 Spyder Makes News All Over the World
Porsche 918 Spyder – the Eco-Superporsche.
Download PDF/ 102 KB
Trail Blazing
Driving pleasure, efficiency, and versatility are by no means mutually exclusive—as shown on this exciting tour with the new Cayenne.
Download PDF/ 500 KB
The Energy Bar
Hybrid means more: This essay by Wolfgang Peters presents an insightful view of tomorrow's intelligent alternative drive systems.
Download PDF/ 105 KB
To the Four Corners of the Earth
The Panamera explores the world stage—unique as always wherever it goes. Impressions from appearances of the fourth dimension.
Download PDF/ 512 KB
The Day of Truth
A journey in time with Hans Herrmann, who drove to Porsche's first overall victory at the 24 Hours of Le Mans forty years ago in a 917 K.
Download PDF/ 229 KB
Hong Kong – City of Light
Hong Kong has a special radiance at night—we visit this shining light among the metropolises of Asia.
Download PDF/ 396 KB
Focus On Technology Fresh Breeze
The special features exist in the details, so it is worth taking a closer look—especially at the 918 Spyder concept car. Its striking features include what are known as ram-air intakes above the V8 mid-engine. Dr. Gernot Döllner, the 918's project director, tells us more.
Download PDF/ 46 KB