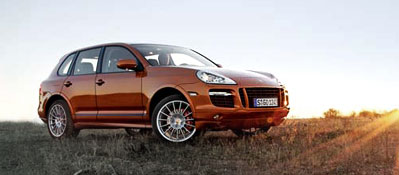 If you're curious and would like to know more about our Porsche magazine, you'll find selected articles here for you to read as a sample.
We hope you enjoy reading them.
Historic Moments
A new corporation, the Porsche Automobil Holding SE, first met the public at the press conference for the annual report in November, and now greets the shareholders in January.
Download PDF/ 112 KB
Stable Mates
We're on a discovery tour of the Portuguese Algarve in a Cayenne GTS. It's a landcape made to order for the latest version of the sporty SUV: stimulating, varied, and vigorous.
Download PDF/ 4500 KB
Bride of the Wind
Susi is a new employee at the Porsche Development Center in Weissach. She works in the wind tunnel, where she braves the buffeting for the sake of Cabrio drivers.
Download PDF/ 222 KB
Speed Master
"Once again, we've improved the aerodynamics, the drivability and the fuel consumption on the RS Spyder," says Porsche motorsports boss Hartmut Kristen, as the ALMS 2008 season looms.
Download PDF/ 341 KB
Care Packages
The classic cars at the Porsche Museum are sent out around the world - tough traveling for senior citizens. This precious cargo gets special packaging.
Download PDF/ 599 KB
A Heritage of Design
In the Austrian town of Zell am See, luxury accessories for men and consumer items for international clients are created under the Porsche label. A visit to the Porsche Design Studio.
Download PDF/ 354 KB
Designs for Life
They're cutting edge without being trendy. Innovative, but not just for the sake of novelty. Original, but not one of a kind - products by Porsche Design.
Download PDF/ 130 KB