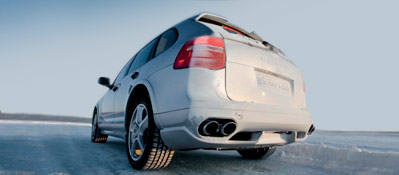 If you're curious and would like to know more about our Porsche magazine, you'll find selected articles here for you to read as a sample.
We hope you enjoy reading them.
Arctic Escapades
If you want to learn to drive a car in winter, one of Sweden's many lakes is the best place to start. There, at the Arctic Circle, where dogsleds are the standard vehicle, the Cayenne GTS waltzed in the snow.
Download PDF/ 356 KB
All-Terrain Power Play
How does all-wheel drive work in the Cayenne? We'll try to explain the various components. For here, too, everything meshes at Porsche.
Download PDF/ 332 KB
Alpine Mountain High: A Tour in the Cayman
The call of the mountains: We took a brief tour of the Swiss Alps in the Cayman. Here's a photo documentation of the fascinating experience.
Download PDF/ 1087 KB
Euro Vision
The 476-hp RS Spyder will be paying its respects in Europe this year. Three customer teams will start their engines on European racetracks––in the winning car of the American Le Mans Series.
Download PDF/ 744 KB
A Conductor at the Wheel
Herbert von Karajan loved both music and Porsche. Even today, mechanics remember the conductor's interest in sports cars. He would have turned 100 in 2008.
Download PDF/ 564 KB
The Carrera of the Waterways
We made waves off Miami's exclusive Fisher Island. The luxury yacht Fearless 28, developed by Porsche Design Studio, is a sensation everywhere.
Download PDF/ 1023 KB
Discover Austria's Beautiful Burgenland
Cuisine, wine, and hotels lure ever more tourists to the Burgenland. Austria's easternmost state has become a center of attraction for connoisseurs.
Download PDF/ 1988 KB