Results for Porsche
919 Hybrid No. 17: Bernhard, Webber, Hartley
1st position; 216 laps; fastest lap: 1'26.022
919 Hybrid No. 18: Dumas, Jani, Lieb
2nd position; 216 laps; fastest lap: 1'26.045
911 RSR No. 92: Pilet, Makowiecki
2nd position; 192 laps; fastest lap: 1'40.940
911 RSR No. 91: Lietz, Christensen
4th position; 192 laps; fastest lap: 1'40.888
Overall result
P
Driver
No.
Team
Car
Class
Laps
Best Lap
Gap
1
Timo BERNHARD
Mark WEBBER
Brendon HARTLEY
17
Porsche Team
Porsche 919 Hybrid
LM P1
216
1'26.022
2
Romain DUMAS
Neel JANI
Marc LIEB
18
Porsche Team
Porsche 919 Hybrid
LM P1
216
1'26.045
14.306
3
Marcel FÄSSLER
André LOTTERER
Benoît TRÉLUYER
7
Audi Sport Team Joest
Audi R18 e-tron quattro
LM P1
215
1'25.975
1 Laps
4
Lucas DI GRASSI
Loïc DUVAL
Oliver JARVIS
8
Audi Sport Team Joest
Audi R18 e-tron quattro
LM P1
214
1'25.621
2 Laps
5
Anthony DAVIDSON
Sébastien BUEMI
Kazuki NAKAJIMA
1
Toyota Racing
Toyota TS 040 - Hybrid
LM P1
214
1'27.512
2 Laps
6
Alexander WURZ
Stéphane SARRAZIN
Mike CONWAY
2
Toyota Racing
Toyota TS 040 - Hybrid
LM P1
203
1'27.992
13 Laps
7
Nicolas PROST
Mathias BECHE
12
Rebellion Racing
Rebellion R-One - AER
LM P1
203
1'33.032
13 Laps
8
Simon TRUMMER
Pierre KAFFER
4
Team Bykolles
CLM P1/01 - AER
LM P1
199
1'33.033
17 Laps
9
Alexandre IMPERATORI
Dominik KRAIHAMER
Daniel ABT
13
Rebellion Racing
Rebellion R-One - AER
LM P1
164
1'31.985
52 Laps
P
Driver
No.
Team
Car
Class
Laps
Best Lap
Gap
1
Gianmaria BRUNI
Toni VILANDER
51
AF Corse
Ferrari F458 Italia
LM GTE Pro
193
1'40.736
23 Laps
2
Patrick PILET
Frédéric MAKOWIECKI
92
Porsche Team Manthey
Porsche 911 RSR
LM GTE Pro
192
1'40.940
24 Laps
3
Davide RIGON
James CALADO
71
AF Corse
Ferrari F458 Italia
LM GTE Pro
192
1'41.115
24 Laps
4
Richard LIETZ
Michael CHRISTENSEN
91
Porsche Team Manthey
Porsche 911 RSR
LM GTE Pro
192
1'40.888
24 Laps
5
Christoffer NYGAARD
Marco SØRENSEN
95
Aston Martin Racing
Aston Martin Vantage V8
LM GTE Pro
191
1'42.004
25 Laps
6
Darren TURNER
Jonathan ADAM
97
Aston Martin Racing
Aston Martin Vantage V8
LM GTE Pro
190
1'41.995
26 Laps
7
Alex MACDOWALL
Fernando REES
Stefan MÜCKE
99
Aston Martin Racing V8
Aston Martin Vantage V8
LM GTE Pro
190
1'41.786
26 Laps
P
Driver
No.
Team
Car
Class
Laps
Best Lap
Gap
1
Timo BERNHARD
Mark WEBBER
Brendon HARTLEY
17
Porsche Team
Porsche 919 Hybrid
LM P1
216
1'26.022
2
Romain DUMAS
Neel JANI
Marc LIEB
18
Porsche Team
Porsche 919 Hybrid
LM P1
216
1'26.045
14.306
3
Marcel FÄSSLER
André LOTTERER
Benoît TRÉLUYER
7
Audi Sport Team Joest
Audi R18 e-tron quattro
LM P1
215
1'25.975
1 Laps
4
Lucas DI GRASSI
Loïc DUVAL
Oliver JARVIS
8
Audi Sport Team Joest
Audi R18 e-tron quattro
LM P1
214
1'25.621
2 Laps
5
Anthony DAVIDSON
Sébastien BUEMI
Kazuki NAKAJIMA
1
Toyota Racing
Toyota TS 040 - Hybrid
LM P1
214
1'27.512
2 Laps
6
Alexander WURZ
Stéphane SARRAZIN
Mike CONWAY
2
Toyota Racing
Toyota TS 040 - Hybrid
LM P1
203
1'27.992
13 Laps
7
Nicolas PROST
Mathias BECHE
12
Rebellion Racing
Rebellion R-One - AER
LM P1
203
1'33.032
13 Laps
8
Simon TRUMMER
Pierre KAFFER
4
Team Bykolles
CLM P1/01 - AER
LM P1
199
1'33.033
17 Laps
9
Roman RUSINOV
Julien CANAL
Sam BIRD
26
G-Drive Racing
Ligier JS P2 - Nissan
LM P2
198
1'35.635
18 Laps
10
Nelson PANCIATICI
Paul Loup CHATIN
Vincent CAPILLAIRE
36
Signatech Alpine
Alpine A450b - Nissan
LM P2
198
1'35.933
18 Laps
11
Gustavo YACAMAN
Luis Felipe DERANI
Ricardo GONZALEZ
28
G-Drive Racing
Ligier JS P2 - Nissan
LM P2
197
1'34.550
19 Laps
12
Scott SHARP
Ryan DALZIEL
David HEINEMEIER HANSSON
30
Extreme Speed Motorsports
Ligier JS P2 - HPD
LM P2
194
1'35.235
22 Laps
13
Gianmaria BRUNI
Toni VILANDER
51
AF Corse
Ferrari F458 Italia
LM GTE Pro
193
1'40.736
23 Laps
14
Pierre RAGUES
Oliver WEBB
Christopher CUMMING
43
Team Sard Morand
Morgan Evo - SARD
LM P2
193
1'36.579
23 Laps
15
Patrick PILET
Frédéric MAKOWIECKI
92
Porsche Team Manthey
Porsche 911 RSR
LM GTE Pro
192
1'40.940
24 Laps
16
Davide RIGON
James CALADO
71
AF Corse
Ferrari F458 Italia
LM GTE Pro
192
1'41.115
24 Laps
17
Richard LIETZ
Michael CHRISTENSEN
91
Porsche Team Manthey
Porsche 911 RSR
LM GTE Pro
192
1'40.888
24 Laps
18
Nick LEVENTIS
Danny WATTS
Jonny KANE
42
Strakka Racing
Gibson 015S - Nissan
LM P2
192
1'36.829
24 Laps
19
Christoffer NYGAARD
Marco SØRENSEN
95
Aston Martin Racing
Aston Martin Vantage V8
LM GTE Pro
191
1'42.004
25 Laps
20
Darren TURNER
Jonathan ADAM
97
Aston Martin Racing
Aston Martin Vantage V8
LM GTE Pro
190
1'41.995
26 Laps
21
Alex MACDOWALL
Fernando REES
Stefan MÜCKE
99
Aston Martin Racing V8
Aston Martin Vantage V8
LM GTE Pro
190
1'41.786
26 Laps
22
Patrick DEMPSEY
Patrick LONG
Marco SEEFRIED
77
Dempsey - Proton Racing
Porsche 911 RSR
LMGTE Am
187
1'41.917
29 Laps
23
Paul DALLA LANA
Pedro LAMY
Mathias LAUDA
98
Aston Martin Racing
Aston Martin Vantage V8
LMGTE Am
187
1'42.612
29 Laps
24
François PERRODO
Emmanuel COLLARD
Rui AGUAS
83
AF Corse
Ferrari F458 Italia
LMGTE Am
186
1'41.723
30 Laps
25
Ed BROWN
Johannes VAN OVERBEEK
Jonathon FOGARTY
31
Extreme Speed Motorsports
Ligier JS P2 - HPD
LM P2
186
1'39.037
30 Laps
26
Gianluca RODA
Paolo RUBERTI
Nicolai SYLVEST
50
Larbre Competition
Chevrolet Corvette C7
LMGTE Am
185
1'42.609
31 Laps
27
Christian RIED
Khaled AL QUBAISI
Earl BAMBER
88
Abu Dhabi-Proton Racing
Porsche 911 RSR
LMGTE Am
185
1'41.605
31 Laps
28
Victor SHAYTAR
Andrea BERTOLINI
Aleksey BASOV
72
SMP Racing
Ferrari F458 Italia
LMGTE Am
185
1'42.468
31 Laps
29
Francesco CASTELLACCI
Liam GRIFFIN
Stuart HALL
96
Aston Martin Racing
Aston Martin Vantage V8
LMGTE Am
184
1'44.942
32 Laps
30
Alexandre IMPERATORI
Dominik KRAIHAMER
Daniel ABT
13
Rebellion Racing
Rebellion R-One - AER
LM P1
164
1'31.985
52 Laps
31
Matthew HOWSON
Richard BRADLEY
Nick TANDY
47
KCMG
Oreca 05 - Nissan
LM P2
192
1'35.097
24 Laps
Race report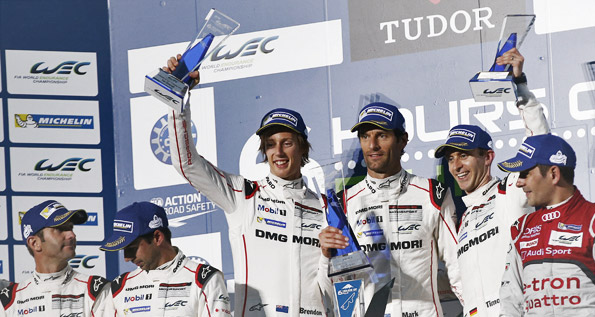 Porsche takes lead in the drivers' championship with another one-two result
Stuttgart. By winning the fourth race in a row with the Porsche 919 Hybrid, the Porsche Team took an important step forward in the battle for the FIA World Endurance Championship (WEC), and now leads both the manufacturers' and the drivers' standings. Today Timo Bernhard (DE), Brendon Hartley (NZ)...
Read more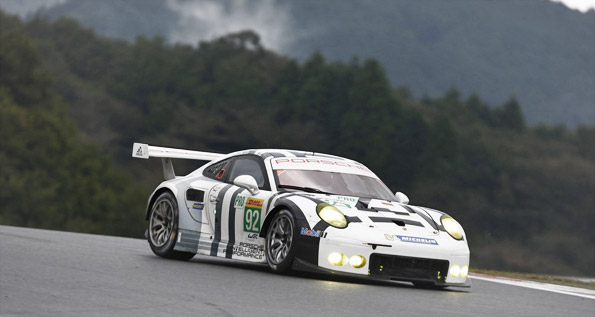 Porsche leads driver and team classifications – class win for Patrick Dempsey
Stuttgart. Porsche continues to keep the title fight open in the strongly represented GTE-Pro class of the Sports Car World Championship WEC (World Endurance Championship). After clinching two double victories at the Nürburgring and at Austin, the 911 RSR fielded by the Porsche Manthey squad earned...
Read more