Meet the all-electric Porsche:
Ask Porsche about the Taycan.
What makes a Porsche a Porsche? Is it the heritage? The engineering? The performance? As the first all-electric Porsche, the Taycan has been met with great curiosity. And no small amount of questions. We as Porsche engage with issues that concern people. That's why we decided to address some questions and concerns posed by fans and enthusiasts worldwide: with the Ask Porsche web video series. We asked our fans what they want to know about our electric sports car – right where we are in close contact with them: on Social Media. And a large number of interesting questions reached us. Asked by fans, Porsche owners and those curious about when an electric vehicle becomes a sports car and a sports car becomes a Porsche.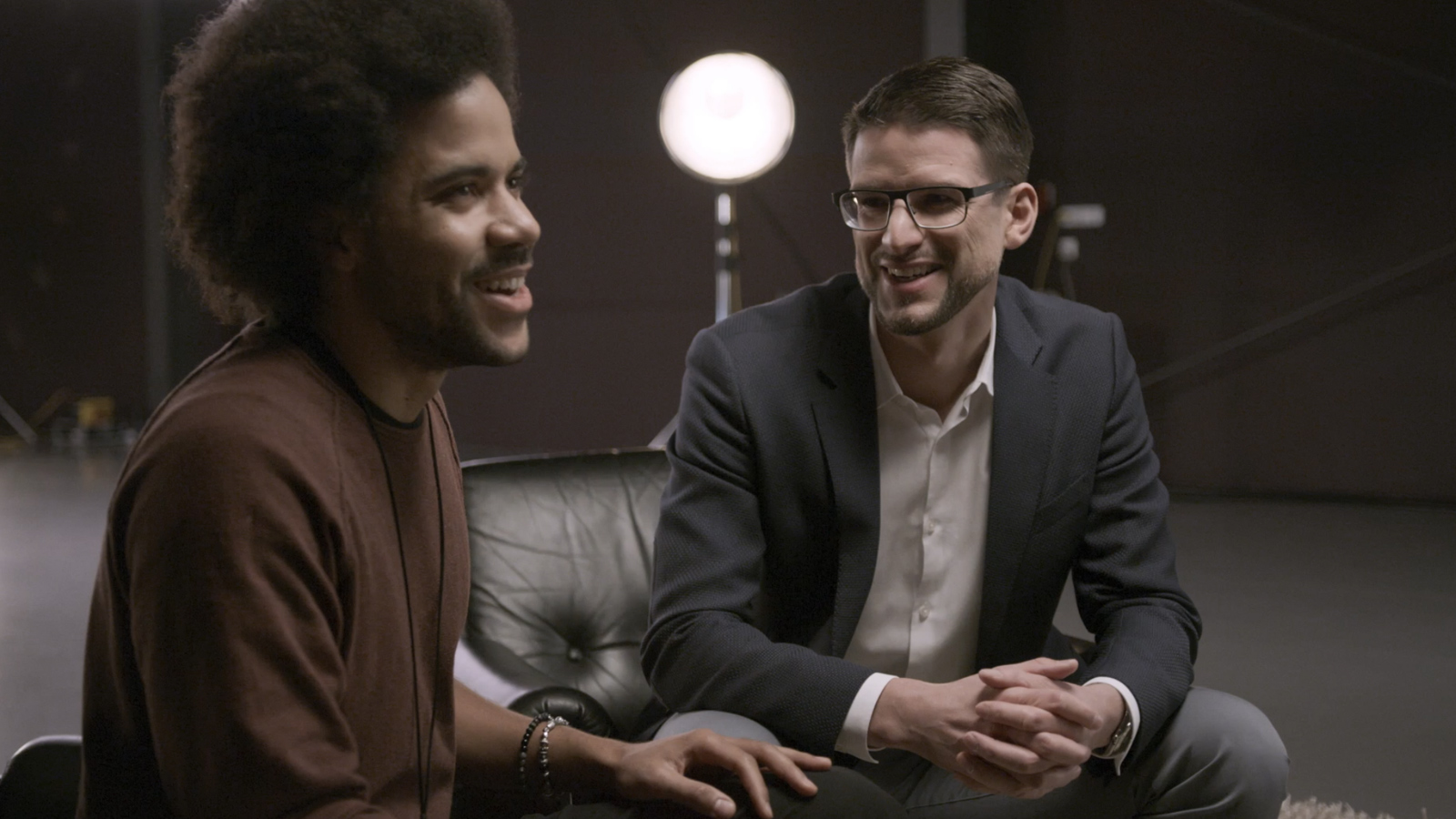 Meet the hosts.
We have teamed Alex with our product expert Andreas Becker. He is Head of Product Marketing BEV & Strategy and knows the Taycan extremely well.
In the past 4 years, Alex Bangula has offered insights on electromobility on his German YouTube Channel 'Elektrisiert' on a weekly basis. Usually, the 30-year-old is testing the possibilities of electric vehicles in daily life and on long road trips through Europe. His positive attitude and his understanding of electric vehicles were major factors in why we asked him to join us as we answer community questions on the new Porsche Taycan.
The new Taycan is more than an electric sports car. It's the first all-electric Porsche. And to carry on the Porsche soul, it comes with an innovative total concept. It is characterized by the features that have always been decisive for any Porsche: pure emotion and maximum driving pleasure. So, to get to know this new member of the Porsche family, we also brought in the new Taycan Turbo to answer community questions. There were quite a few questions about the vehicle naming, its sound and financing. But some enthusiasts also wanted to know: What's next?
What does the Taycan sound like?
Soul, electrified.
With the new Taycan, we faced many questions about the future of Porsche and how the future of sports cars can look like while taking electromobility into consideration. These questions were openly discussed by fans online, but also asked of Porsche – particularly after the announcement of the Mission E concept study. Quite often, the discussions were focused on the question if an electric sports car could be a Porsche. Our answer is a clear and resounding yes: A Porsche like the Taycan is always a sports car – and should therefore be optimized for both sporty performance and maximum tenacity.
Can the Taycan withstand winter?
A cable with the power to fuel dreams.
Since Ferry Porsche registered the Porsche 356 "No.1" Roadster, Porsche embodied a dream. Of freedom. Of technical excellence. Of remaining true to your roots while entering the future. A Porsche sports car stands for performance. In every respect. Naturally, that's something sports car enthusiasts are passionate about. All the more reason for our hosts, Alex and Andreas, to talk about the many facets of Porsche typical performance and power found in the new Taycan. And how to charge that power. From the design challenge of 800-volt charging to the charging possibilities, these questions were equally addressed.
Can the Taycan charge faster than a coffee break takes?
Reinvent yourself and still remain entirely true to yourself.
How do you shape the future of the sports car? With enthusiasm and conviction. That includes a firm understanding of where we want to go as a sports car manufacturer. What train of development do our engineers follow? And which do we decide not to tinker with? One thing is for sure: Porsche is emotion merged with innovation. That's why Alex and Andreas can easily speak of what fans can look forward to. And we wouldn't be Porsche, if we didn't think about everyday practicability too.
How do you get skis into the Taycan?
Our fans have asked us many exciting questions in the videos. For example, where the futuristic sound of the Taycan comes from. How the idea for the first all-electric Porsche came about or what great challenges it faced. Fact is: with the Porsche Taycan, no questions remain unanswered. The first all-electric Porsche is an innovative sports car while remaining true to its roots. Soul, electrified.