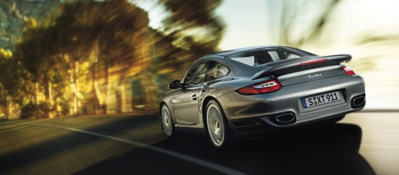 If you're curious and would like to know more about our Porsche magazine, you'll find selected articles here for you to read as a sample.
We hope you enjoy reading them.
New Man at the Top: Michael Macht
Michael Macht is Porsche's new CEO. This 49-year-old production expert has pursued a 19-year strategy for success at the company: work, work, work.
Download PDF/ 103 KB
Fast Freeze: The New 911 Turbo
You'll know them by their rear wing—the new 911 Turbo and the 911 Turbo Cabriolet have surged in power. They show off their full range of performance in the Arctic Circle.
Download PDF/ 419 KB
Vive la Panamera!
A unique opportunity with the Porsche Travel Club made it possible to set off in a Panamera before it came on the market. Porsche's fourth series receives an enthusiastic welcome.
Download PDF/ 794 KB
The Luxury Line
At the assembly plant in Leipzig, perfect interplay between staff and machinery ensures that the Panamera receives everything it needs. We visit this cutting-edge automotive production site.
Download PDF/ 172 KB
Just a Moment…
The Panamera is transforming the roads. And also bookshelves. An impressive volume entitled Panamera Moment not only has an unusual format — its contents live up to the promise of its title.
Download PDF/ 224 KB
Arctic Plains Drifter
The only natural limit at the Ice Force training camp is that of tire adhesion on a slippery surface. The Porsche Sport Driving School invites us to a drift extravaganza on a frozen lake in Finland.
Download PDF/ 232 KB
The End of an Era
Dr. Wendelin Wiedeking was the CEO of Porsche AG for seventeen years. "He led the company out of hard times to heights that no one had imagined before," said Supervisory Board Chairman Dr. Wolfgang Porsche of Wiedeking, who stepped down from his post on July 23, 2009.
Download PDF/ 144 KB