Résultats pour Porsche
919 Hybrid N° 02: Bernhard, Bamber, Hartley
1ère position; 240 tours; Tour le plus rapide : 1'25.730
919 Hybrid N° 01: Jani, Lotterer, Tandy
2ème position; 240 tours; Tour le plus rapide : 1'25.876
911 RSR N° 91: Lietz, Makowiecki
3ème position; 208 tours; Tour le plus rapide : 1'40.889
911 RSR N° 92: Christensen, Estre
5 position; 207 tours; Tour le plus rapide : 1'40.959
Résultats
P
Driver
No.
Team
Car
Class
Laps
Best Lap
Gap
1
Timo BERNHARD
Earl BAMBER
Brendon HARTLEY
2
Porsche LMP Team
Porsche 919 Hybrid
LM P1
240
1'25.730
2
Neel JANI
André LOTTERER
Nick TANDY
1
Porsche LMP Team
Porsche 919 Hybrid
LM P1
240
1'25.876
7.141
3
Sébastien BUEMI
Anthony DAVIDSON
Kazuki NAKAJIMA
8
Toyota Gazoo Racing
Toyota TS050 - Hybrid
LM P1
239
1'26.445
1 Laps
4
Mike CONWAY
Kamui KOBAYASHI
Jose Maria LOPEZ
7
Toyota Gazoo Racing
Toyota TS050 - Hybrid
LM P1
239
1'26.240
1 Laps
P
Driver
No.
Team
Car
Class
Laps
Best Lap
Gap
1
Nicki THIIM
Marco SØRENSEN
95
Aston Martin Racing
Aston Martin VANTAGE
LMGTE Pro
209
1'40.268
31 Laps
2
Davide RIGON
Sam BIRD
71
AF Corse
Ferrari 488 GTE
LMGTE Pro
209
1'40.212
31 Laps
3
Richard LIETZ
Frédéric MAKOWIECKI
91
Porsche GT Team
Porsche 911 RSR
LMGTE Pro
208
1'40.889
32 Laps
4
Andy PRIAULX
Harry TINCKNELL
67
Ford Chip Ganassi Team UK
Ford GT
LMGTE Pro
207
1'40.838
33 Laps
5
Michael CHRISTENSEN
Kevin ESTRE
92
Porsche GT Team
Porsche 911 RSR
LMGTE Pro
207
1'40.959
33 Laps
6
James CALADO
Alessandro PIER GUIDI
51
AF Corse
Ferrari 488 GTE
LMGTE Pro
206
1'40.969
34 Laps
7
Stefan MÜCKE
Olivier PLA
66
Ford Chip Ganassi Team UK
Ford GT
LMGTE Pro
205
1'40.864
35 Laps
8
Darren TURNER
Jonathan ADAM
Daniel SERRA
97
Aston Martin Racing
Aston Martin VANTAGE
LMGTE Pro
83
1'41.317
157 Laps
Rapport de course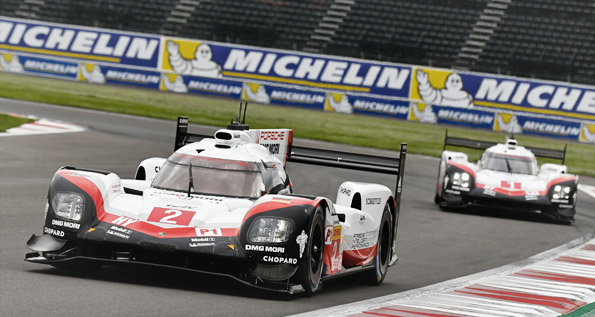 Porsche LMP Team scores dominant one-two race win in Mexico
Stuttgart. The Porsche LMP Team took another big step in their mission of title defence in Mexico City today: At the fifth round of the FIA World Endurance Championship (WEC) at the Autódromo Hermanos Rodríguez, the Weissach-based team with the two Porsche 919 Hybrids achieved a dominant one-two...
En savoir plus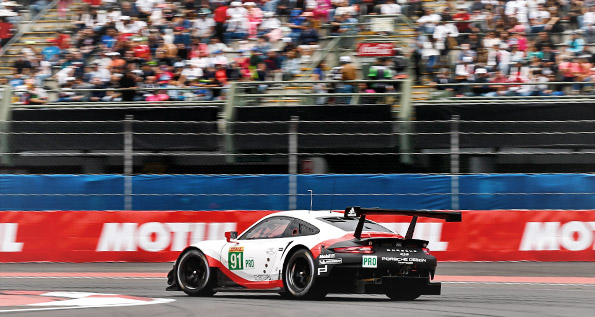 Podium and second place in the drivers' world championship
Stuttgart. Porsche has made a successful start into the second half of the season in the Sports Car World Endurance Championship WEC: At the six-hour race in Mexico City on Sunday, the Porsche GT Team scored its fourth podium result this season with the new 510 hp 911 RSR, when Richard Lietz...
En savoir plus