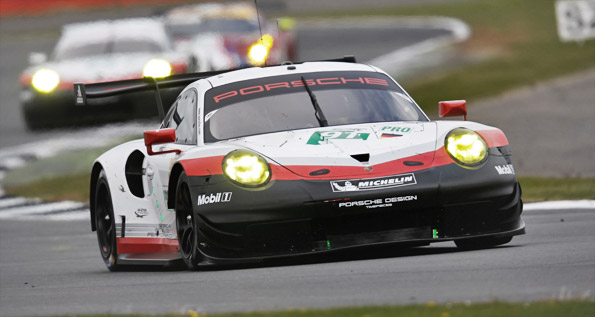 Race report
Porsche 911 RSR (91), Porsche GT Team
Porsche 911 RSR (91), Porsche GT Team
FIA World Endurance Championship, Round 1 in Silverstone, Great Britain, Race report
New Porsche 911 RSR starts its first world championship season with podium
Stuttgart. At the Silverstone six-hour race, the new Porsche 911 RSR started its maiden season in the Sports Car World Endurance Championship WEC with a podium result. Richard Lietz (Austria) and Frédéric Makowiecki (France) planted the 911 RSR with the starting number 91 on the third grid spot in the GTE-Pro class on Easter Sunday in front of more than 50,000 spectators. With four automobile manufacturers, this category is the most strongly represented and treated fans to 171 laps of thrills and spills right from the start of the season. For 2017, the completely newly developed 510 hp race car from Weissach is fielded by the Porsche GT Team in the WEC as well as the IMSA SportsCar Championship in the USA and Canada.

Twenty-seven cars lined up on the Silverstone Circuit to kick off this year's Sports Car World Endurance Championship WEC. The sky over the storied racetrack in the British Midlands was overcast, a cold wind blew, and light showers fell especially in the second half of the race. However, this dampened neither the spirits of the enthusiastic British motor racing fans on the grandstands nor the pilots, who, instead of switching to wet tyres on the partially wet track, stayed out on slicks and treated the spectators to gripping fights and spectacular overtaking manoeuvres. The Porsche GT Team used the entire qualifying session to prepare for the race and to save the tyres. This season, only four instead of six sets of tyres may be used per race weekend.

This strategy paid off. In the #91 Porsche 911 RSR, Frédéric Makowiecki made up three positions in the first lap; after nine laps he was already running in third. In his slipstream, his works driver colleague Michael Christensen (# 92) turned consistently fast lap times and was within striking distance of the frontrunners. After just half an hour, the Frenchman was in second with the Dane in third. In his pursuit of the leader, Frédéric Makowiecki didn't let the first drops of rain halt his charge. After 26 laps, he snatched the lead for the first time, which he then had to reclaim again and again over the course of the race. After two hours he handed the 911 RSR off to his teammate Richard Lietz. In the #92 vehicle, Kévin Estre took the wheel and continued to chase down the front group. However, at just over the halfway mark, he had park his 911 RSR with a technical problem.

Frédéric Makowiecki on the other hand seemed unstoppable. When the safety car was deployed a good two hours before the finish, he took over driving duties from Richard Lietz and promptly turned the fastest lap of the race. With one hour and twelve minutes to go, he pulled into the pits as the leader. Even as he pitted for a splash-and-dash fuel stop shortly before the finish he was still running at the top. Since his rivals had already made their final pit stops at this stage, Makowiecki returned to the race action in fourth. Still, with a breathtaking final push in the final laps he managed to snatch third – which everyone had believed to be lost – and made the much hoped for good start into the WEC season.

In the GTE-Am class as well, Porsche had every reason to celebrate. With the 911 RSR campaigned by the customer squad Dempsey Proton Racing, the Porsche Young Professional Matteo Cairoli (Italy) joined forces with his German teammates Christian Ried and Marvin Dienst to claim third place after a dramatic final lap. Matteo Cairoli was also one of the pilots who secured second in the 911 RSR of Proton Competition at the season-opening round of the European Le Mans Series ELMS at Silverstone the day before.

Round two of the Sports Car World Endurance Championship is contested on 6 May in Spa-Francorchamps/Belgium.
Comments on the race
Dr Frank-Steffen Walliser, Head of Porsche Motorsport: "That was a great race in the GTE-Pro class; extremely close and with spectacular overtaking manoeuvres. It was a great advertisement for our sport. The spectators were truly given their money's worth. Strategically, it was a very tough race, which was made even more interesting by the caution phases. It's a shame that our number 91 contender had to retire with a technical problem, which is as yet unidentified. But basically we have the pace and that makes us confident for the next race. The GTE-Am class was also gripping from start to finish. In the final dramatic lap, our Dempsey Proton Racing customer team also clinched third place, and they were rewarded for their strong team performance."

Richard Lietz (911 RSR #91): "It was a very difficult race, particularly my stint with slicks in the rain. We can be very pleased with a podium place. Still, it was definitely a great and promising start to the WEC season."

Frédéric Makowiecki (911 RSR #91): "We concluded this extremely tough race with a well-earned podium spot. In some situations we simply had luck on our side, but that's just part of a strong and balanced field. Finishing third is more than we could have expected after our qualifying. Now we can build on this performance for the next races."

Kévin Estre (911 RSR #92): "We were running well with our 911 RSR right from the start. Our strategy was to conserve our tyres until the last two hours of racing. Everything actually ran according to plan. But towards the end of my double stint I suddenly lost power. A short time later I saw smoke and flames. It's a shame that our first WEC race ended like this for our new 911 RSR."

Michael Christensen (911 RSR #92): "The race started really well for us. Our strategy to use the qualifying to prepare for the race and save our tyres worked brilliantly. This put us in the position to overtake several competitors and then match the pace of the frontrunners. At times we were in third place. That was all very positive. So we're now looking ahead and we're excited for the next race at Spa."

Matteo Cairoli (911 RSR #77): "What a way to start my first WEC season. The race was a fantastic experience for me. I'm totally thrilled with third place. In the last lap we had a little luck on our side, but we all deserved this podium result."


Race result

GTE-Pro class
1. Priaulx/Tincknell/Derani (GB/GB/BRA), Ford GT, 171 laps
2. Calado/Pier Guidi (I/I), Ferrari 488 GTE, 171
3. Lietz/Makowiecki (A/F), Porsche 911 RSR, 171
4. Mücke/Pla/Johnson (D/F/USA), Ford GT, 171
5. Rigon/Bird (I/GB), Ferrari 488 GTE, 170
6. Thiim/Soerensen/Stanaway (DK/DK/NZ), Aston Martin, 170
7. Turner/Adam/Serra (GB/GB/BRA), Aston Martin, 168
8. Christensen/Estre (DK/F), Porsche 911 RSR, 102

GTE-Am class
1. Mok/Sawa/Griffin (MYS/J/IRL), Ferrari 488 GTE, 166 laps
2. Dalla Lana/Lamy/Lauda (CAN/P/A), Aston Martin, 166
3. Ried/Cairoli/Dienst (D/I/D), Porsche 911 RSR, 166
4. Wainwright/Barker/Foster (GB/GB/GB), Porsche 911 RSR, 143
Flohr/Castellacci/Molina (CZE/I/E), Ferrari 488 GTE, DNQ


Tous les rapports de course de la saison précédente peuvent être trouvés dans nos archives.