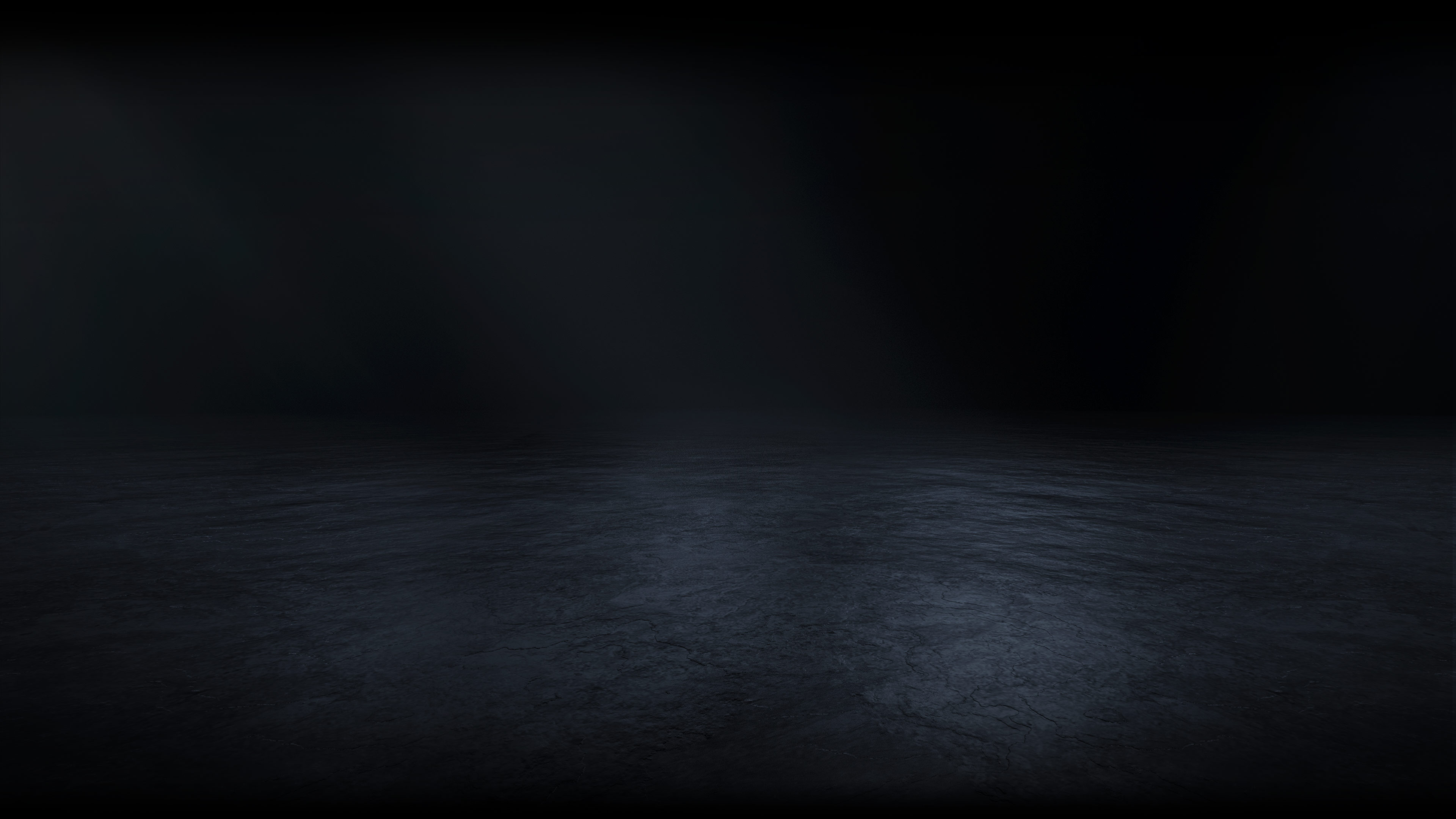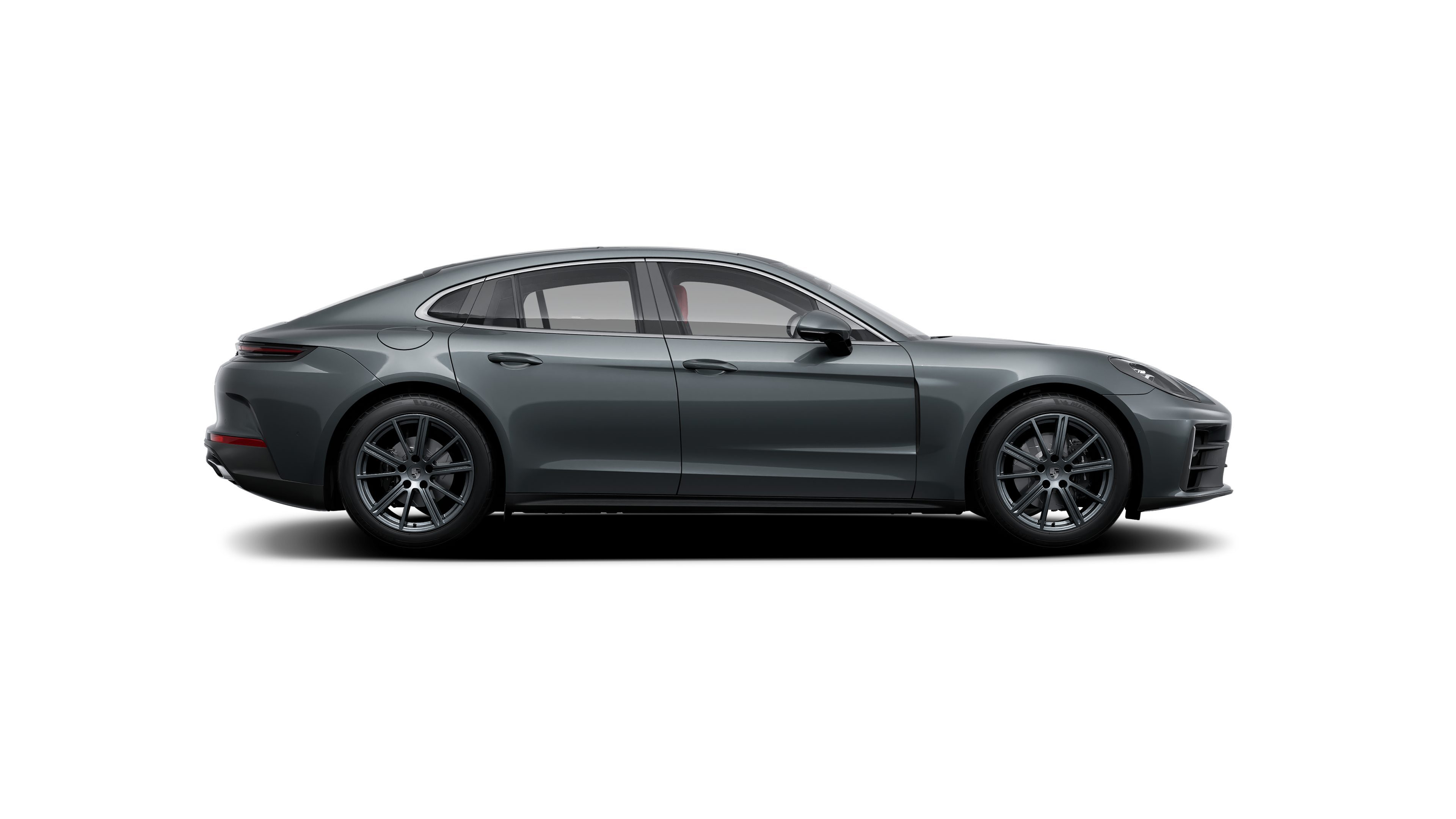 5.3 s
Acceleration from 0 - 100 km/h
272 km/h
Top track speed with summer tires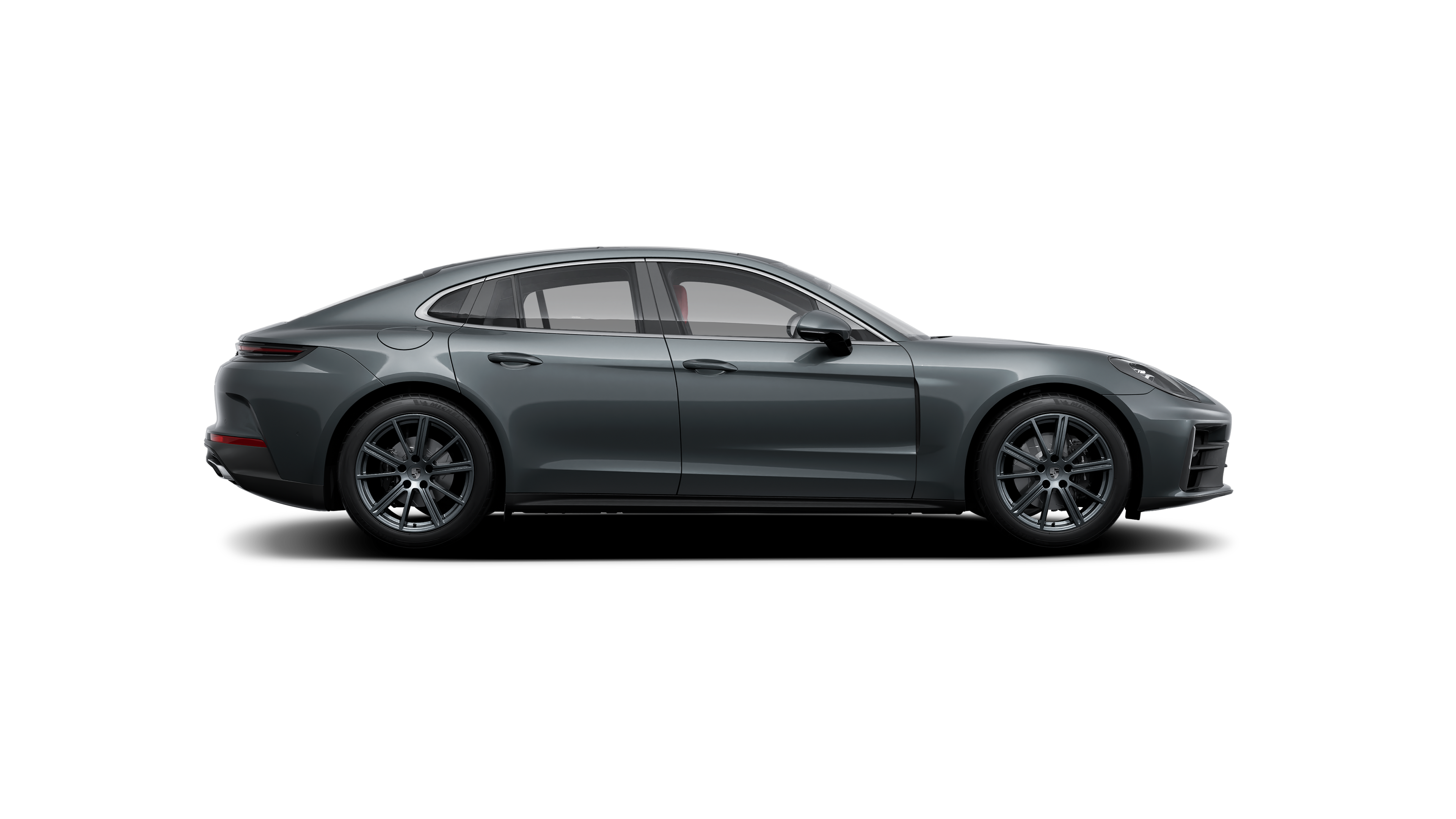 5.0 s
Acceleration from 0 - 100 km/h
270 km/h
Top track speed with summer tires
Coming soon
Panamera Turbo E-Hybrid
Back to beginning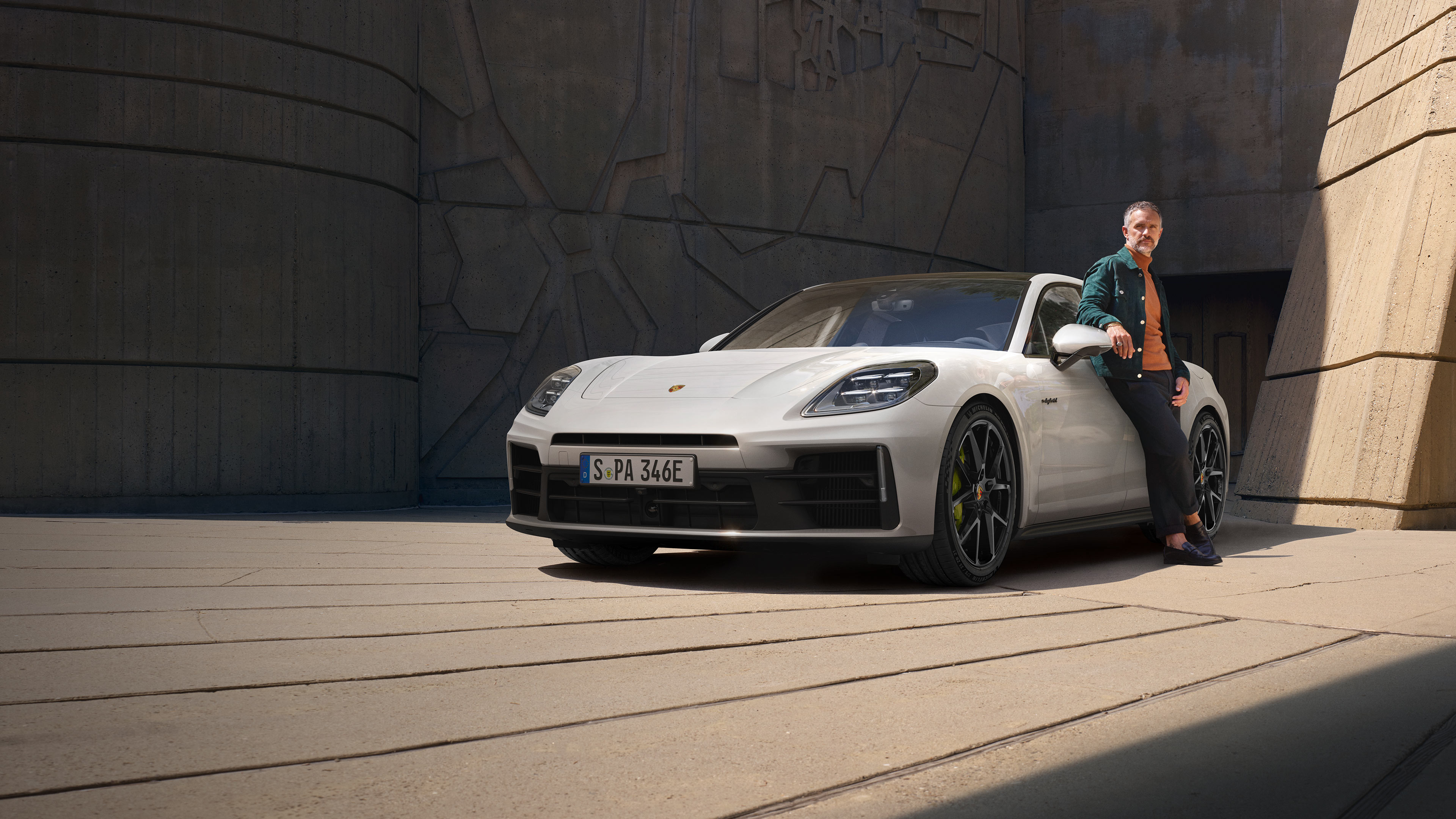 The new Panamera. Choose boldly.
The Panamera is for those who use freedom to follow their instincts. Who express themselves in the way they travel, not just in reaching their destination. Who make decisions based on their own desires and not what others think. We built this sports car for exactly these people.
Design.
Should a sports saloon really look like a saloon? The Panamera once again answers this question with an unequivocal 'No'.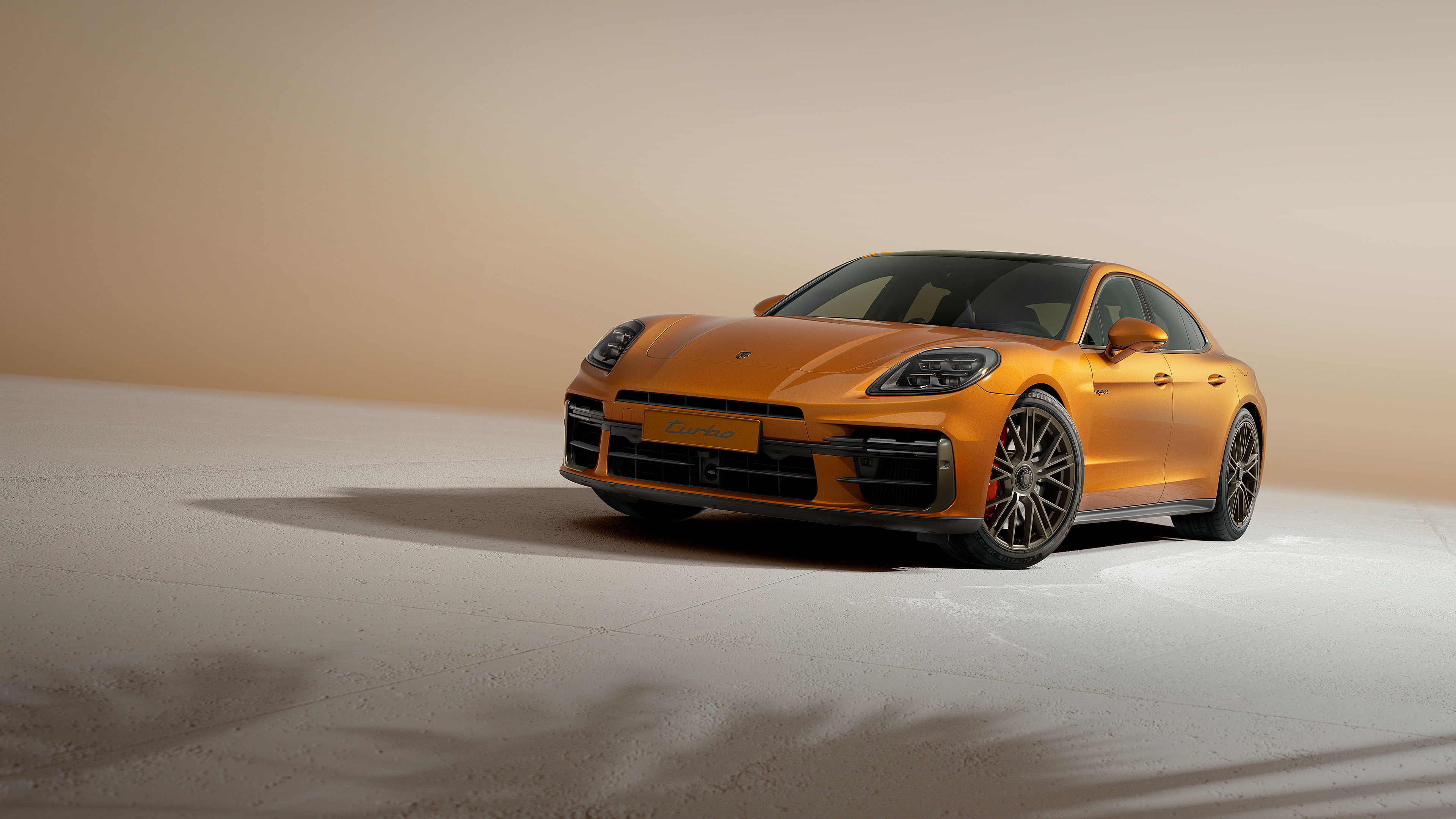 Panamera.
The Panamera – the outline and proportions are unmistakably Porsche. Athletic, streamlined, with clear contours and powerful proportions. The long wheelbase, shorter overhang at the front and longer overhang at the rear already lend visual dynamism. The prominent sculpting of the side profile creates the customary Porsche waistline and sense of lightness.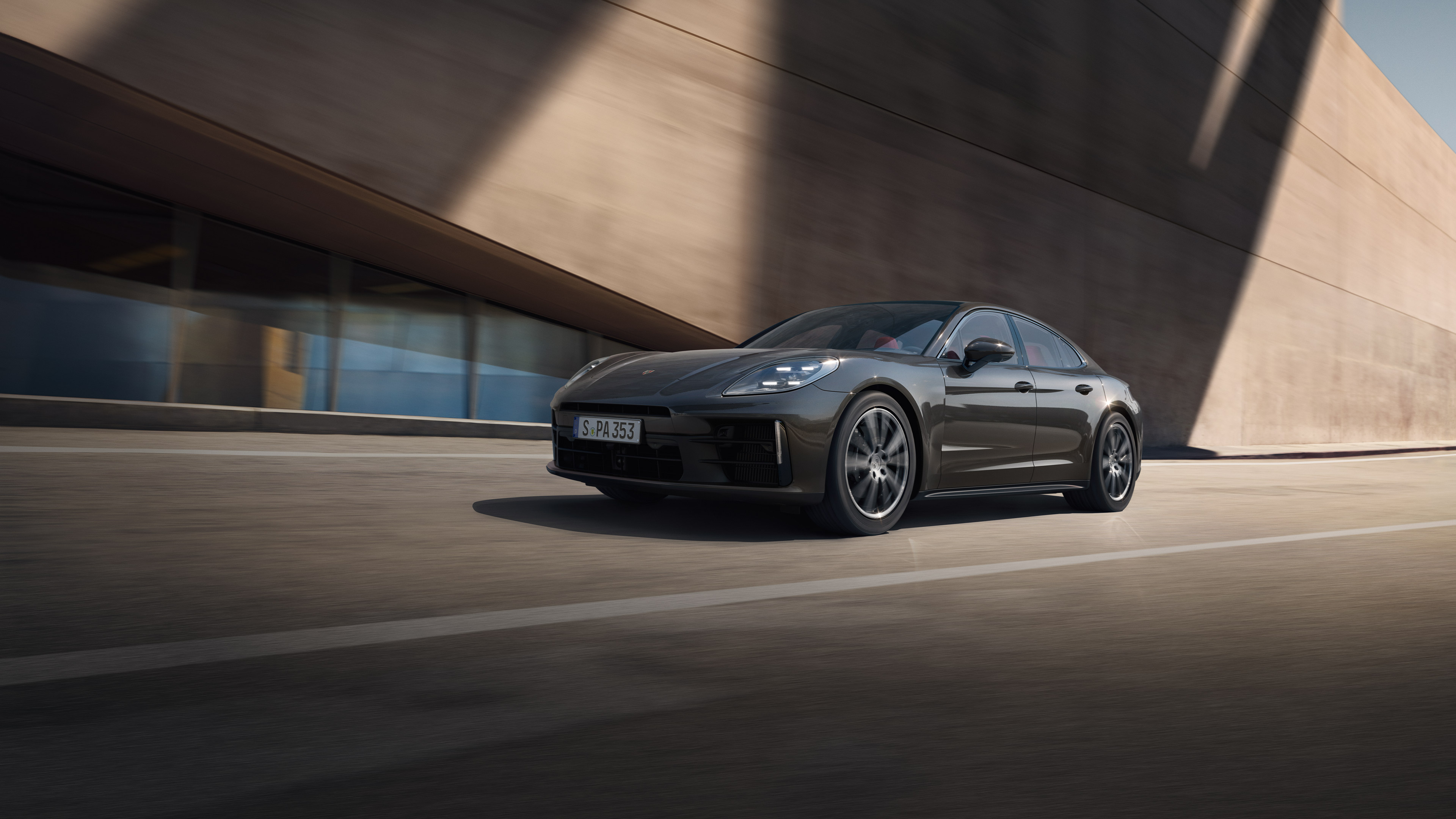 Adaptive air suspension including PASM.
All Panamera models are equipped with the new adaptive air suspension including Porsche Active Suspension Management (PASM).
Panamera highlights.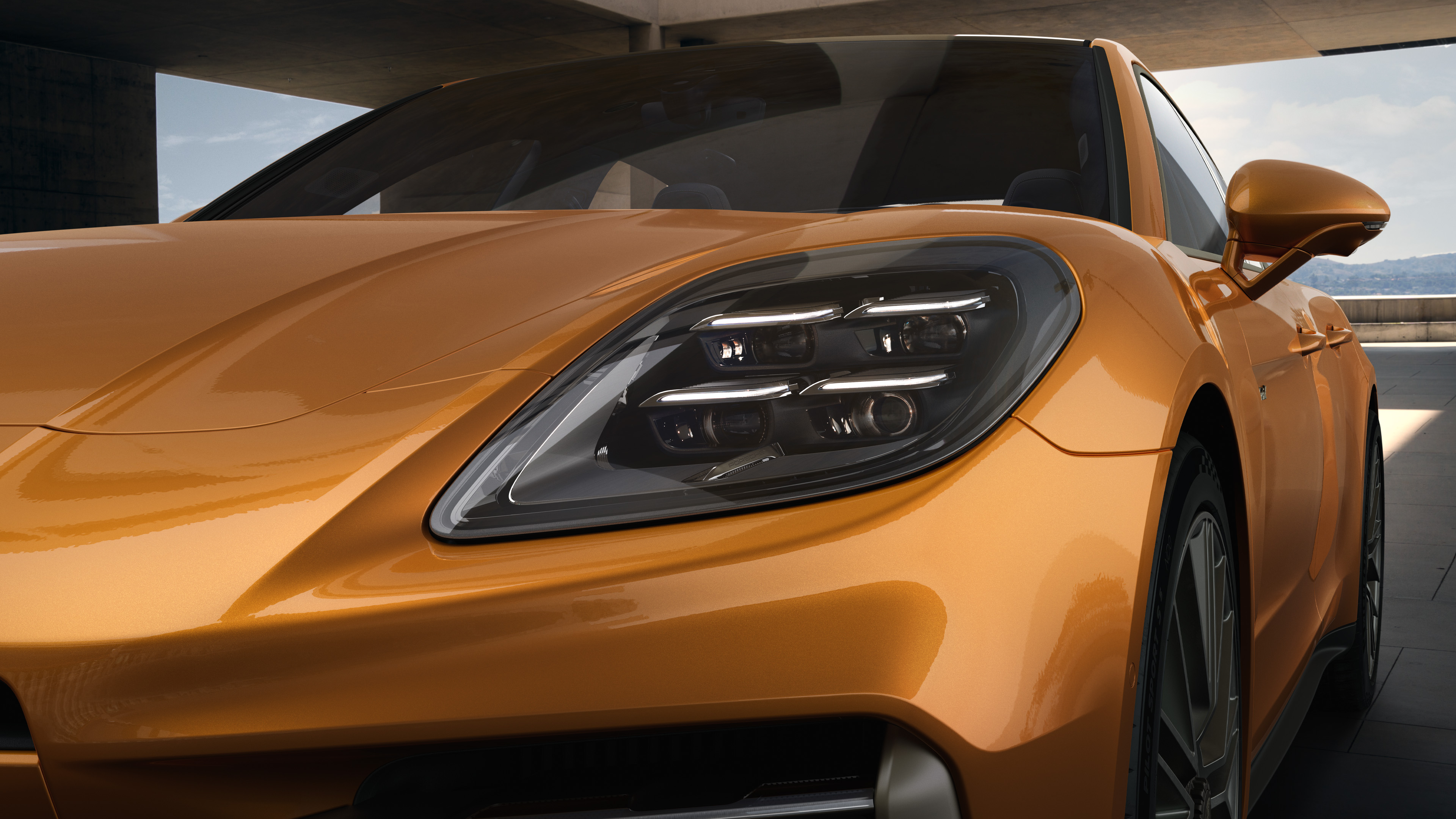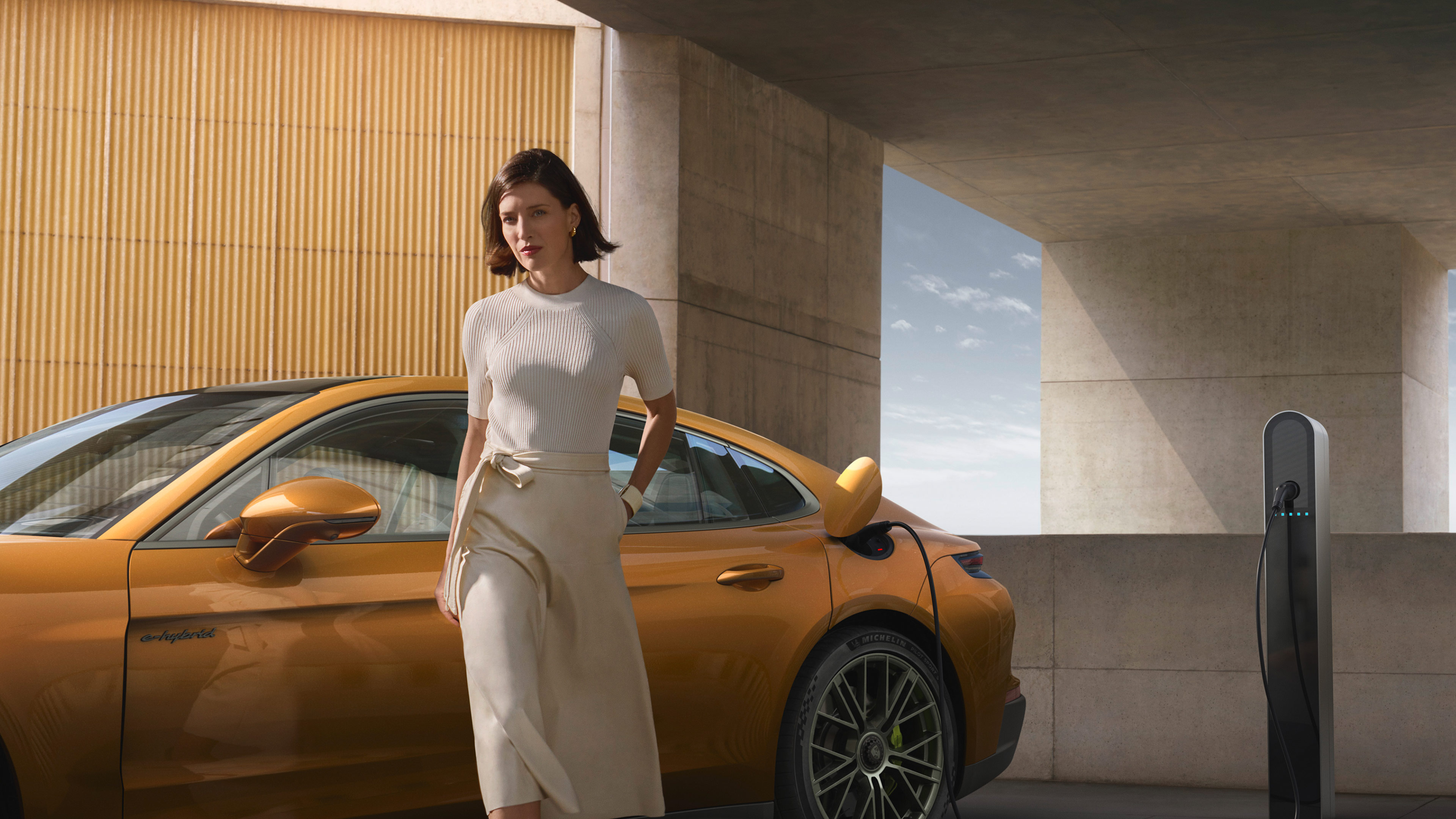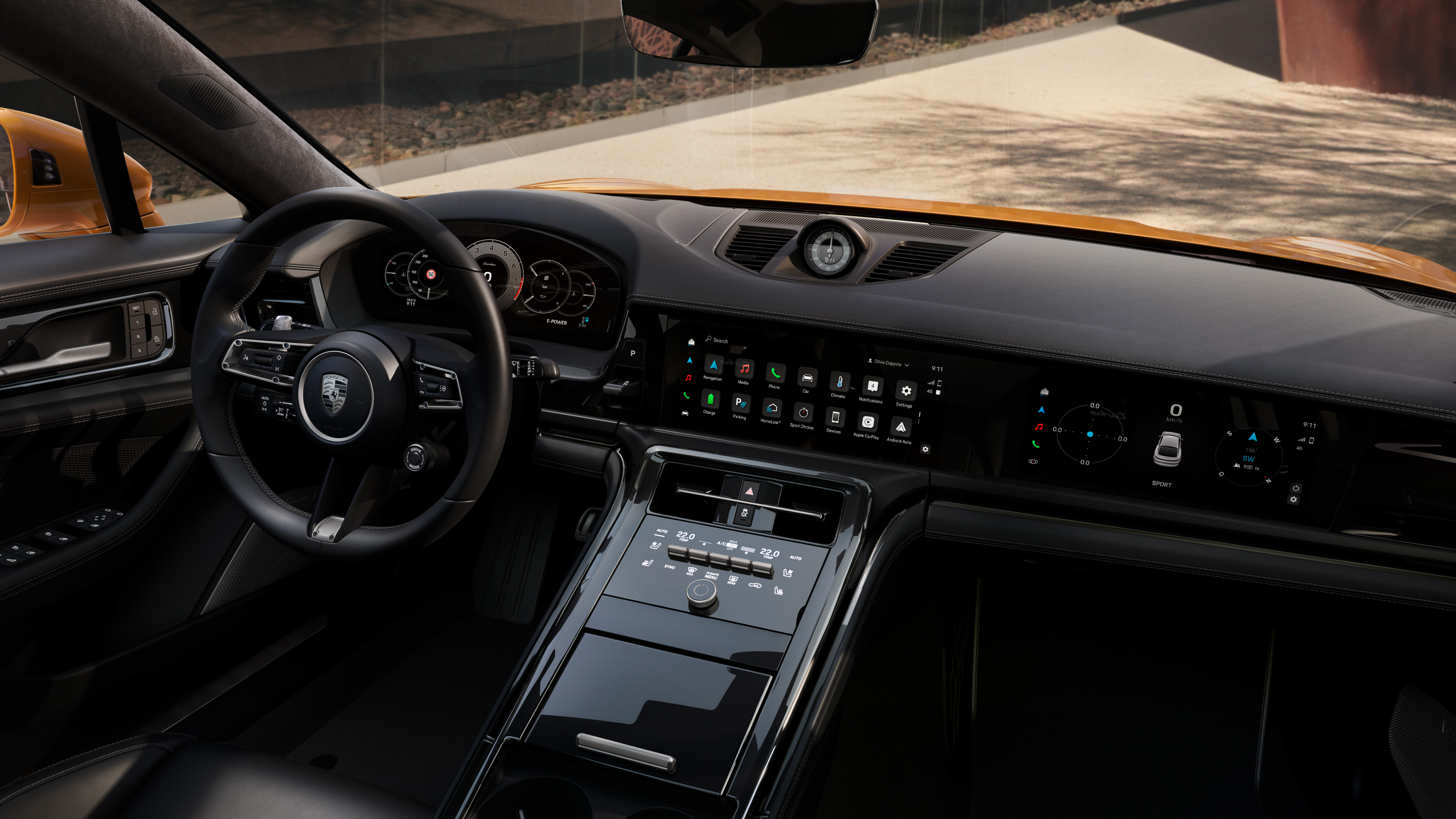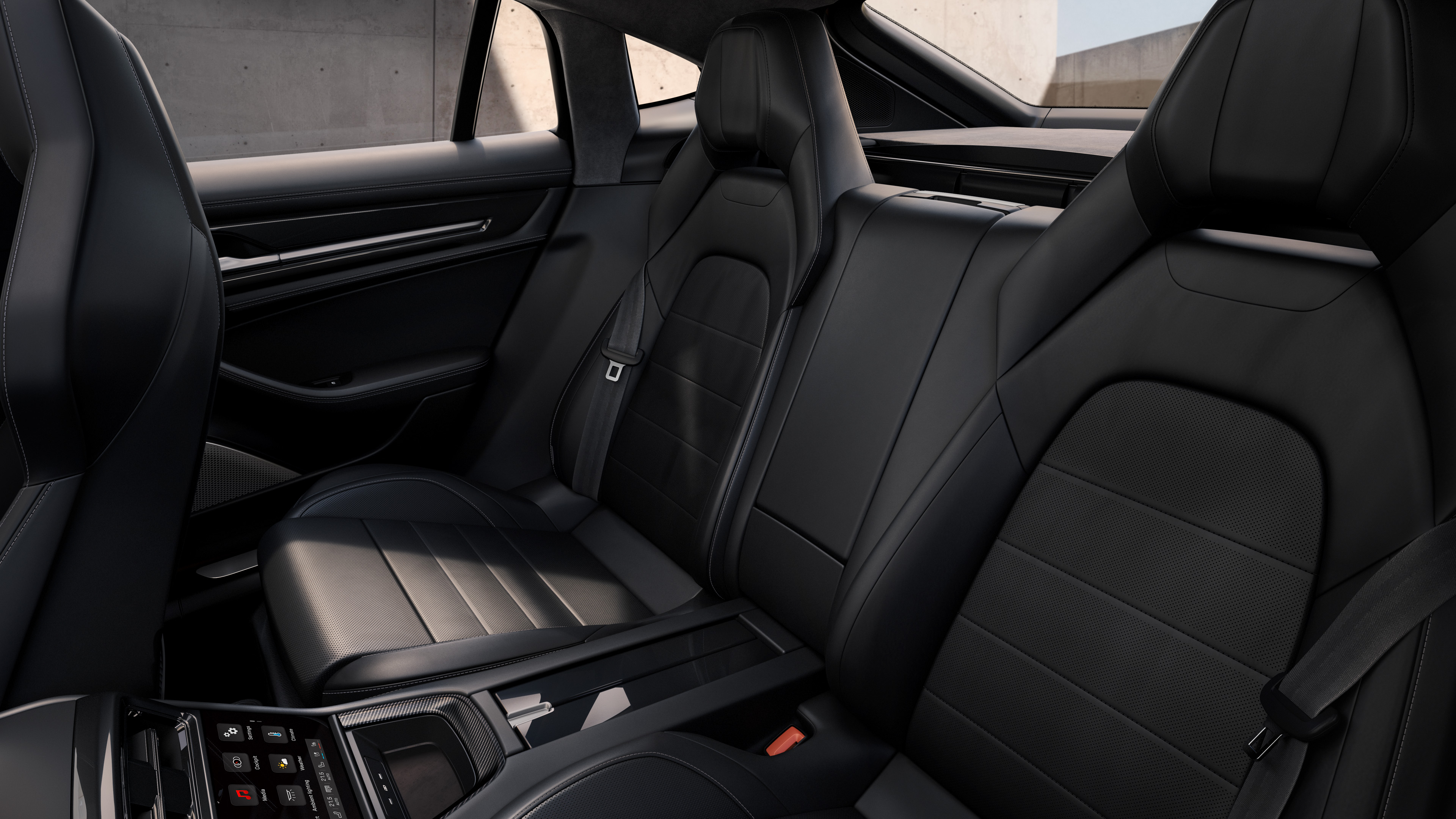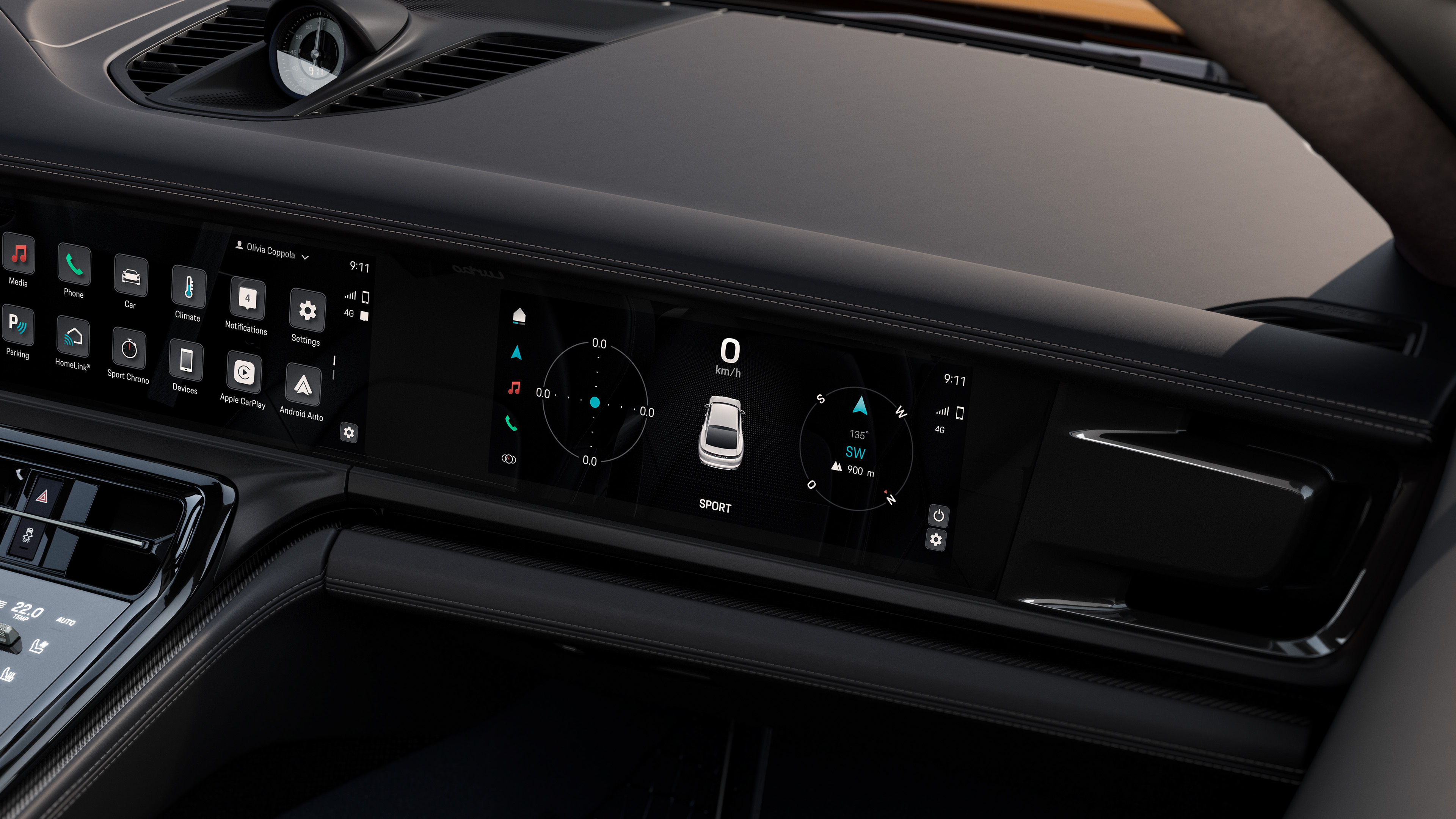 Matrix LED headlights.
Equipped with Matrix LED headlights as standard, the optional HD Matrix LED headlights with over 64,000 pixels now increase functionality even further.
E-Hybrid.
An electric motor with 140 kW of power and a new generation of batteries ensure superior electric performance and increased electric range.
Porsche Driver Experience.
The Porsche Driver Experience operating and display concept, which is designed with the driver in mind, offers the highest level of operating convenience.
Comfort in the rear seats.
The rear seats with plenty of legroom and headroom offer a high level of comfort and lateral support. Available on request: seat ventilation and massage function.
Infotainment.
The infotainment system with Apple CarPlay®, Android Auto, Spotify and in-car video expands the digital possibilities.
The Panamera models combine sporty driving dynamics and a high level of driving comfort – both in terms of longitudinal and lateral dynamics. The perfectly coordinated combination of a high-performance drivetrain, the Porsche Doppelkupplung (PDK) and the chassis ensures impressive overall performance.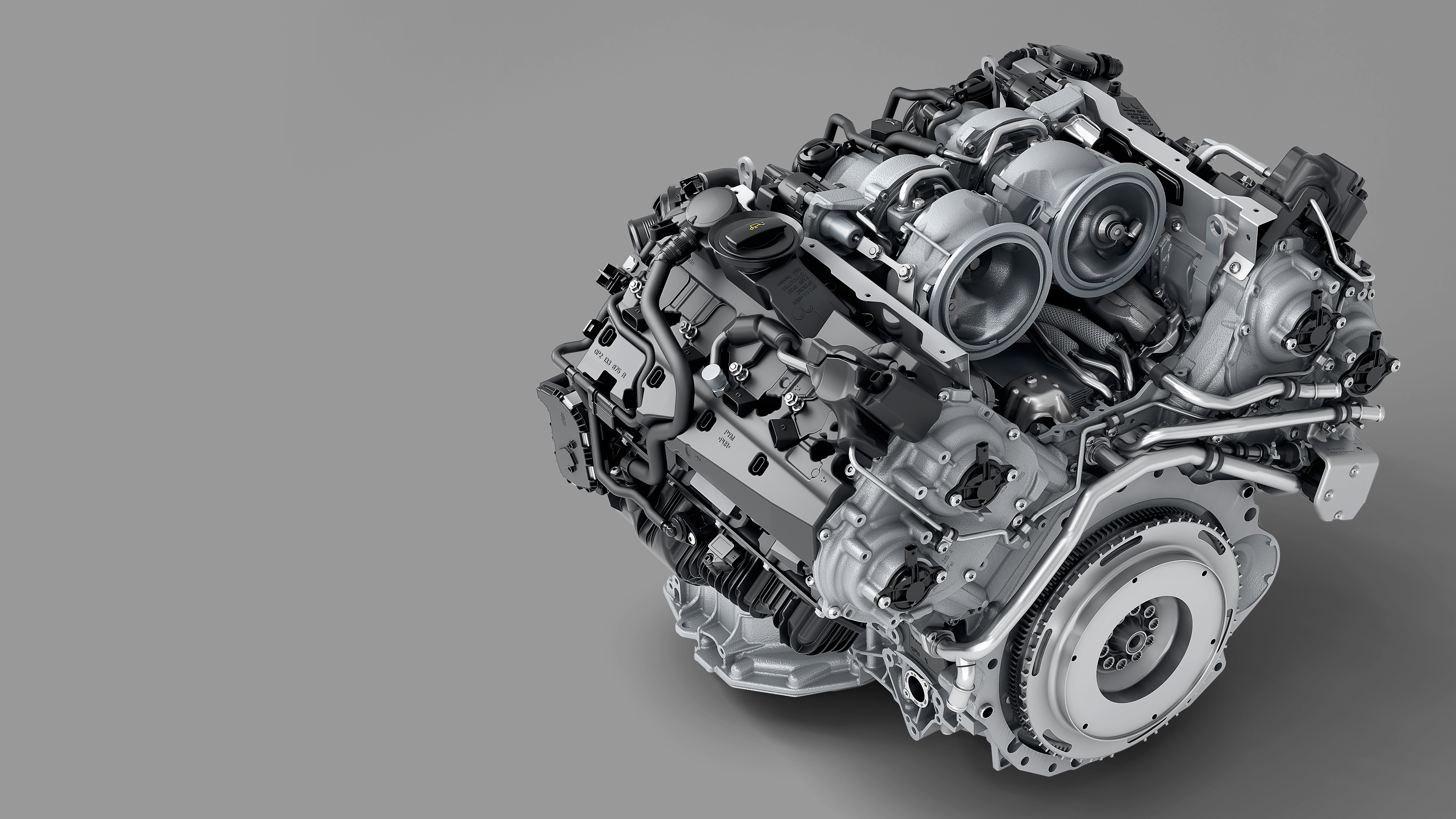 The 4.0-litre V8 bi-turbo engine in the Panamera Turbo E-Hybrid.
The combustion engine in the Panamera Turbo E-Hybrid is a newly developed 4.0-litre V8 bi-turbo engine with a maximum power output of 519 HP. In cooperation with the electric motor, this results in a system power output of 680 HP V8 engines stand for exceptional power output, high torque, smooth operation and a characteristic sound.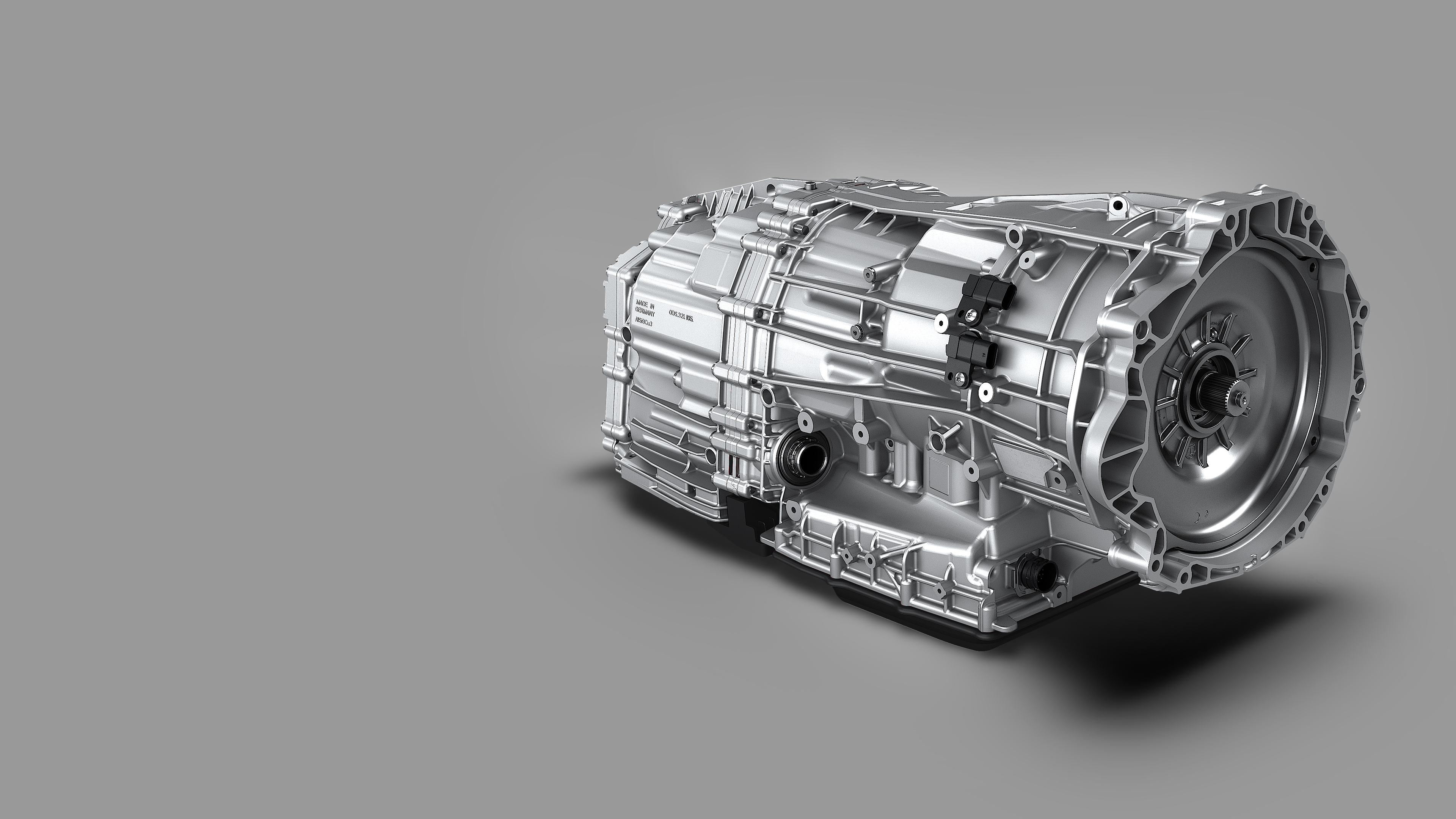 The Porsche Doppelkupplung (PDK).
Unusual in a luxury saloon, standard in a sports car: the 8-speed Porsche Doppelkupplung (PDK) with automatic mode and manual operation via paddles on the steering wheel. The precise gear changes take place in milliseconds without any noticeable interruption in power.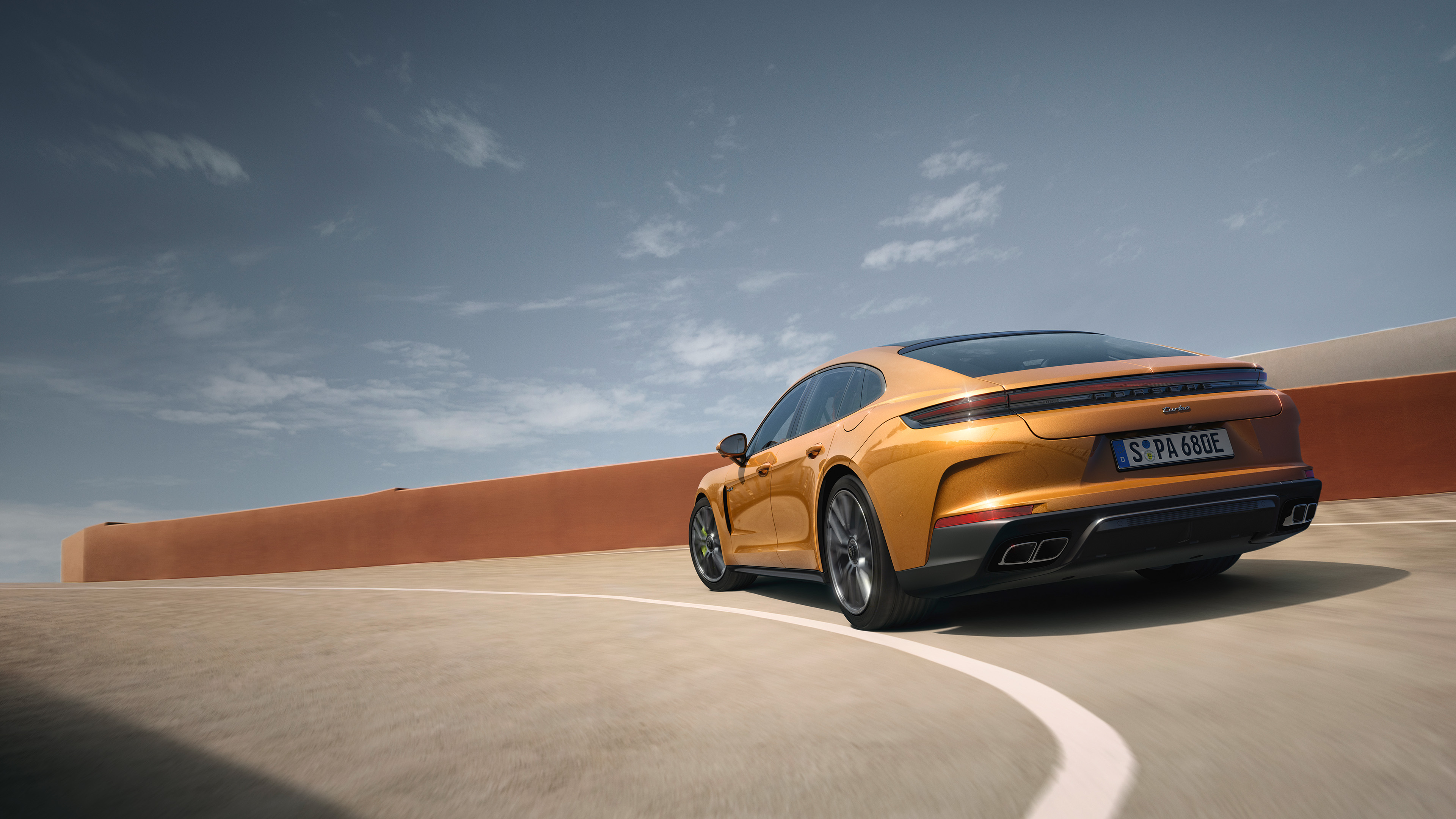 All-wheel drive.
With the exception of the rear-drive Panamera, all models are equipped with Porsche Traction Management (PTM): active all-wheel drive system with an electronically variable, map-controlled multi-plate clutch, automatic brake differential (ABD) and anti-slip regulation (ASR).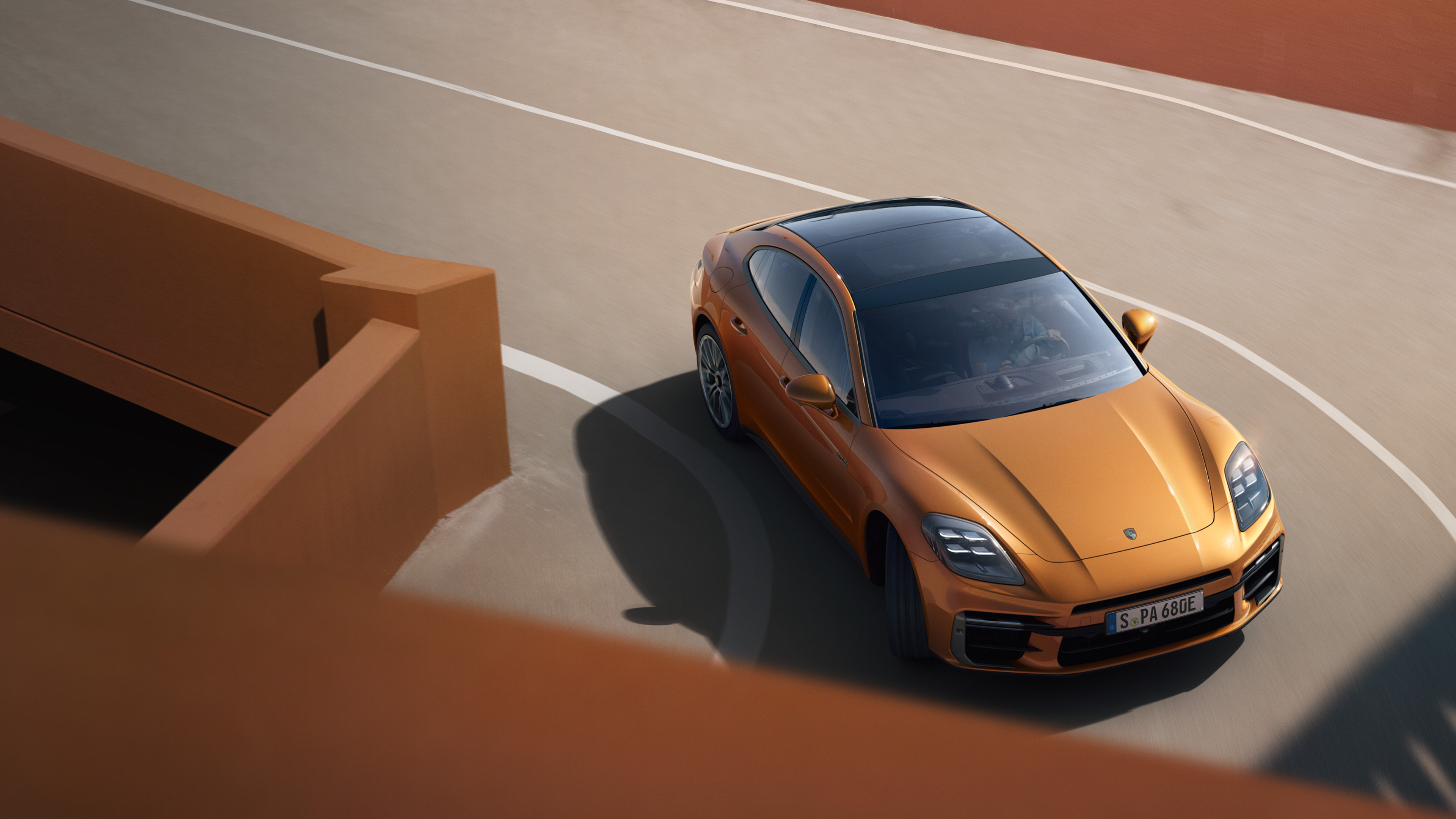 Rear-axle steering.
Rear-axle steering enhances performance and suitability for day-to-day usability in equal measure. At low speeds, the turning circle is reduced, agility is increased and parking becomes noticeably easier to manage. At higher speeds, driving stability is increased. The result: greater manoeuvrability and driving safety in everyday use.
Discover the Panamera models in detail.
Up to this point, you have been given an overview of the highlights of the Panamera. Find more details in these next chapters.

E-Performance
Open Chapter
HD matrix LED headlamps.
With 64,000 camera-controlled pixels, the HD matrix LED headlights with innovative pixel LED technology react to every driving situation with light distribution adapted to the situation. For example, the glare-free high beam, illumination of the exact driving lane, mapping of the vehicle width in construction zones and narrow areas, as well as the fog-optimised dipped beam and rain light ensure greater safety and a high level of comfor.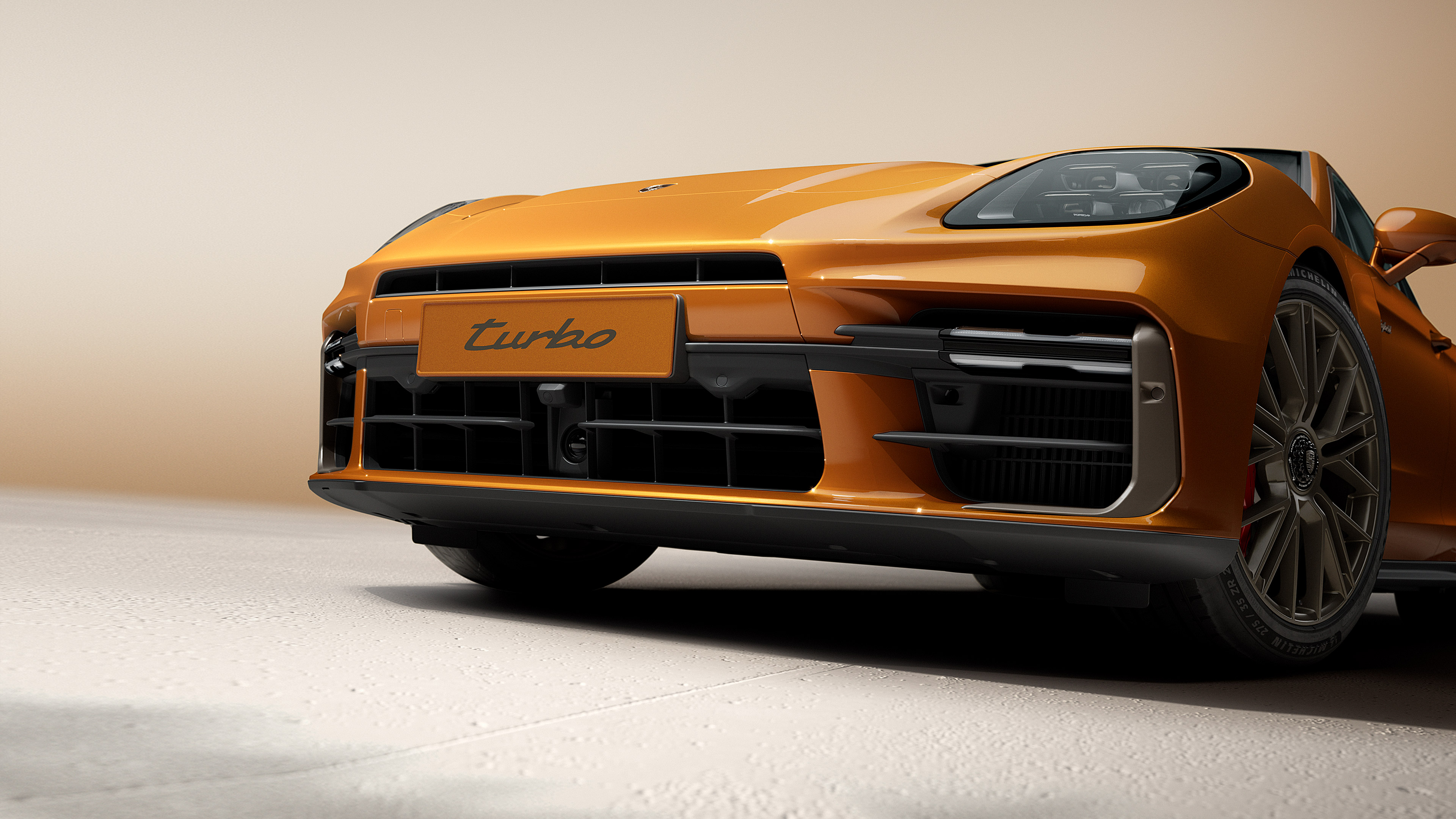 Front end with active air intake flaps.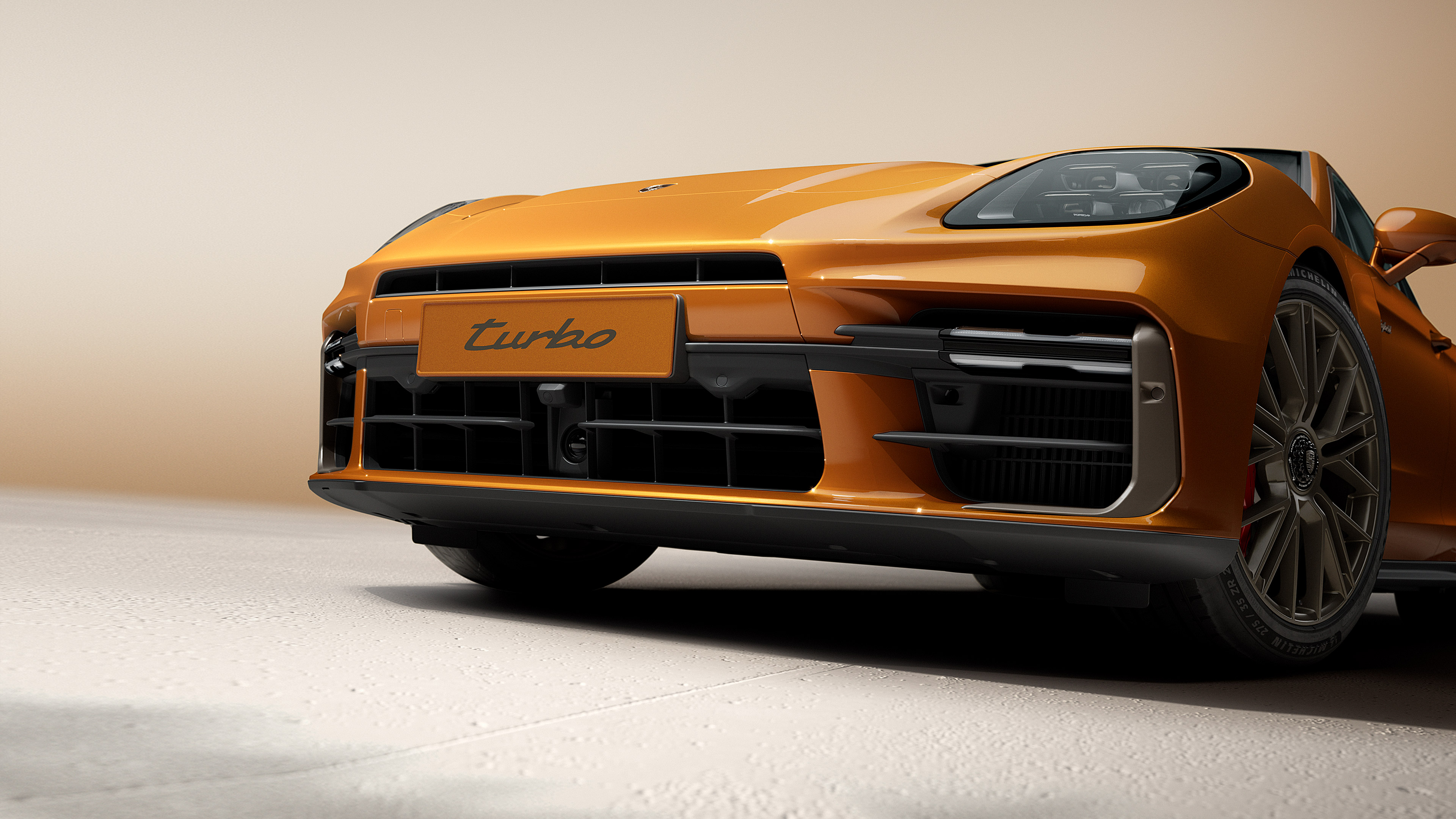 The active air intake flaps in the newly designed front end are automatically opened and closed depending on the drivetrain's cooling requirements to keep the flow resistance as low as possible.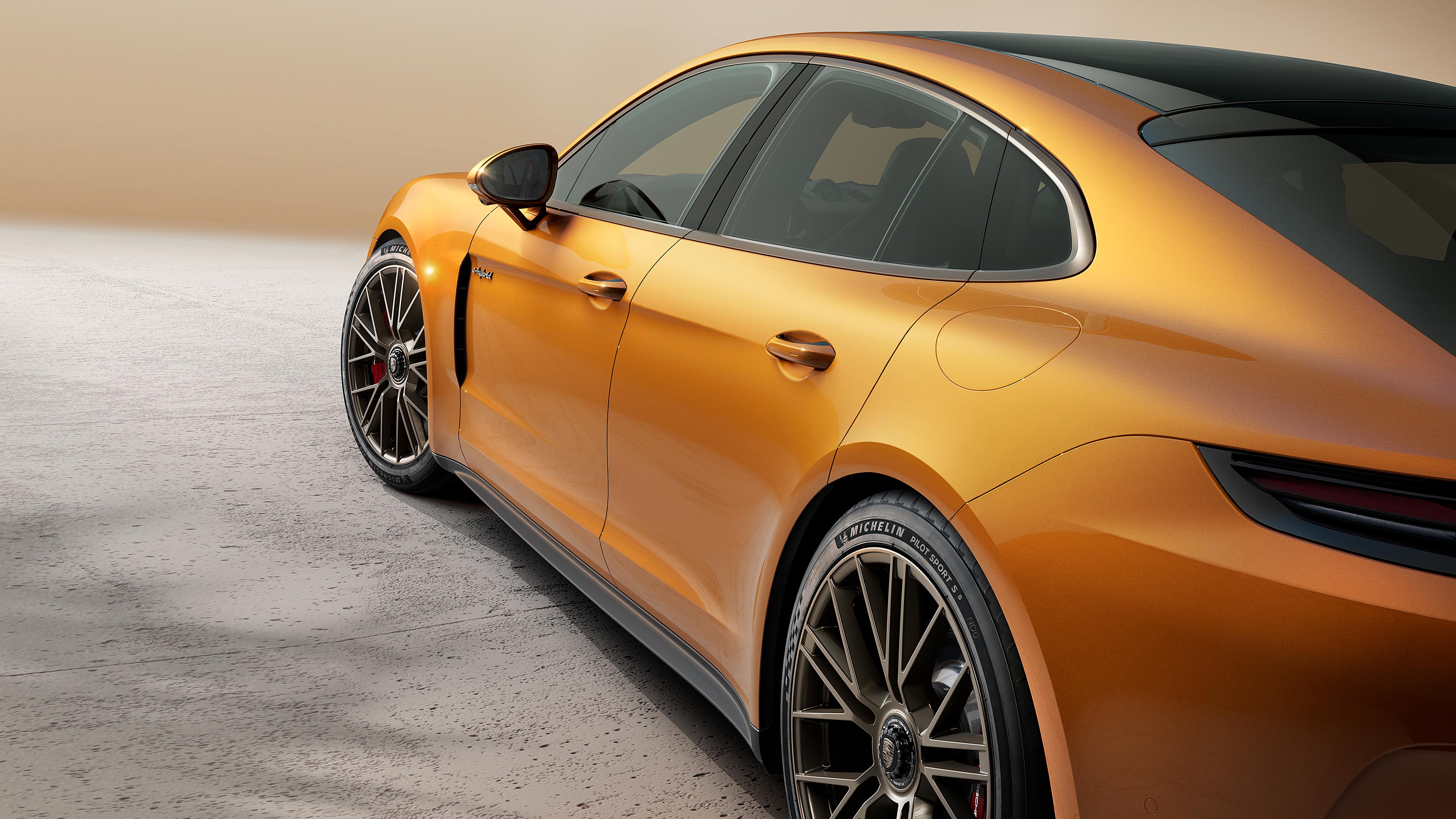 Side window trims with new graphic.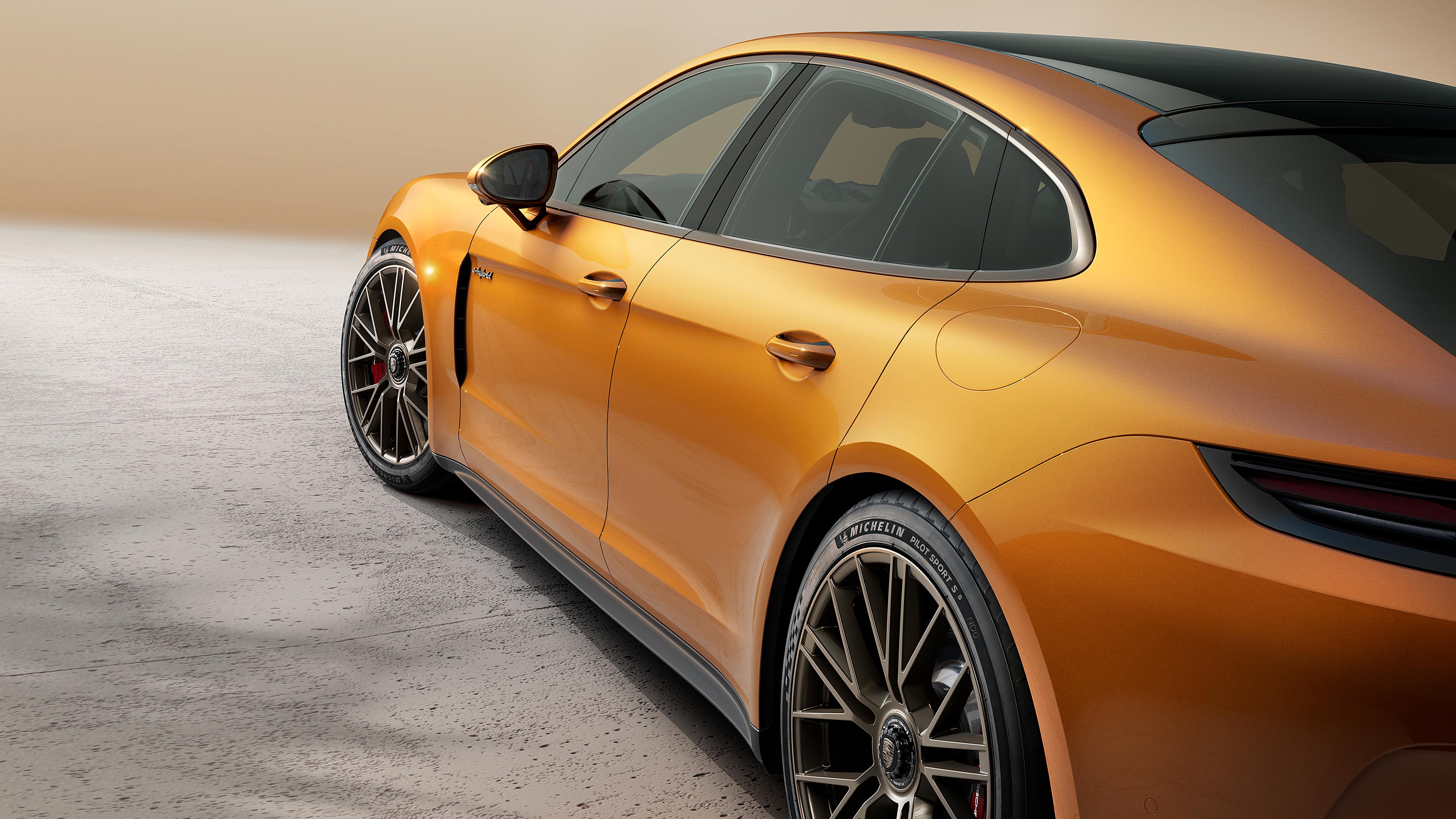 The side window trims with new graphic on the Panamera Turbo E-Hybrid – along with other elements – are in Turbonite, and in High Gloss Silver on the other Panamera models.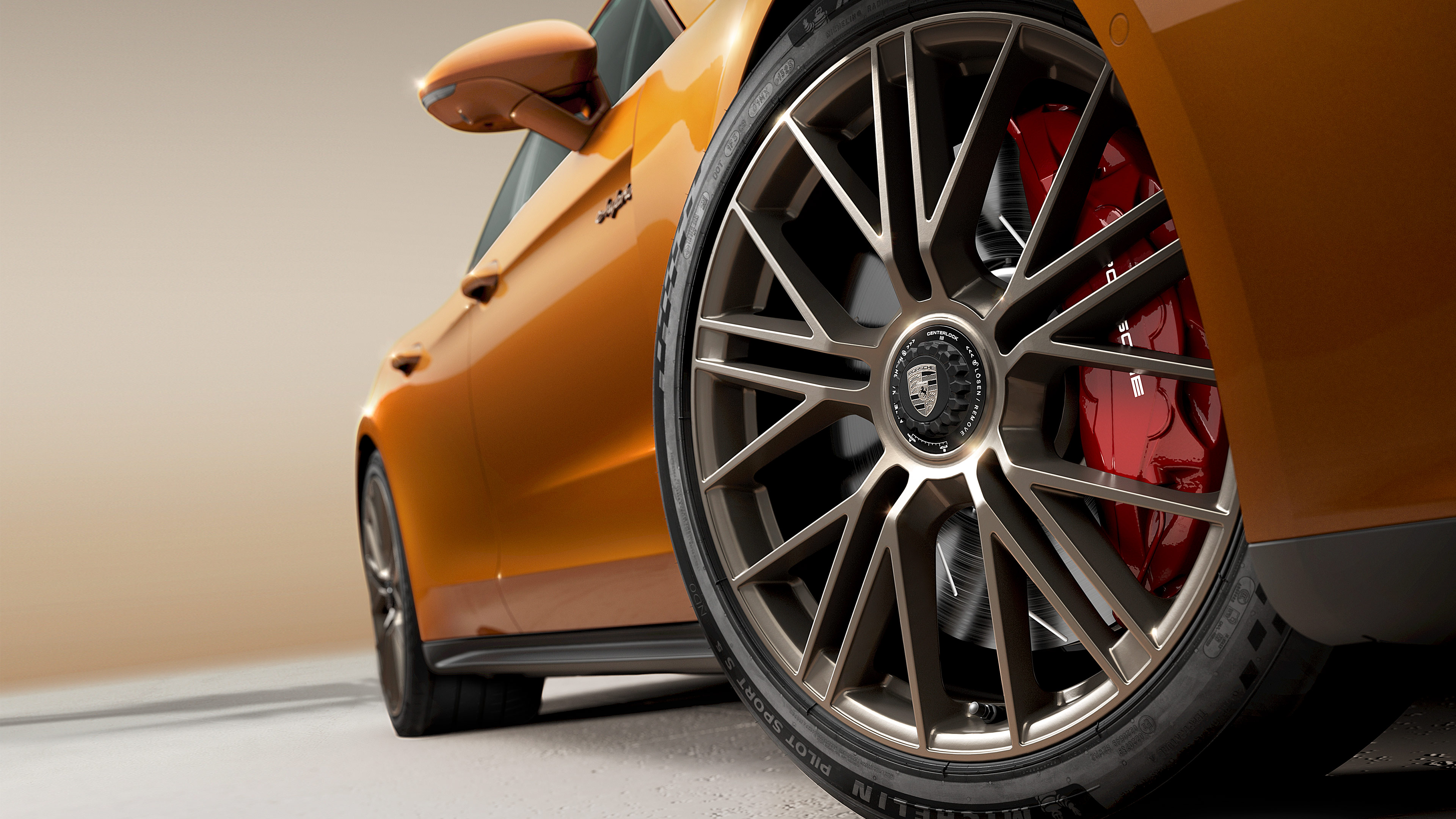 Wheels.
Wheels in sizes from 19 to 21" in various designs and paint finishes are available for the Panamera models. Available exclusively on request for the Panamera Turbo E-Hybrid: a 21" wheel with central locking inspired by the world of racing.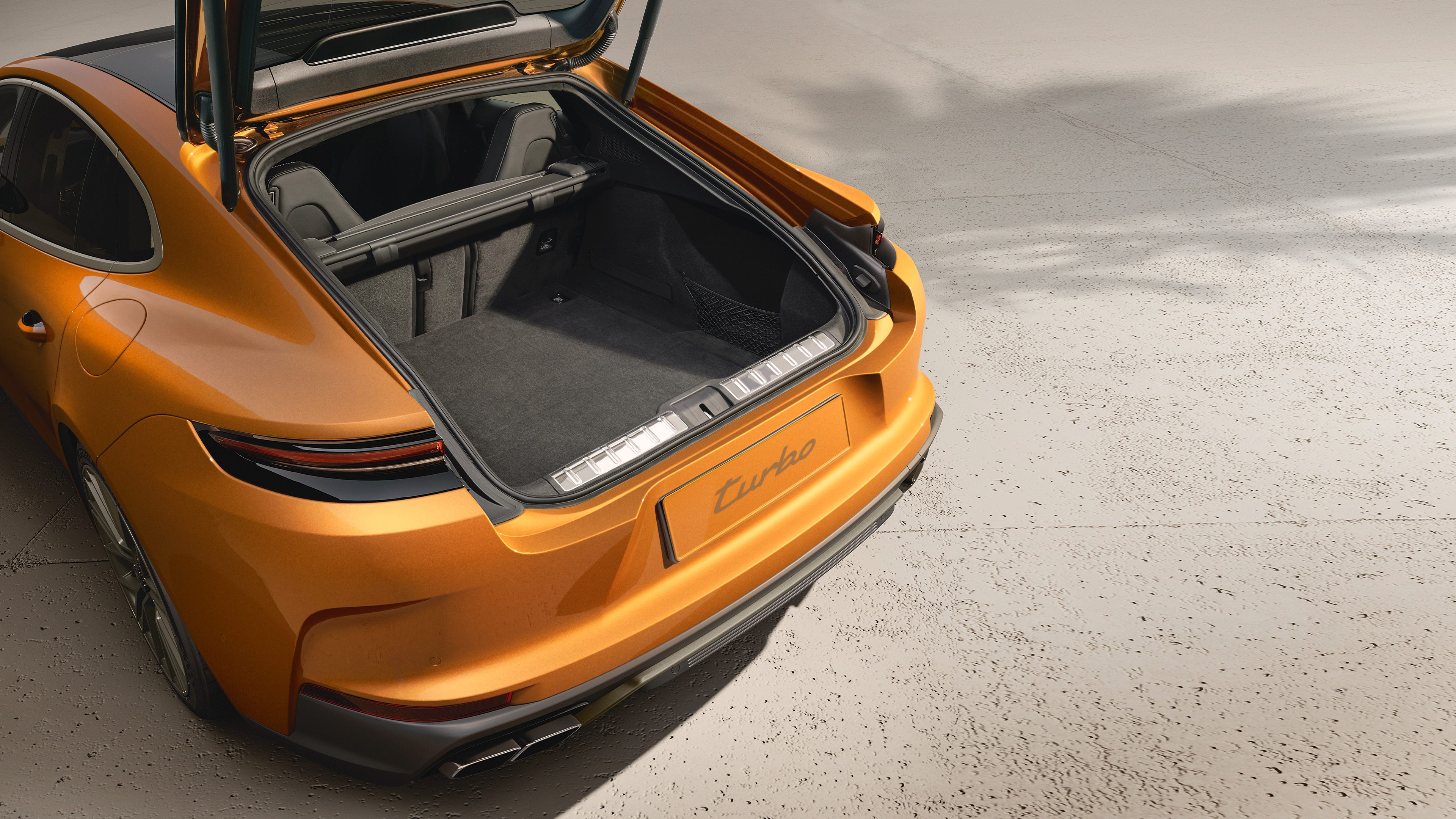 Luggage compartment.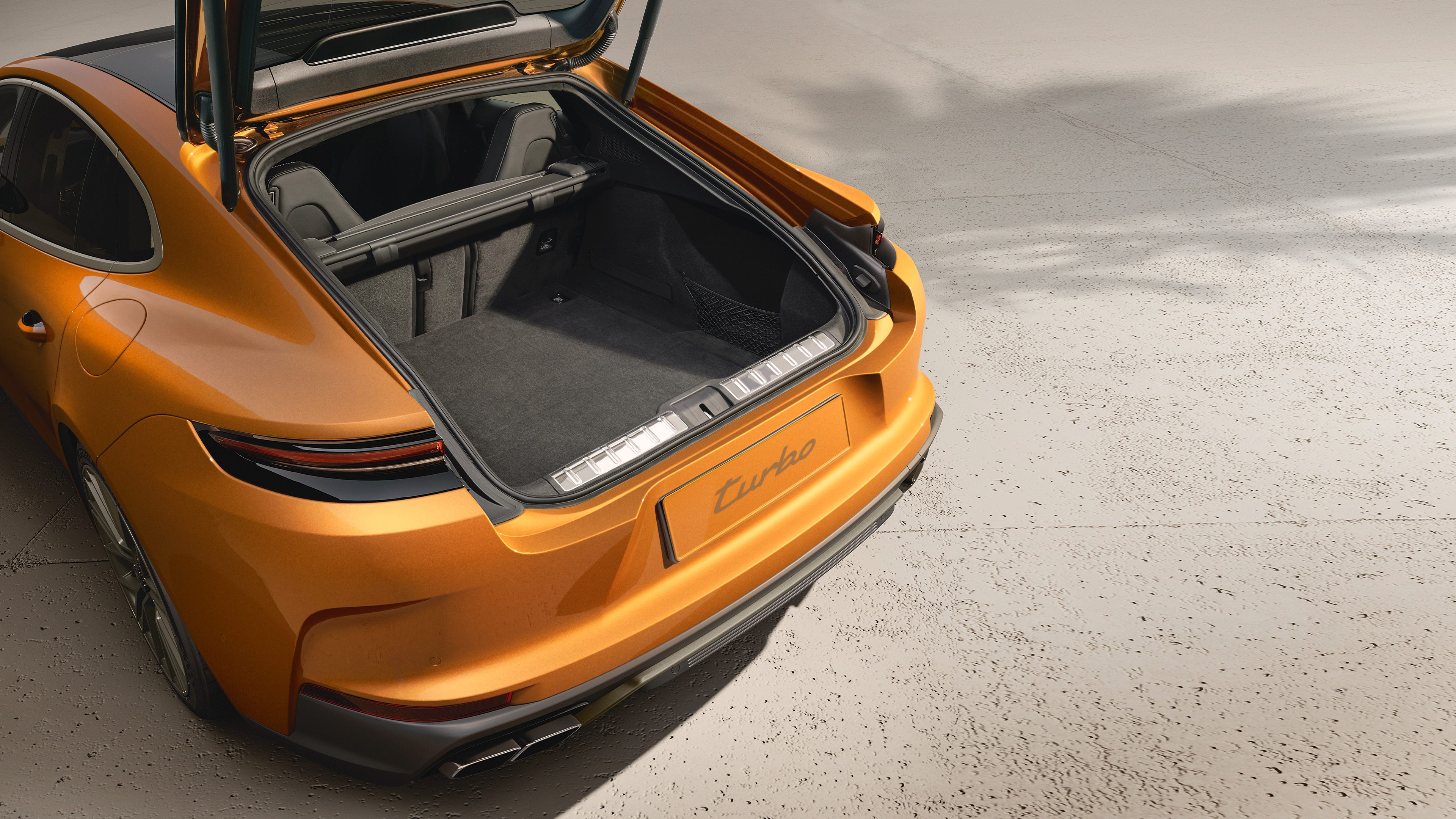 Lots of luggage? Made a big purchase or transporting sports equipment? The luggage compartment of the Panamera models offers plenty of space and is easily accessible thanks to the large automatic tailgate. With the rear seat backs folded down, even large objects can be transported, which is rare for a sports car.
Tail lights.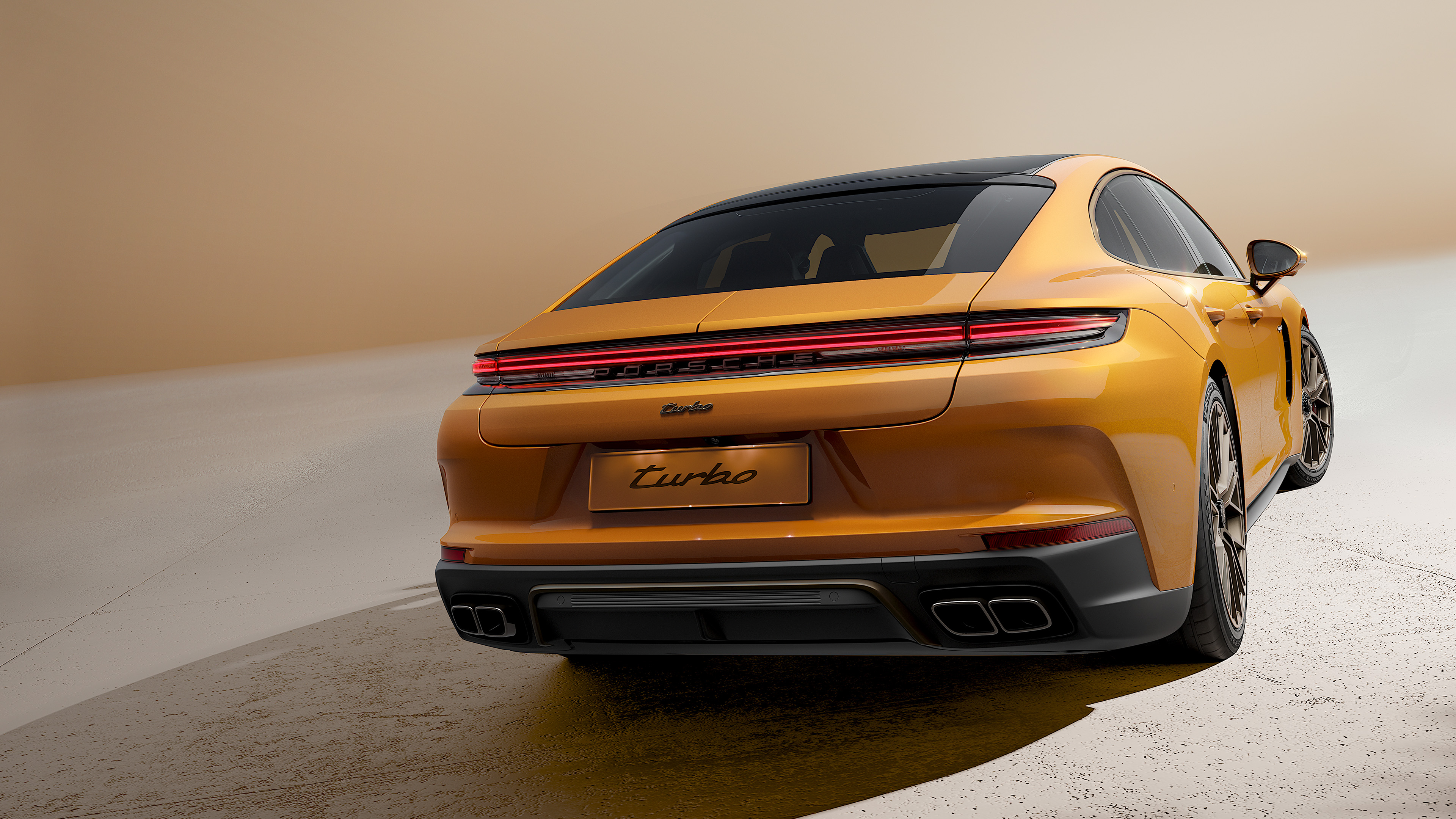 A striking detail of the Panamera models: the three-dimensional tail light strip with double arc and integrated brake light. Available on request: the Exclusive Design tail lights with clear light bar and light animation when locking and unlocking the vehicle.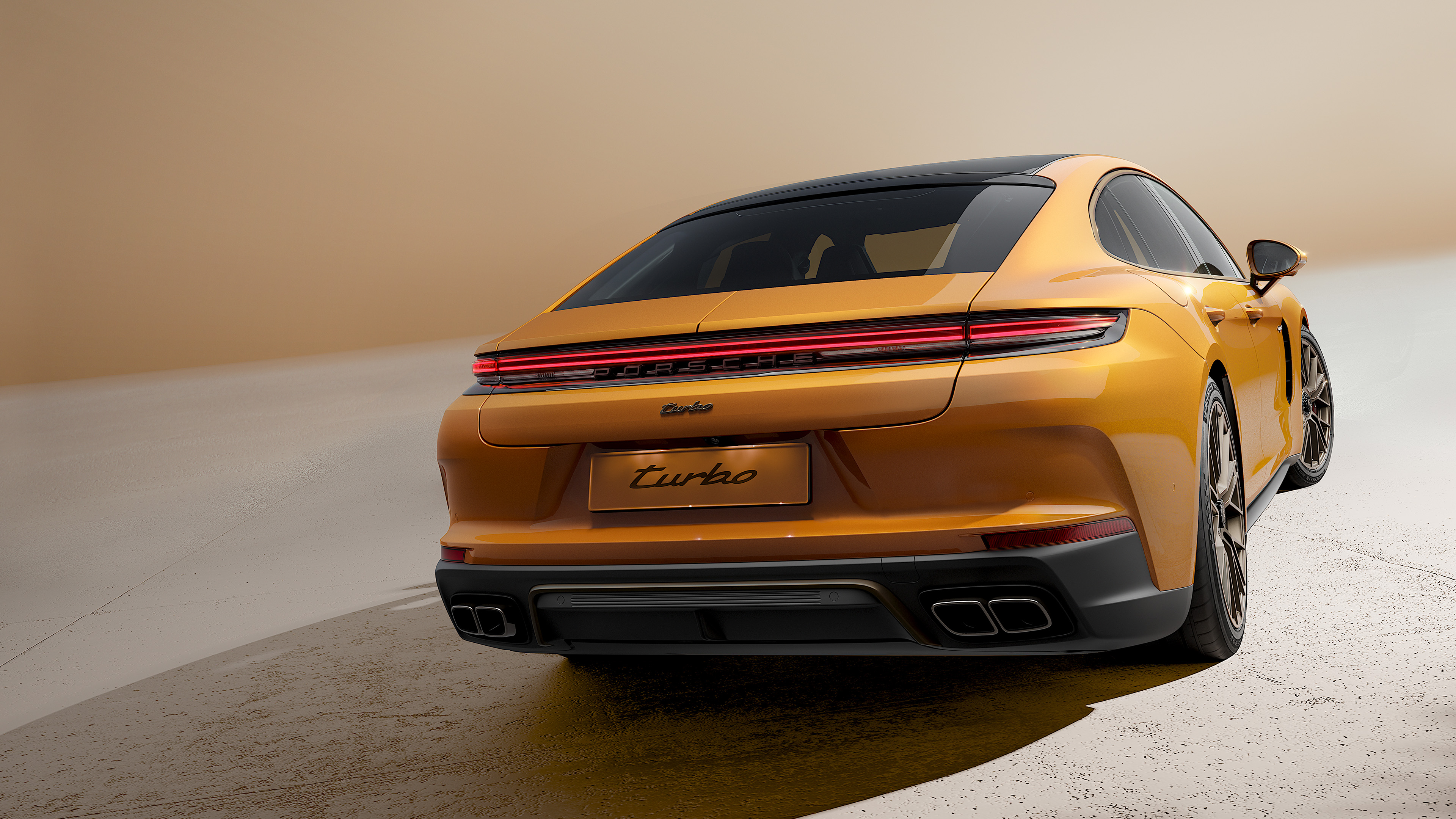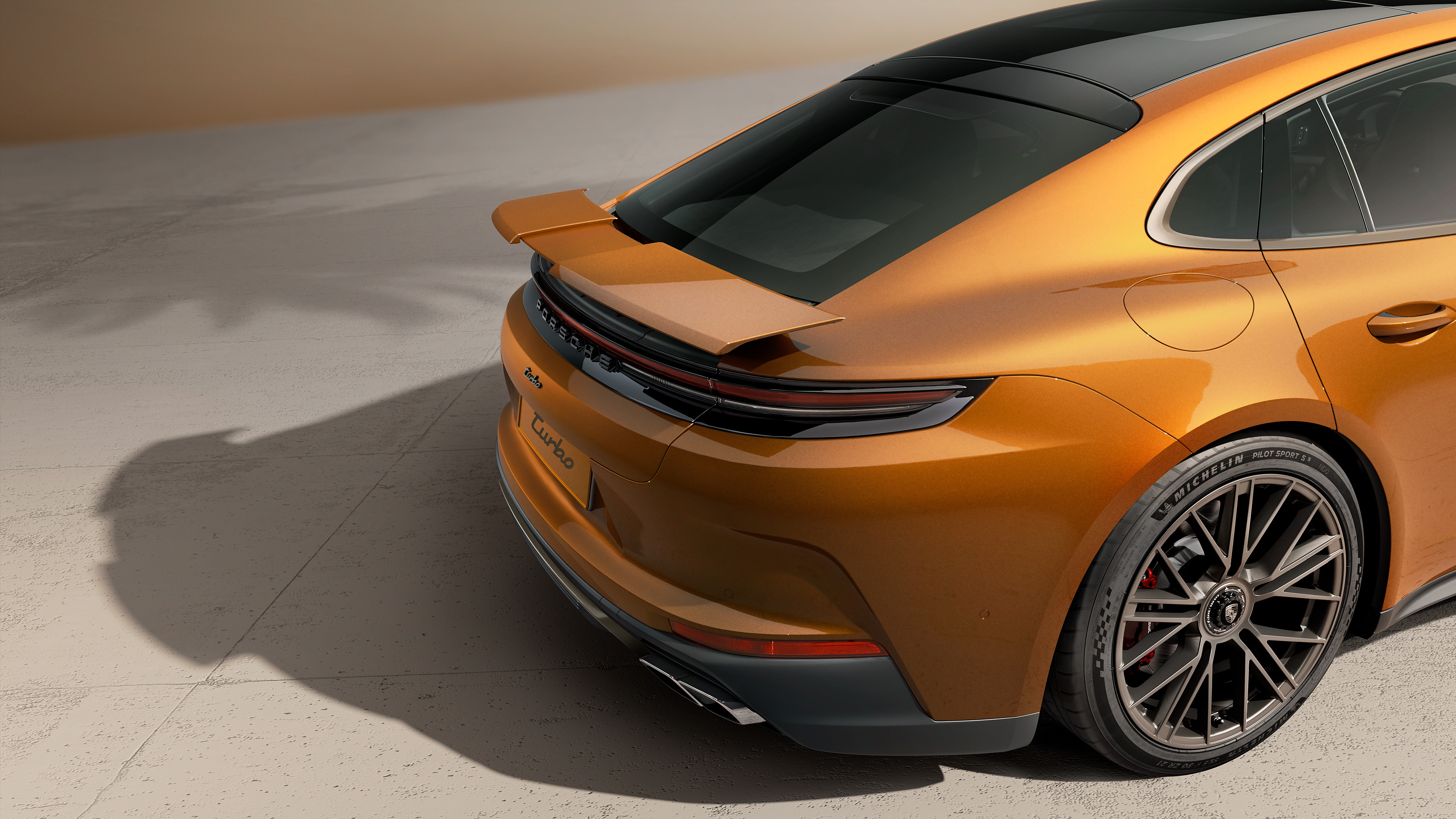 Adaptive rear spoiler.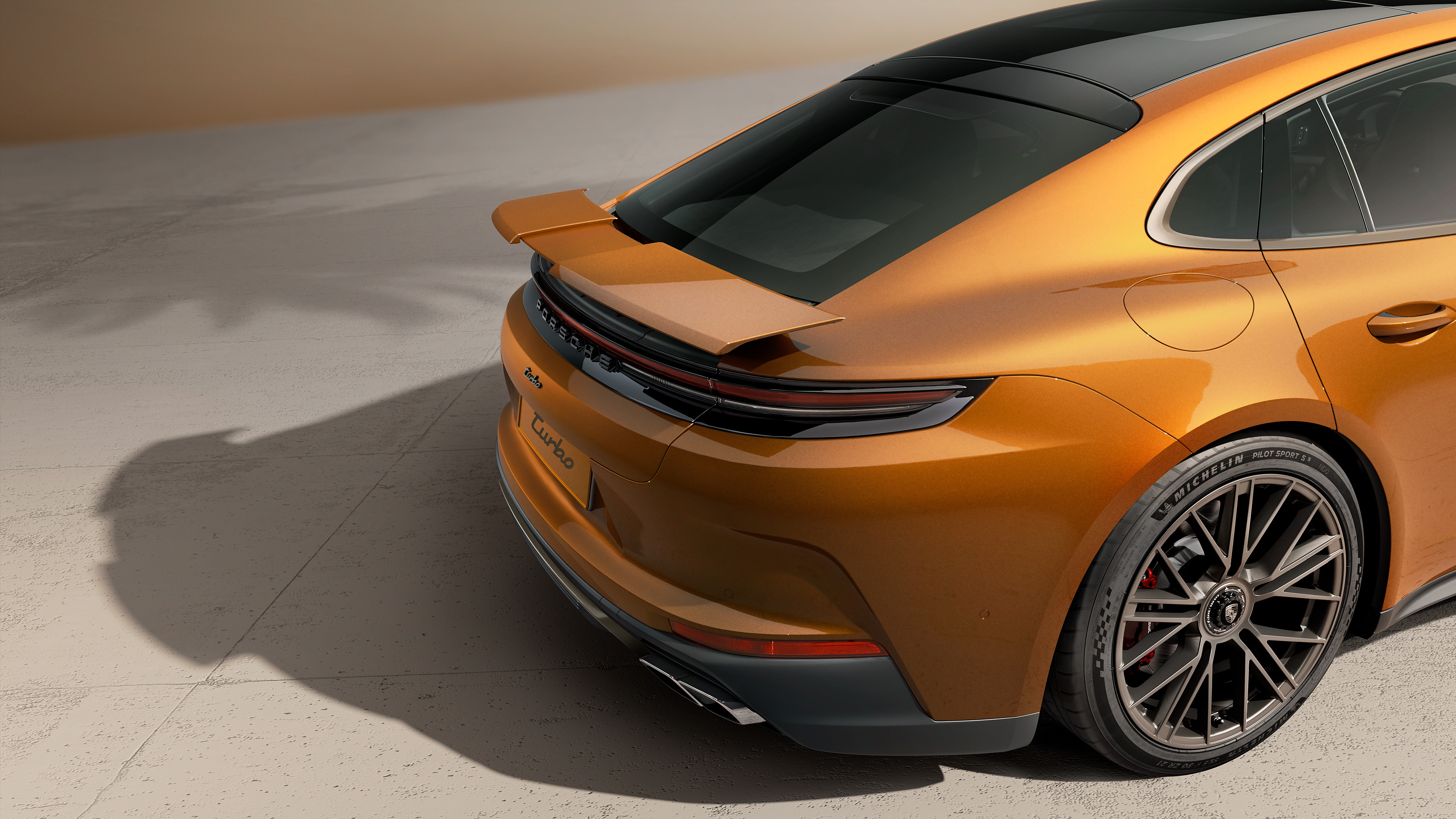 The extendable rear spoiler, which is integrated into the body, is part of the Porsche Active Aerodynamics. It optimises aerodynamics and reduces lift on the rear axle at high speeds. The 4-way rear spoiler of the Panamera Turbo E-Hybrid splits after deploying, significantly increasing its width providing additional downforce.
Tailpipes.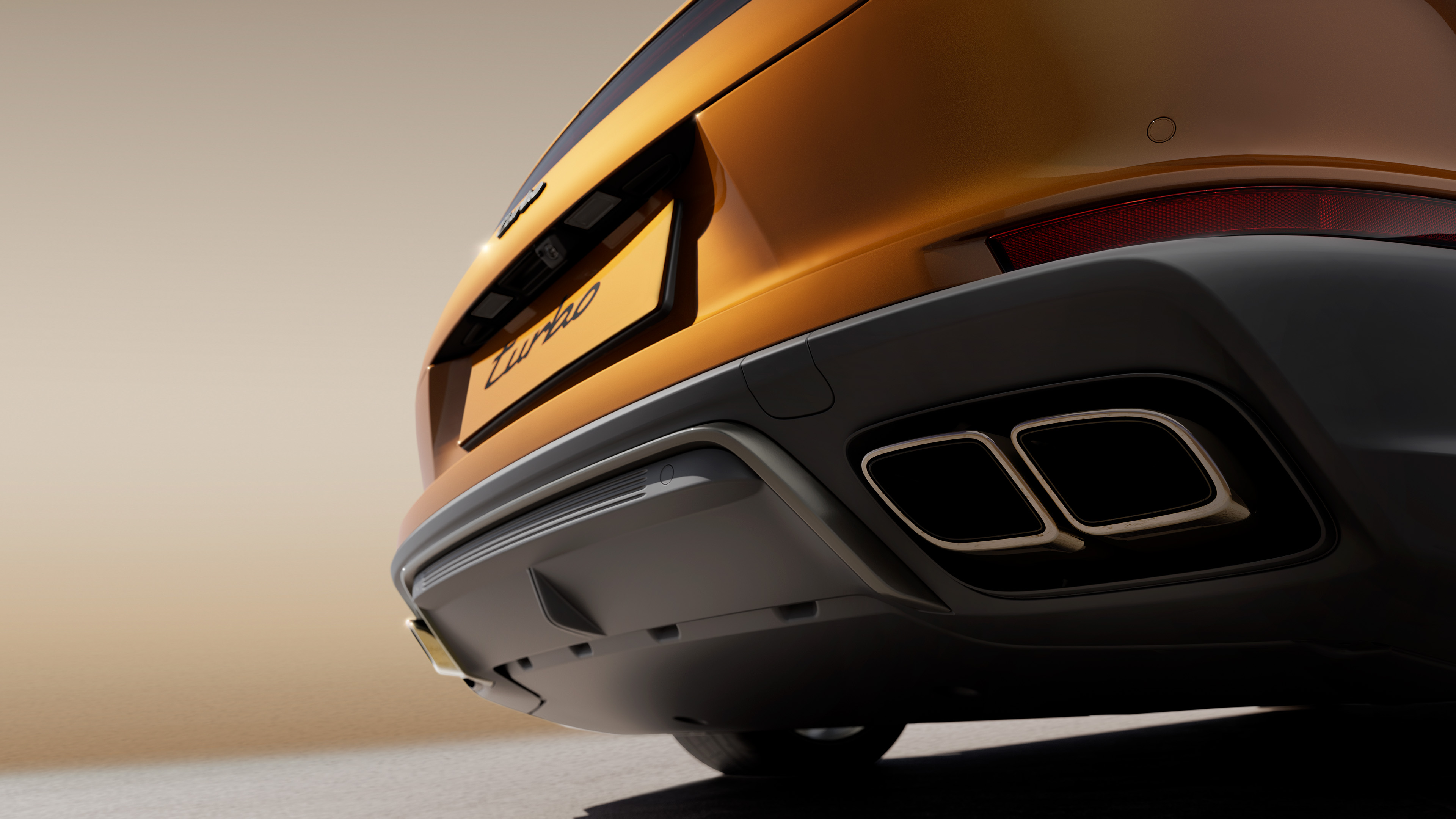 The Panamera models are equipped with an exhaust system that features two individual tailpipes on the left and right in brushed stainless steel. The Panamera Turbo E-Hybrid has two Turbo-specific tailpipes on each side, which are finished in Dark Bronze. Sports tailpipes in a unique design or the sports exhaust system including sports tailpipes are available for all models on request.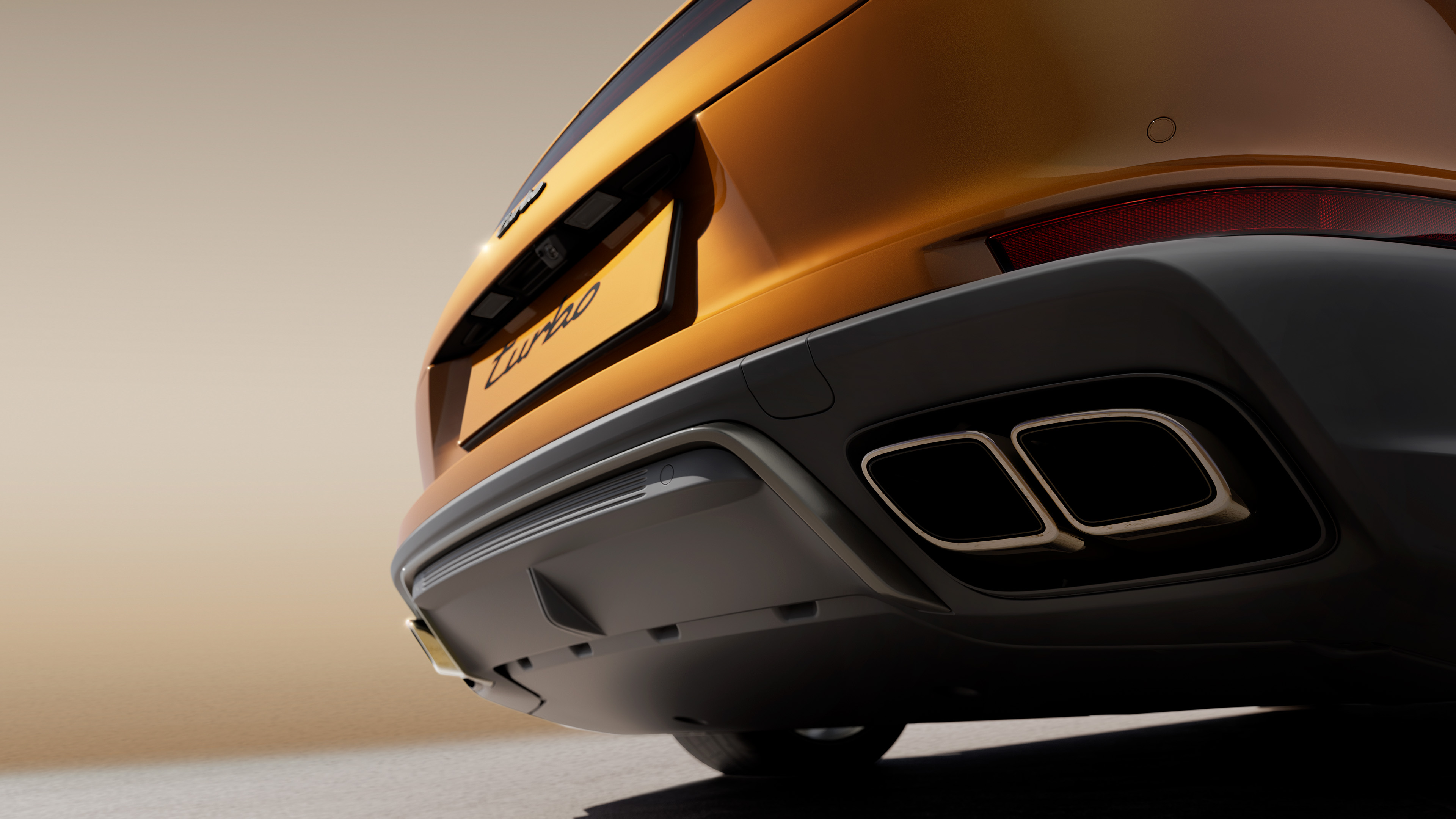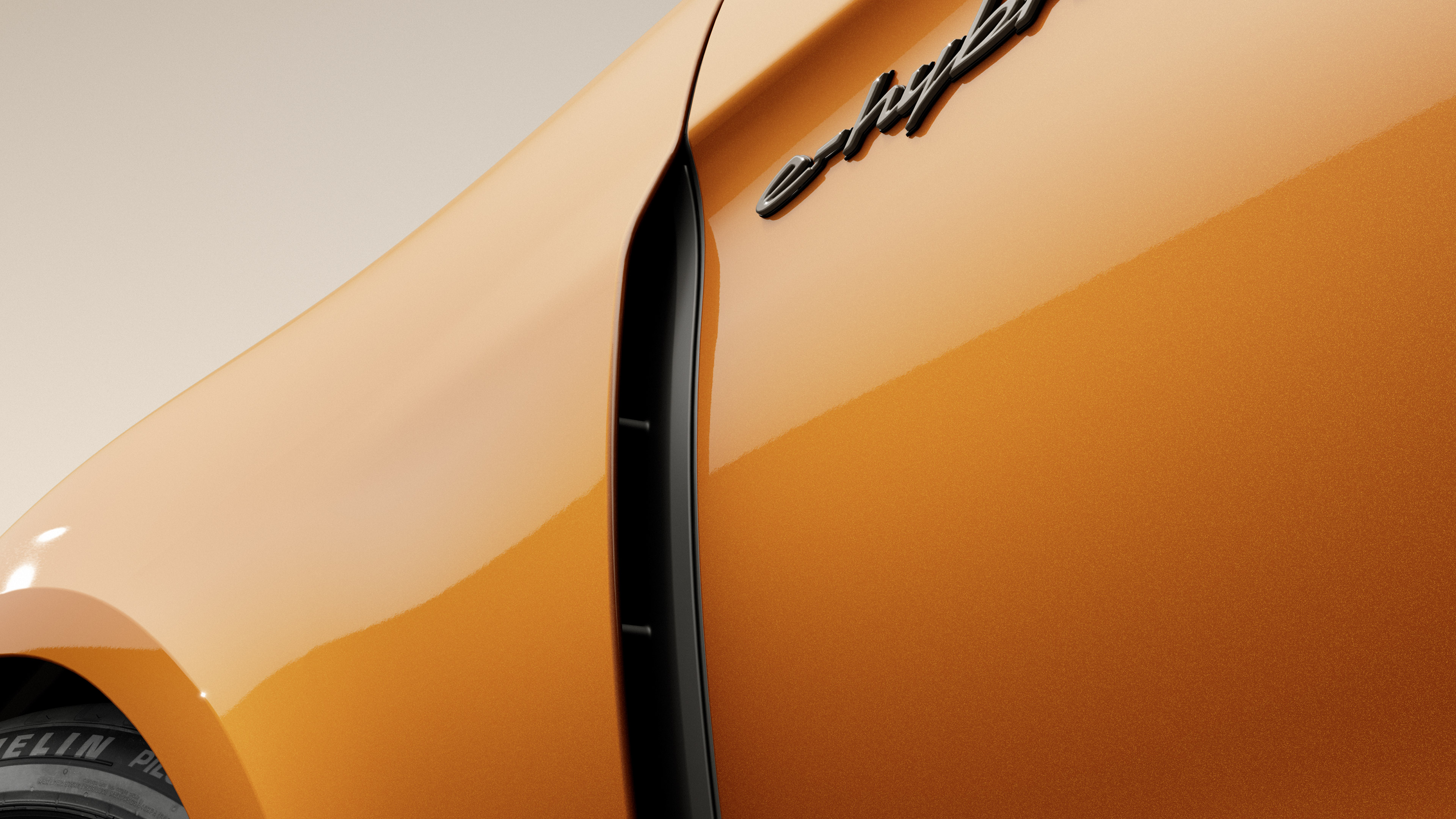 Side air outlets.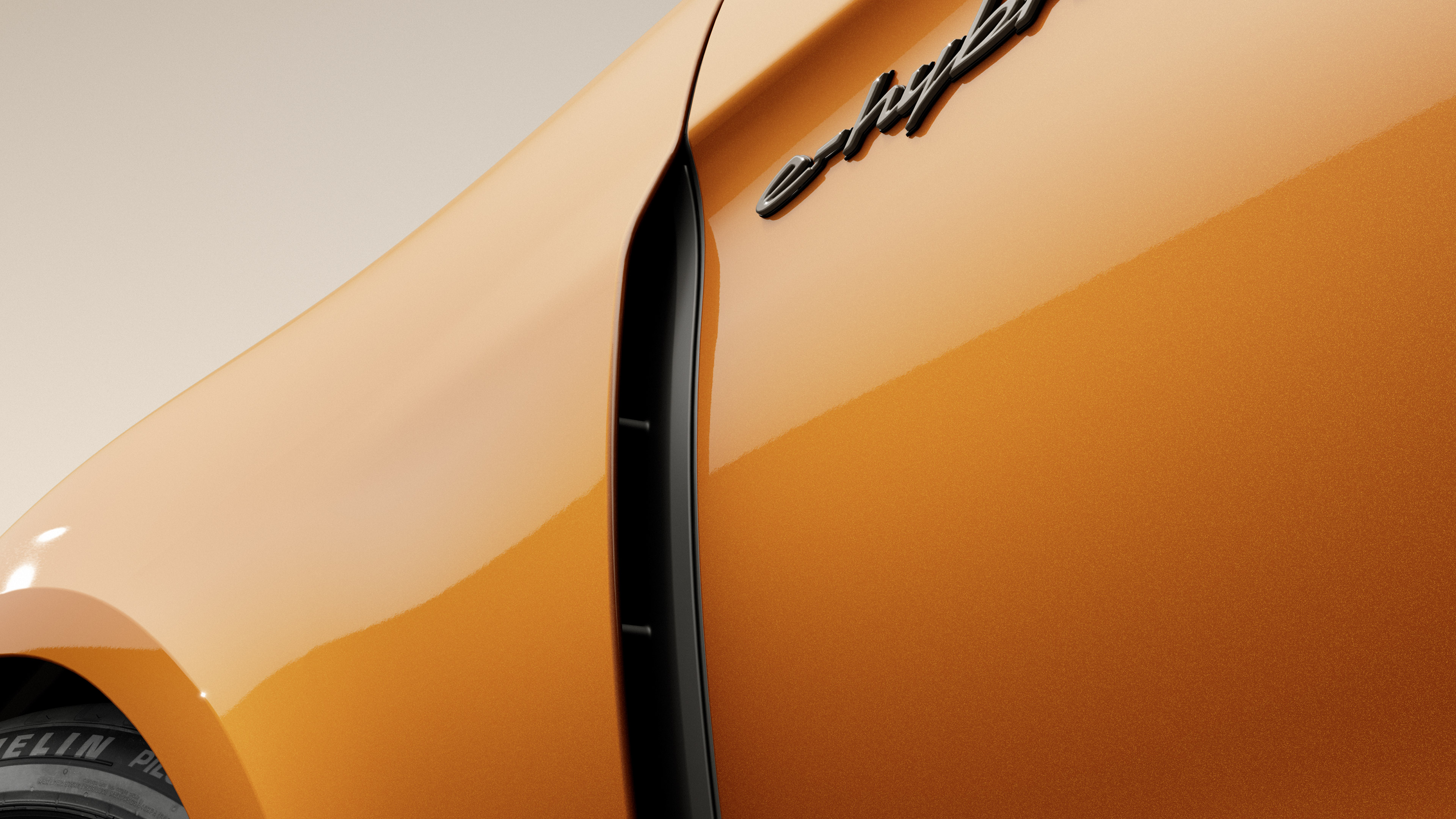 The side air outlets in the front wings ensure efficient ventilation of the front wheel arches and improve aerodynamics.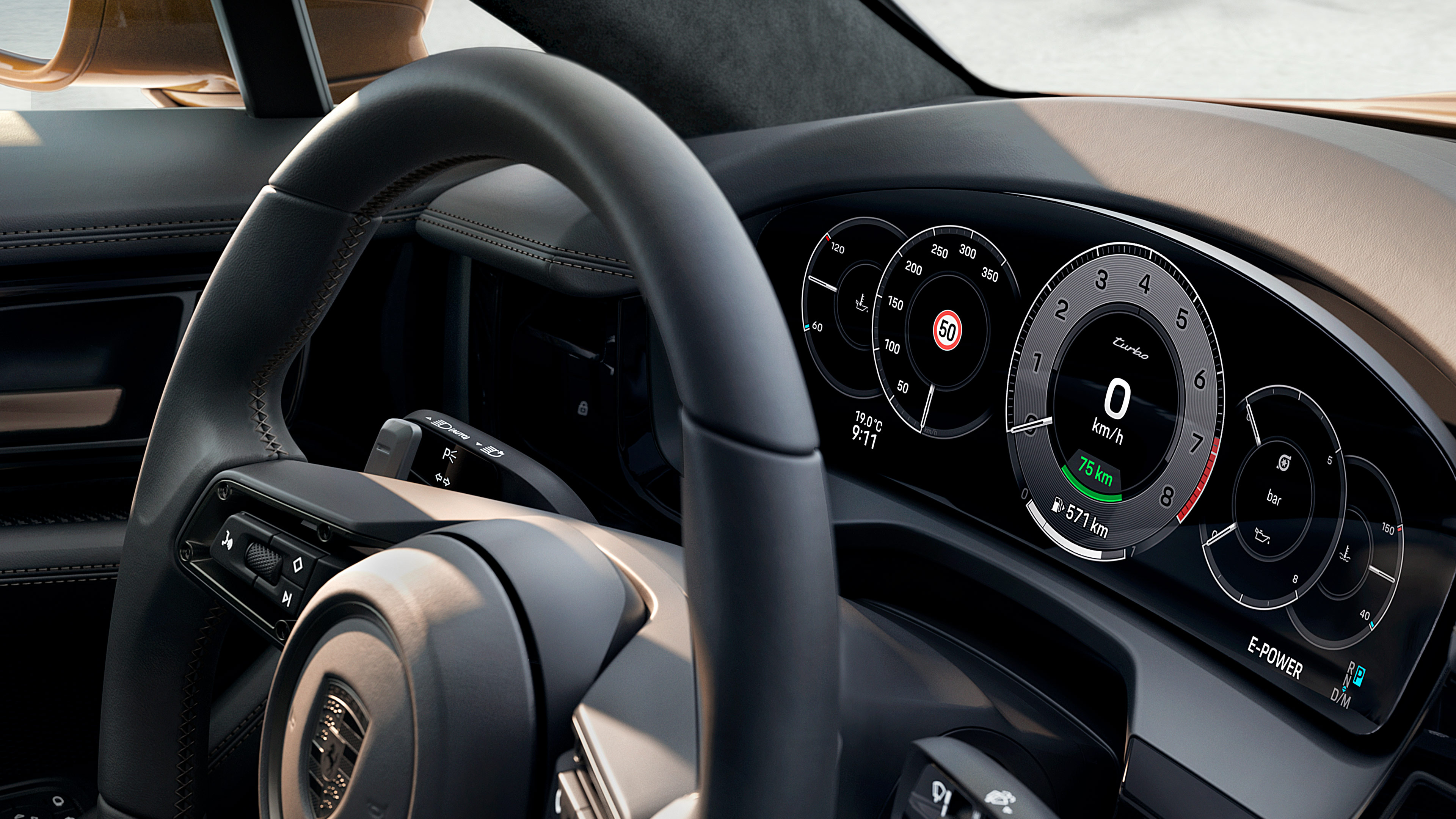 Instrument cluster.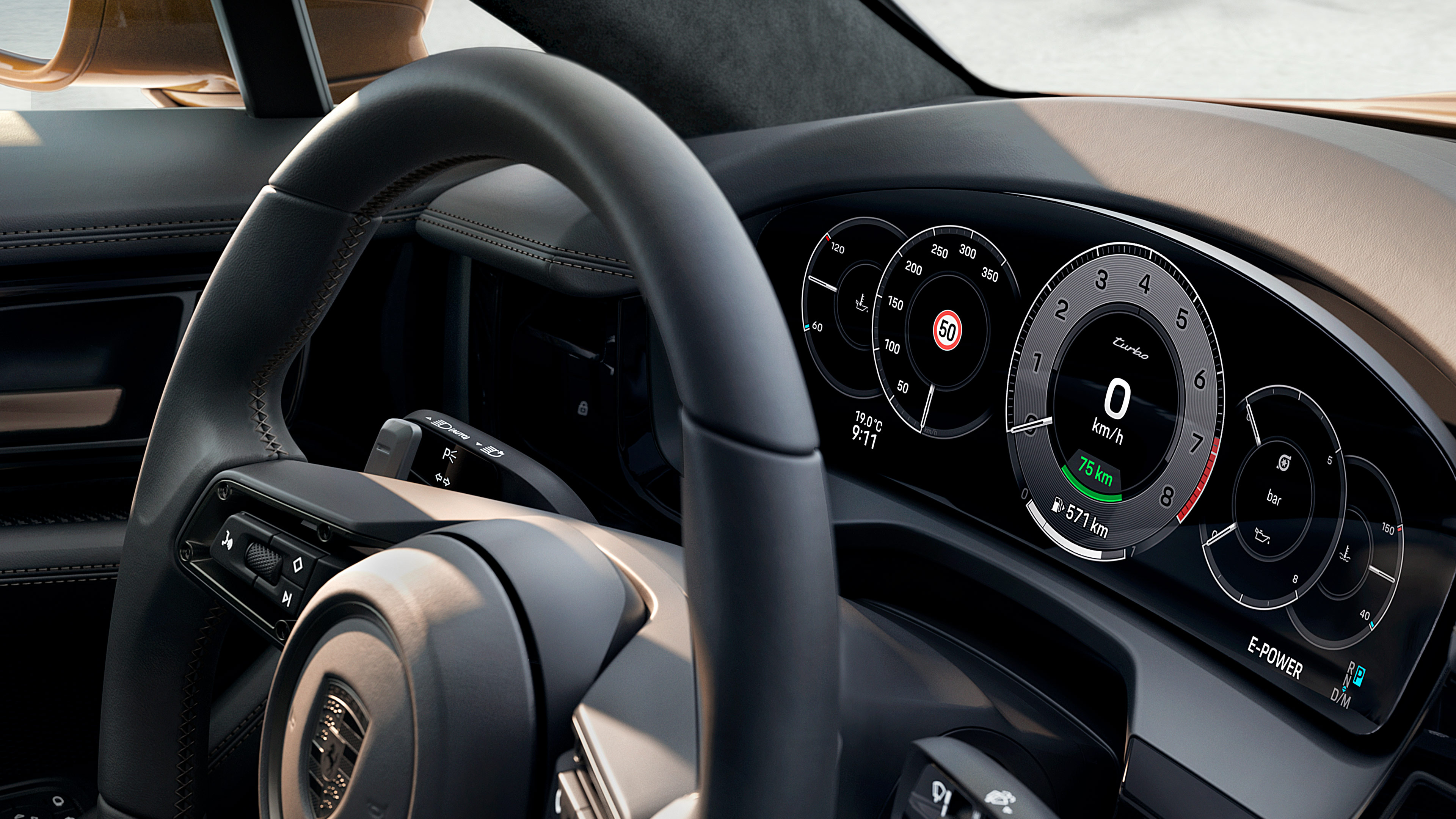 Typically Porsche driver-orientated to match the Porsche Driver Experience: the digital instrument cluster with a 12.6" curved display places the displays clearly in the field of vision. Various display formats can be selected: typical round instruments, map section in the central round instrument, full area navigation map, reduced view and the optional view with Night Vision Assist in the centre.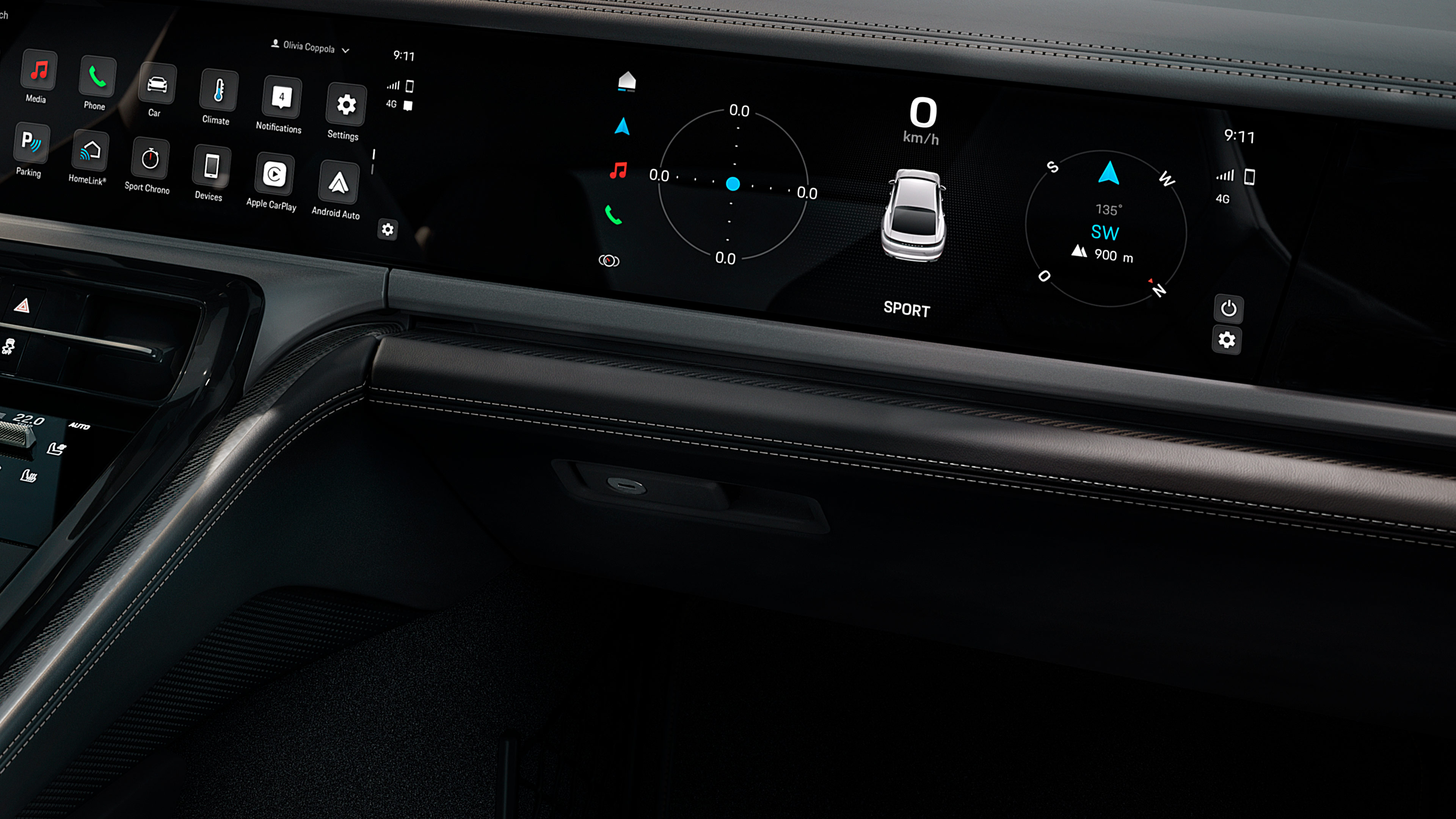 Front passenger display.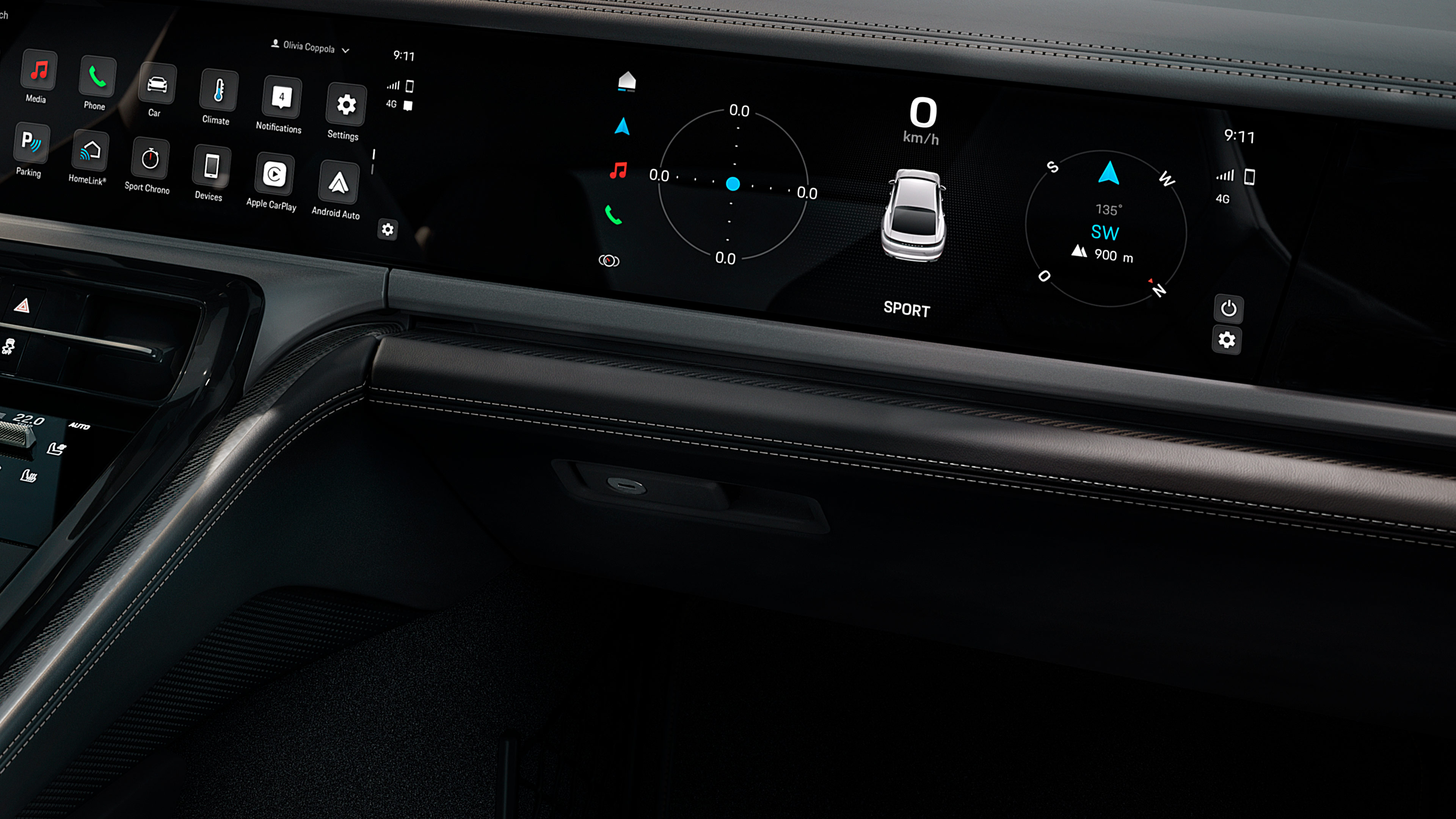 While the instrument cluster and the central display are tailored to the driver's seat, the optional 10.9-inch touchscreen display is on the passenger side. It provides access to navigation and infotainment functions, among others. It can provide assistance with route planning as well as insight into the data of the instrument cluster. With the optional in-car video, videos can be streamed on the front passenger display while driving — which are only visible to the front passenger.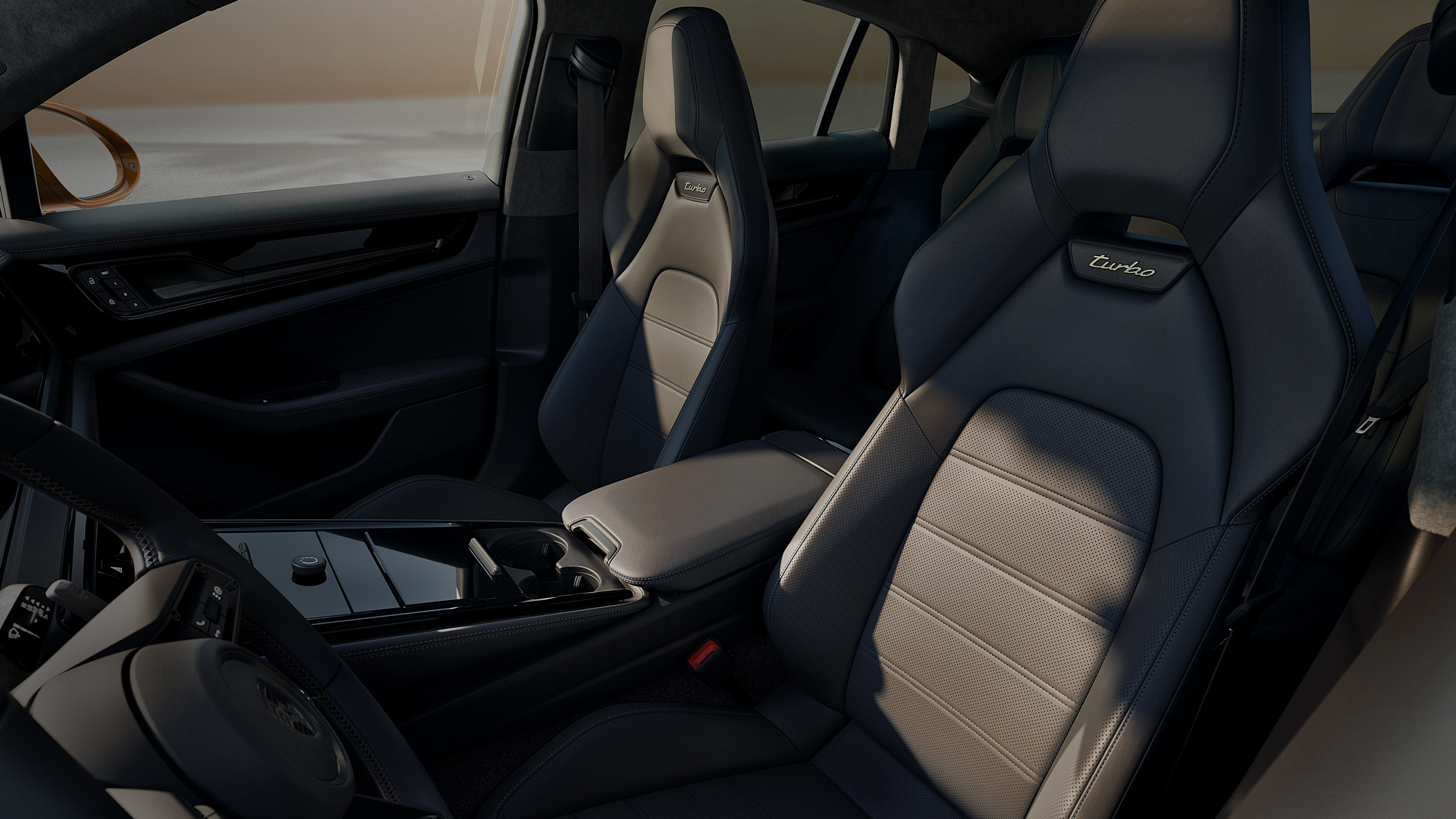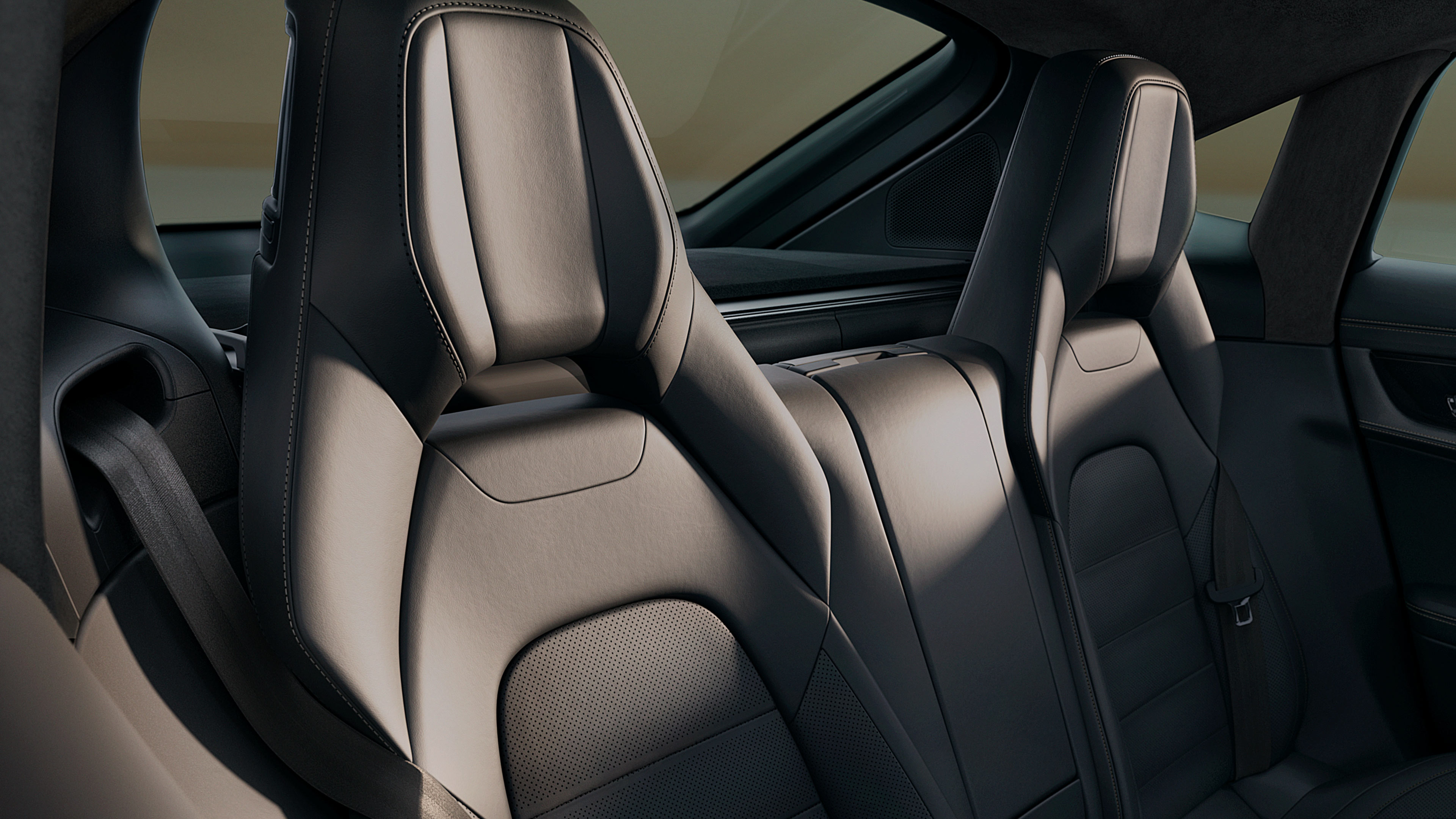 Seats.
Front seats.
The front seats offer a high level of comfort and provide support in fast corners without restricting freedom of movement. The seat height, seat cushion and backrest angles and longitudinal position are electrically adjustable. The comfort seats also feature seat squab length adjustment and 4-way lumbar support for the driver and front passenger. The adaptive sports seats (18-way) have raised side bolsters on the seat cushion and backrest. Electrically adjustable, they offer perfect lateral support in corners.
Rear seats.
Their main feature: there are two individual seats. With plenty of legroom and headroom and excellent lateral support during dynamic cornering without sacrificing comfort. On request, comfort seats with electric backrest adjustment, seat length adjustment and lumbar support are also available for the rear seat. 
If a fifth person needs to travel with you from time to time, the 4+1 seating system is available for the Panamera models, offering an additional central rear seat.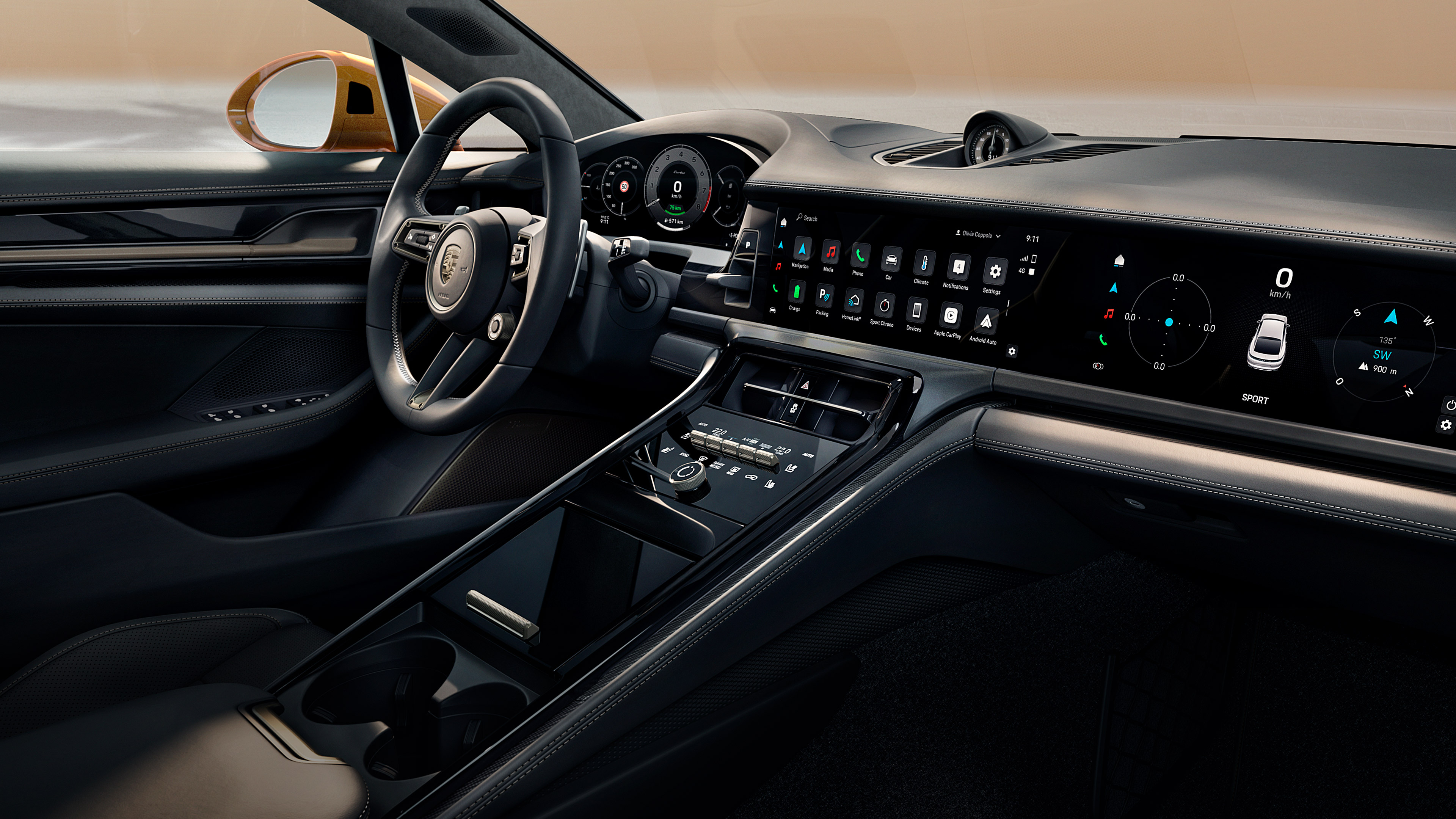 Centre console.
For added convenience, the PDK gear selector is located on the dashboard behind the steering wheel. The air conditioning controls are located in the rising centre console and the mobile phone charging cradle is located underneath. The charging cradle features 15-W wireless charging and is cooled for high charging performance.
Sport Chrono Package.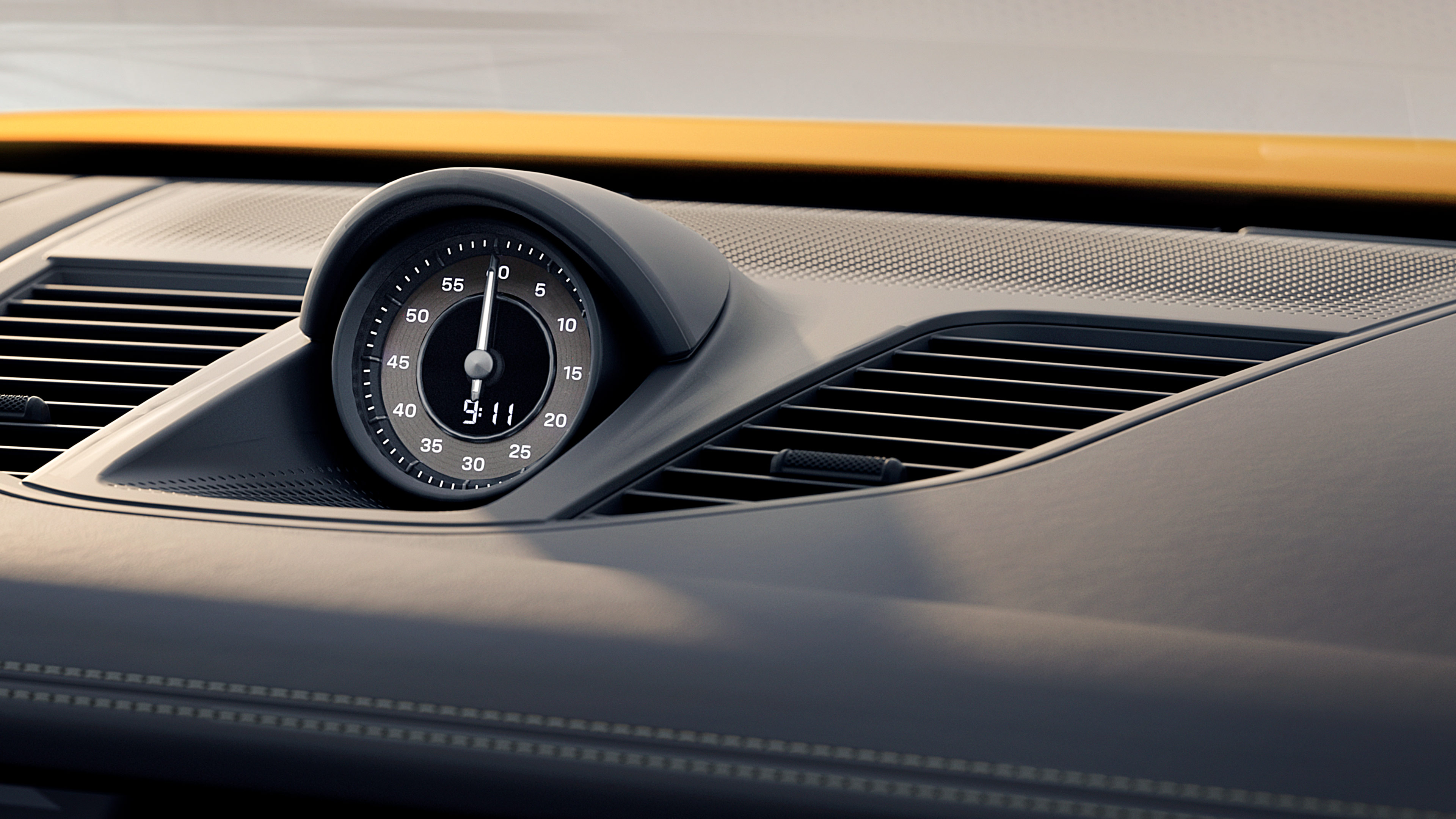 The Sport Chrono package is standard on the Panamera Turbo E-Hybrid and optionally available for the other Panamera models. In addition to the digital and analogue stopwatch on the dashboard, features of the Sport Chrono package include SPORT PLUS mode with performance-orientated settings for the engine, transmission and chassis, Launch Control, and the SPORT Response button in the centre of the mode switch on the steering wheel.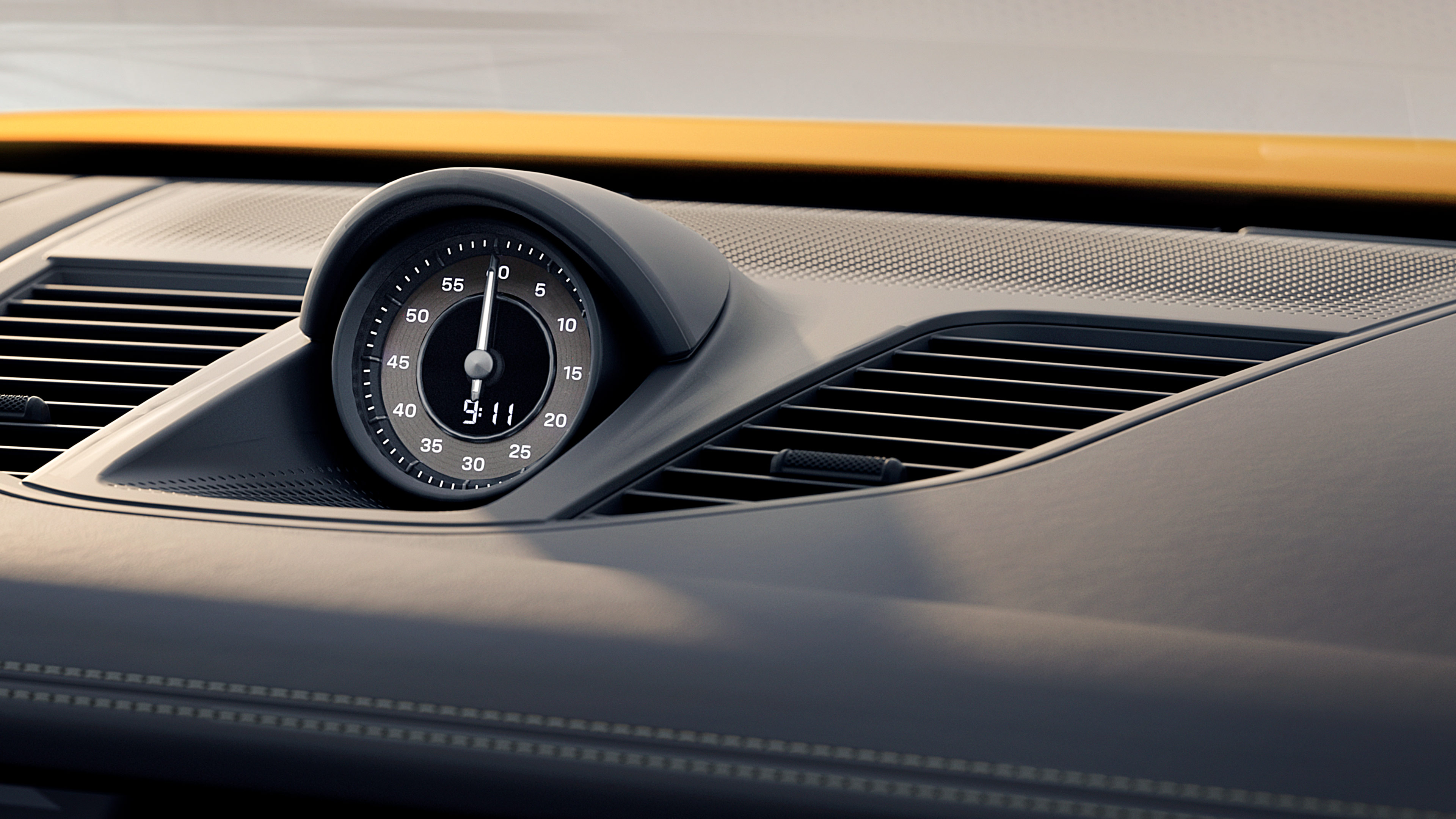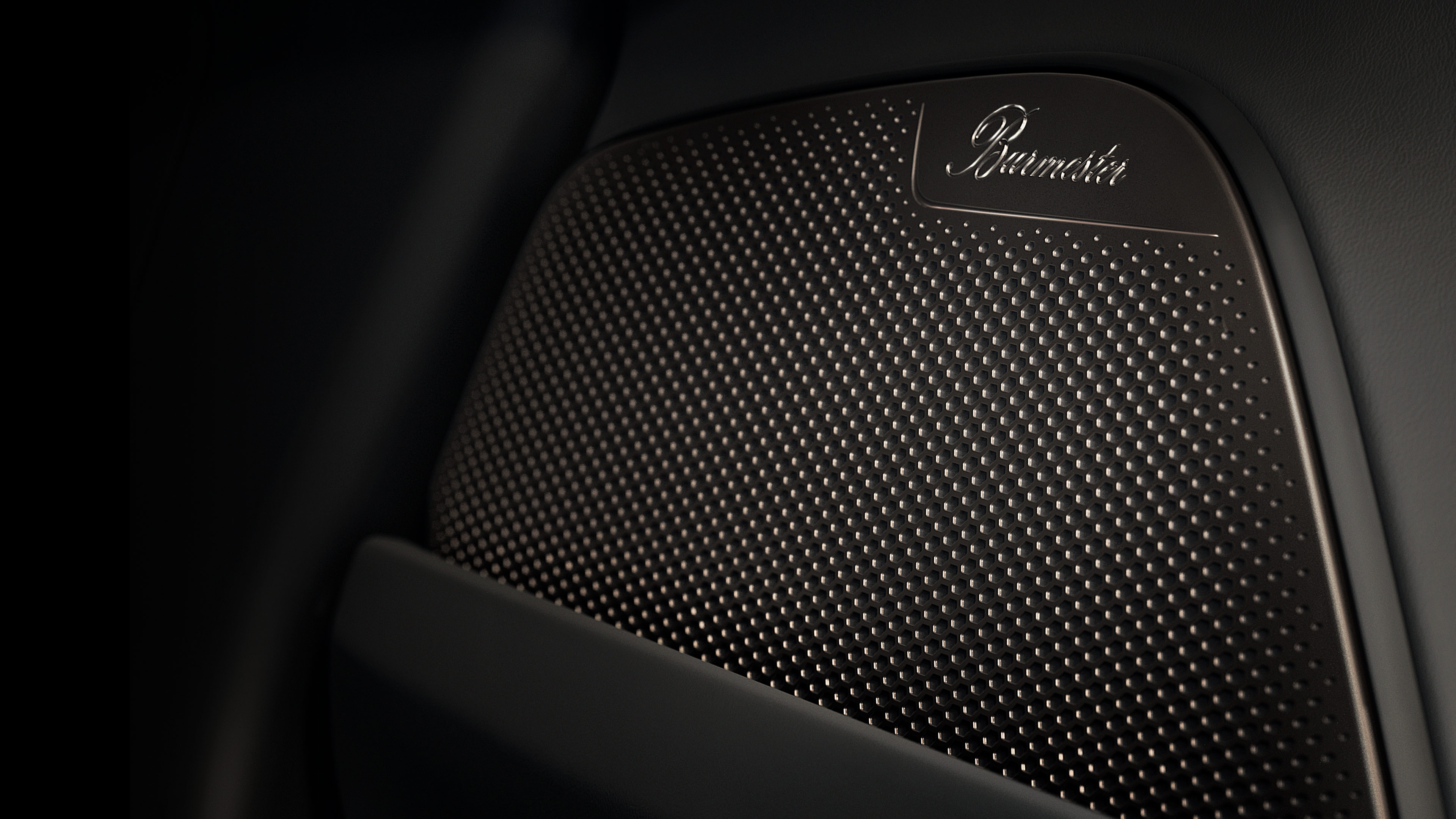 Sound systems.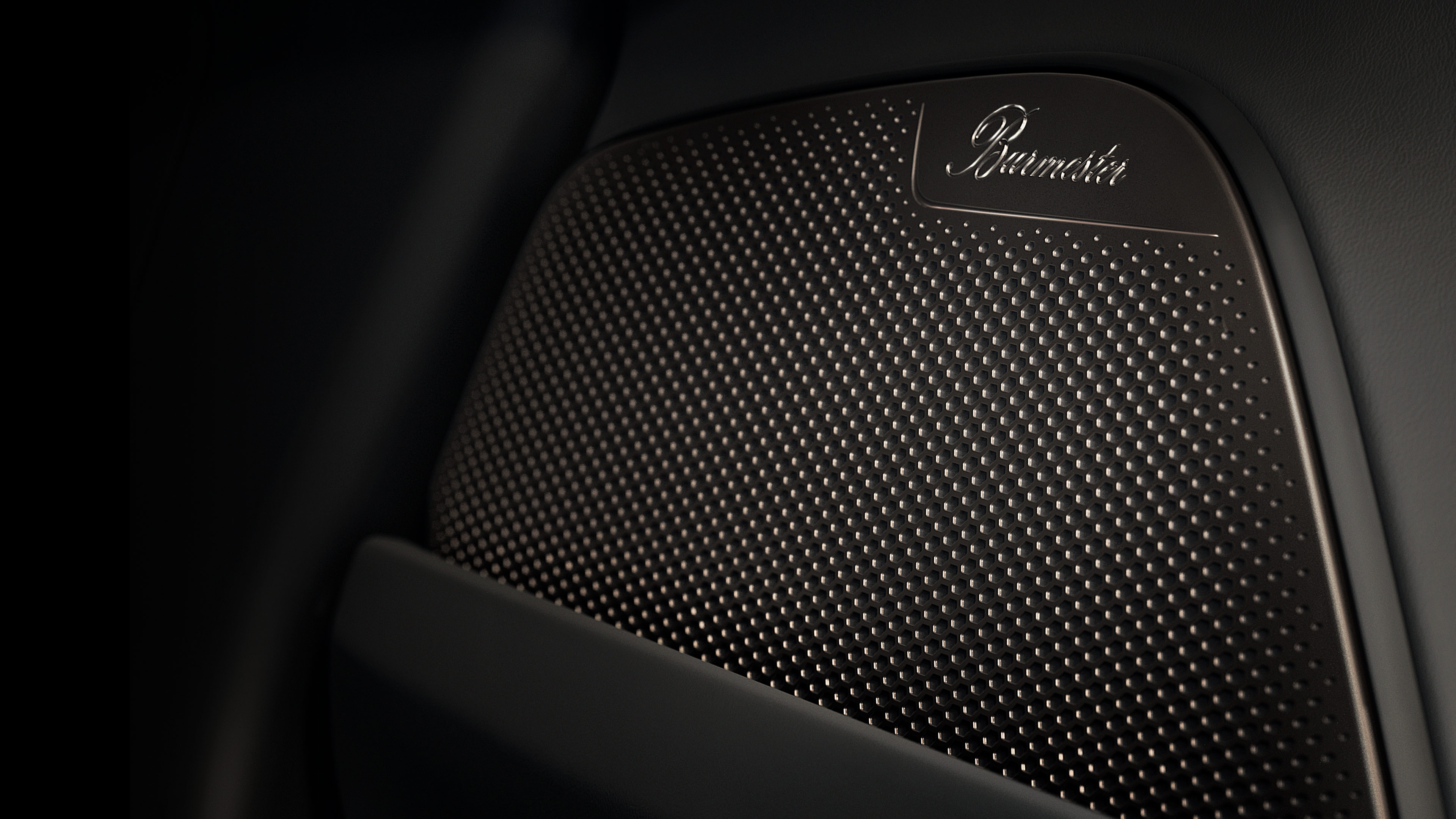 The Panamera models are equipped with the Sound Package Plus with 10 speakers and output of 150 watts. The BOSE® Surround Sound System with 14 speakers and a subwoofer and a total output of 710 watts is available as an option (as standard on the Panamera Turbo E-Hybrid). The Burmester® 3D High-End Surround Sound System, with a total output of 1,455 watts and 21 independently controlled speakers, is also available.
Next chapter
E-Performance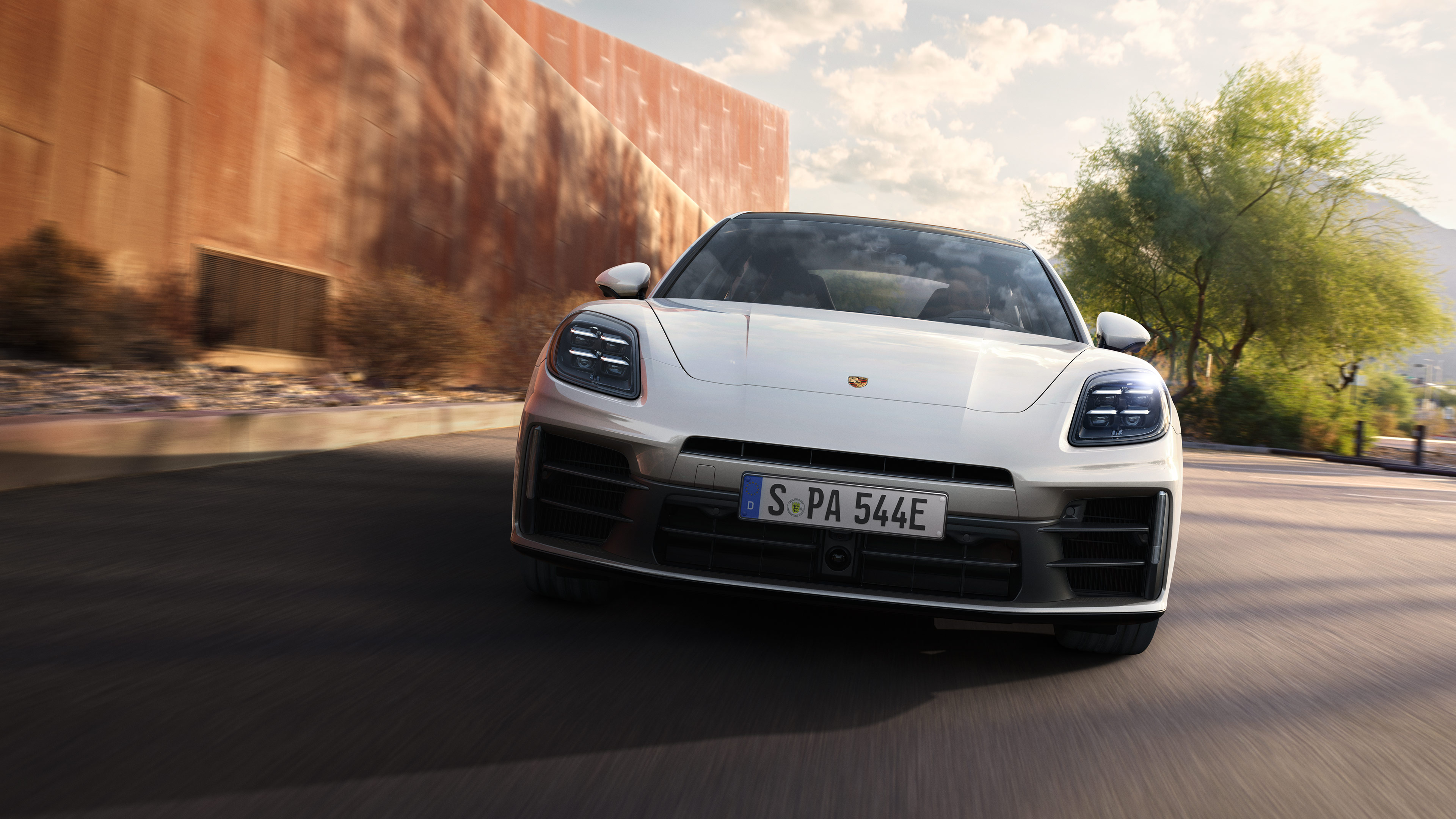 Sportiness and efficiency to the power of two.
The electric motor and combustion engine combine to form a dynamic unit in the Panamera. This ensures immense driving fun with high efficiency.
E-Hybrid.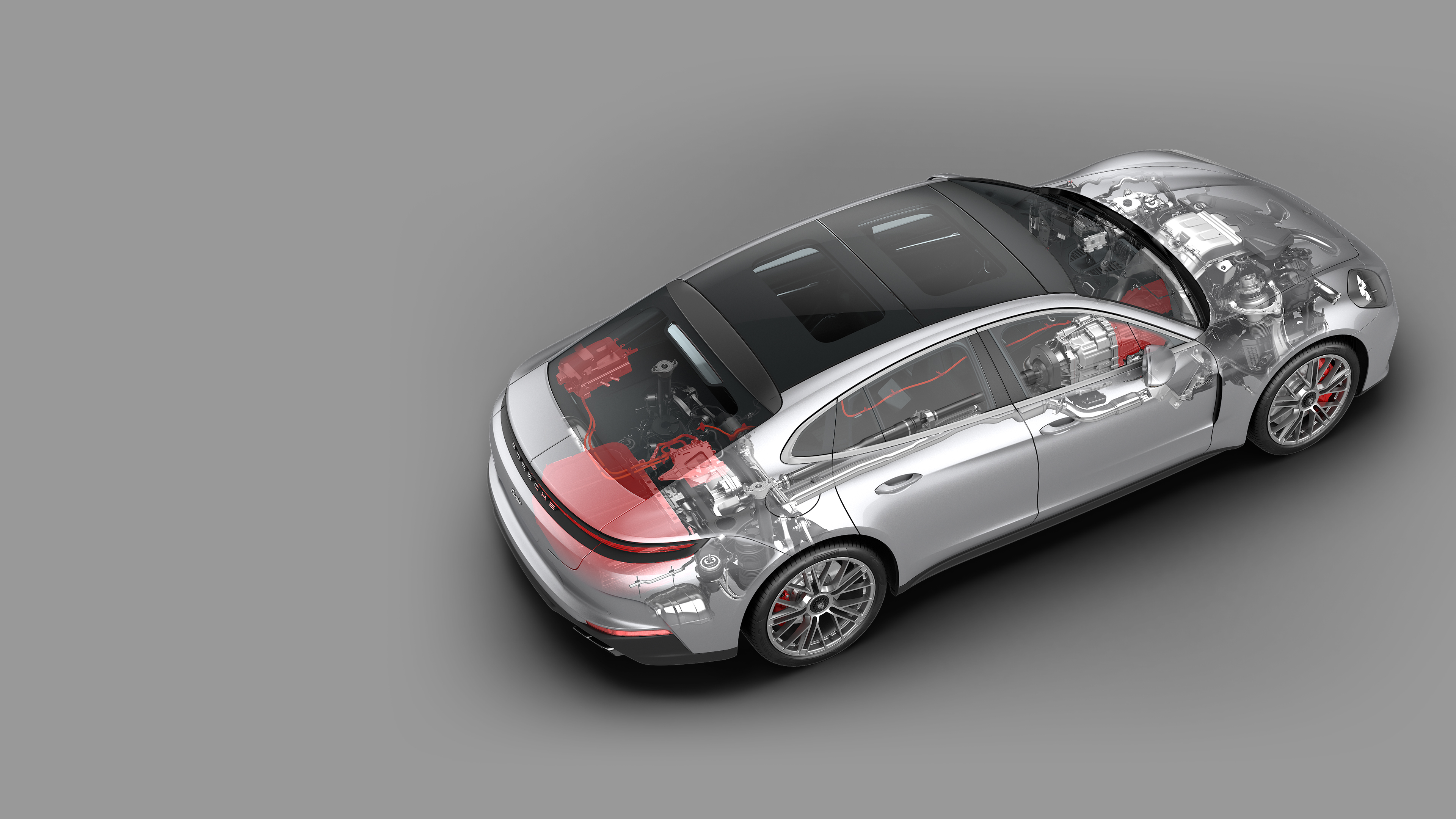 The hybrid drivetrain.
The system power is achieved through the combination of the combustion engine and the electric motor. Both drives can be used together as a system or separately, depending on the requirements.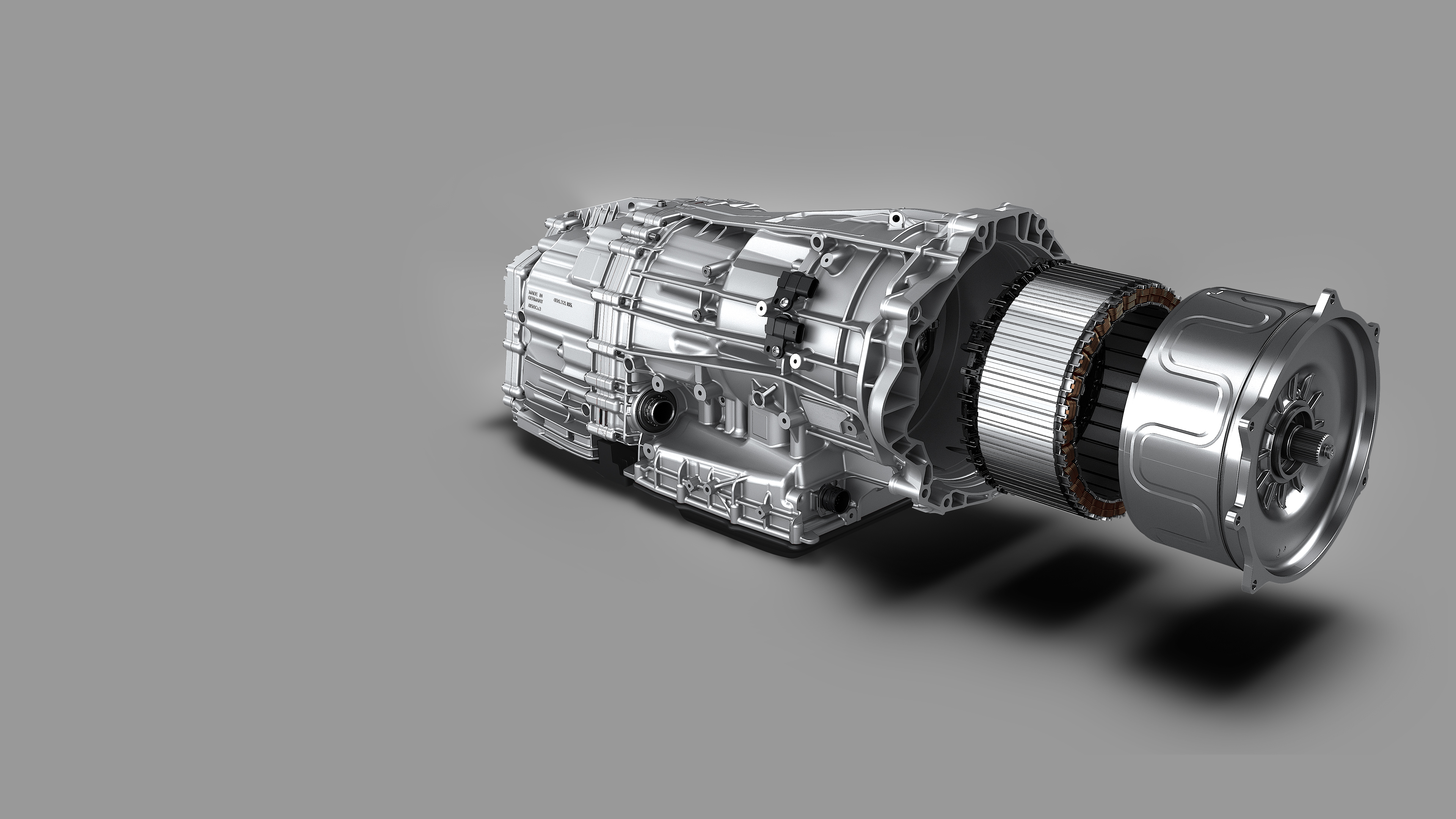 Electric motor.
The electric motor, with a maximum power of 190 HP and a maximum torque of 332 lb-ft, ensures superior driving performance in the purely electric E-Mode and recuperates energy back into the battery during deceleration.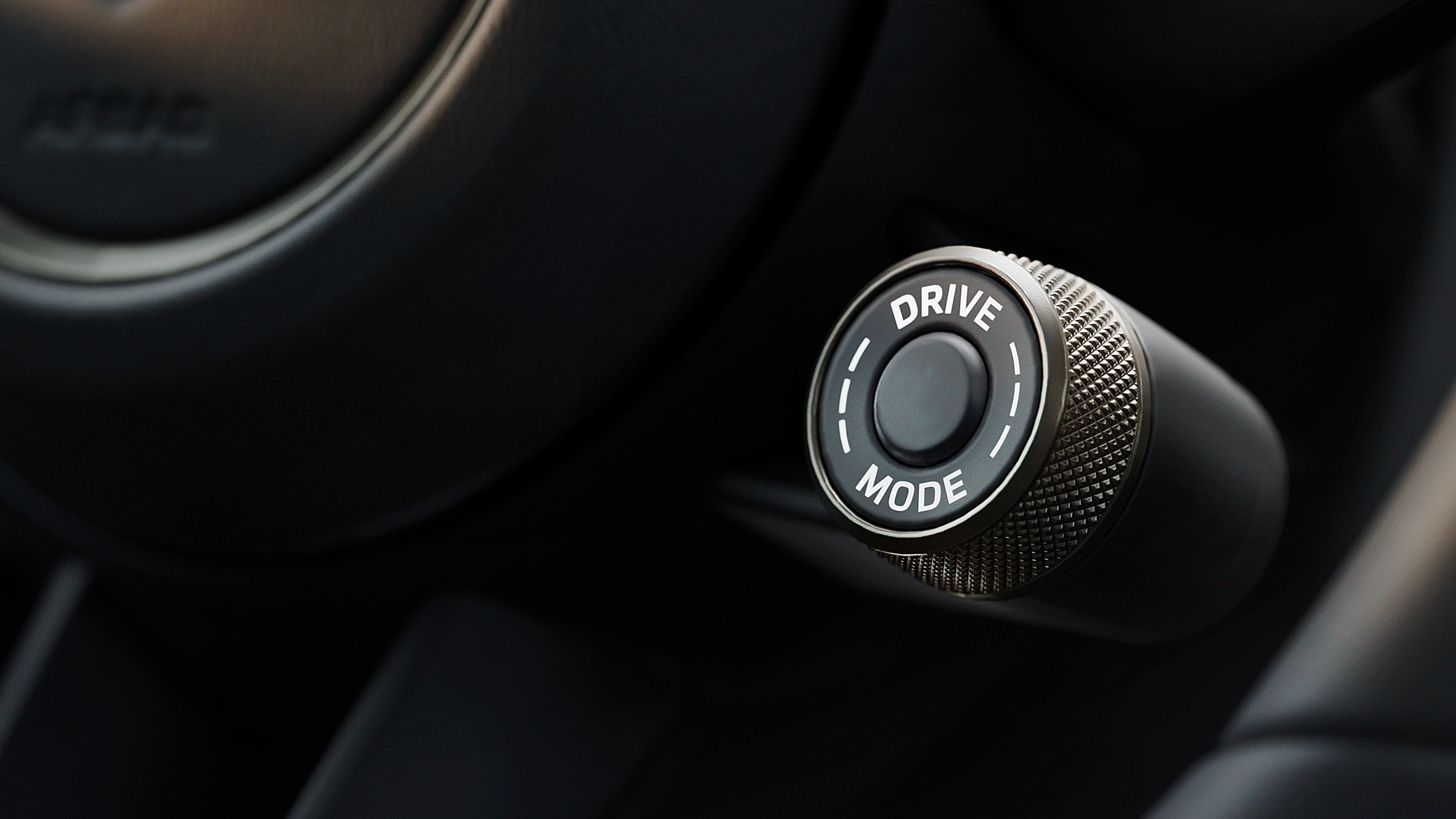 Driving modes.
With driving modes specially designed for the hybrid drivetrain, you can switch between purely electric, the most efficient hybrid, or sport focus, depending on your route and personal preferences.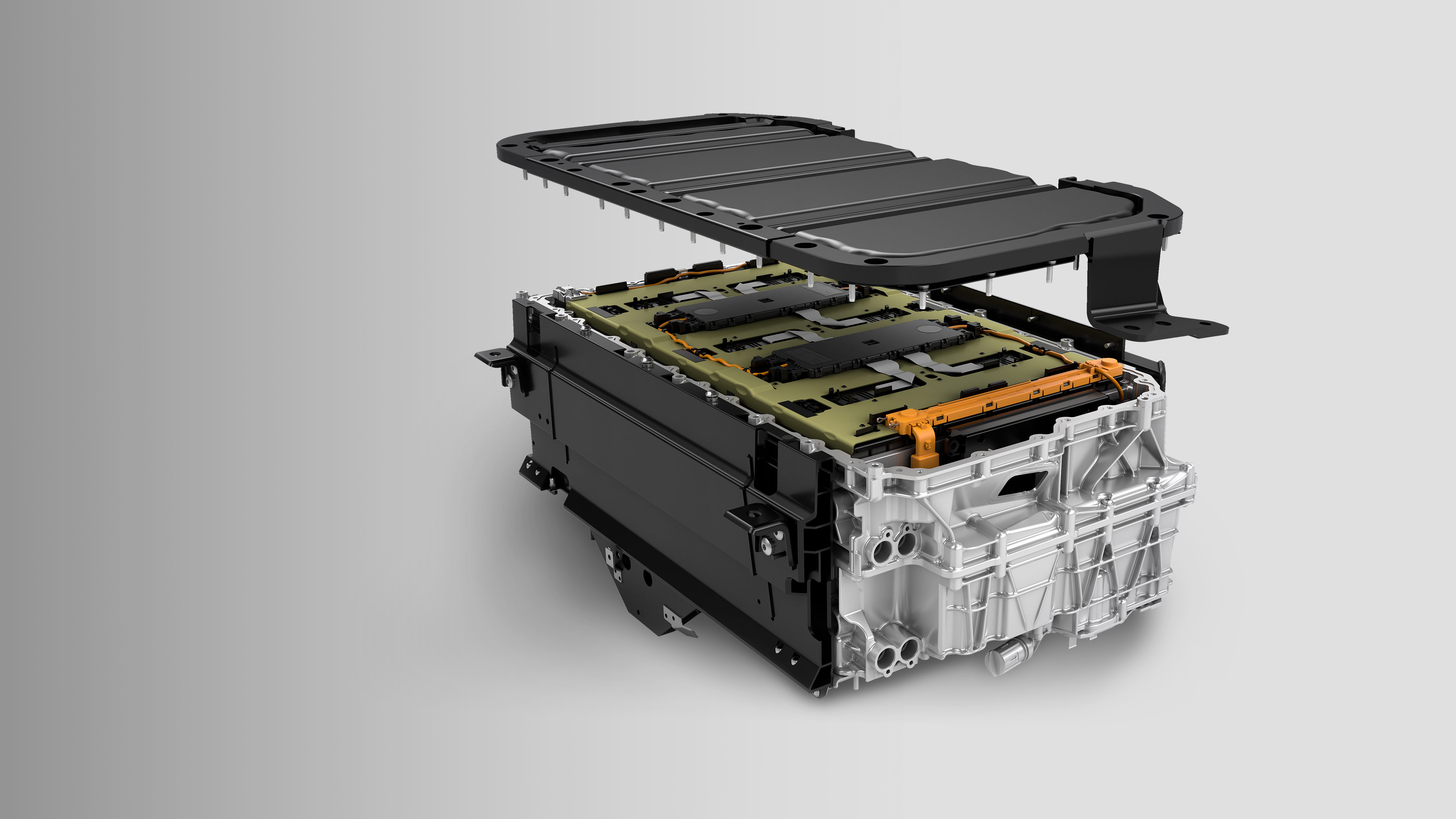 High-voltage battery.
The lithium­-ion battery with 25,9 kWh of energy capacity ensures long electric range and also powers electrified auxiliary units such as the air conditioning compressor and the electric brake booster. It can be charged with up to 11 kW of charging power using the on-board AC charger.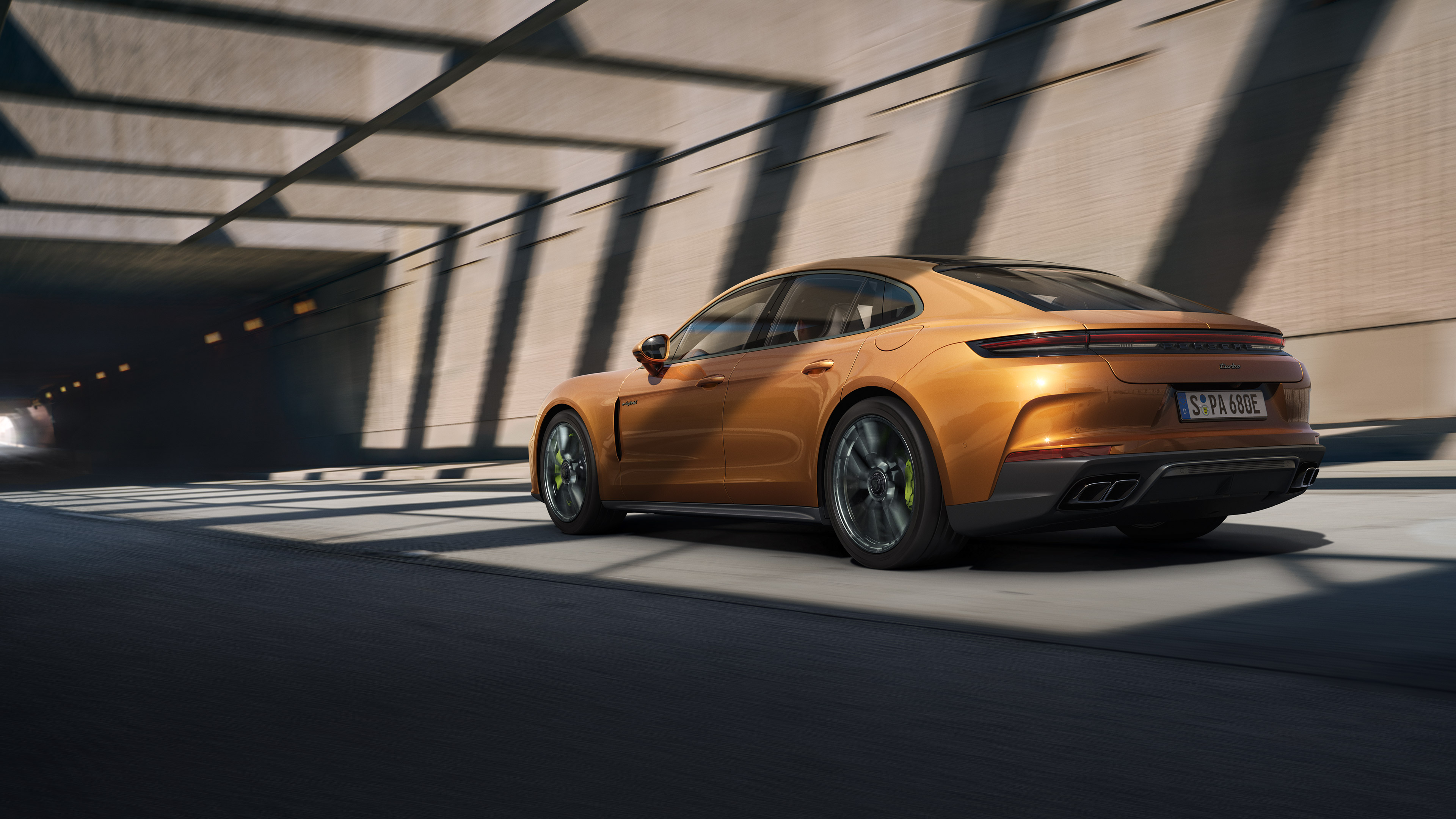 Porsche Active Ride.
Equipped with the further developed adaptive air suspension as standard, the Panamera Turbo E-Hybrid can also be fitted with the high-end Porsche Active Ride suspension, an active suspension system on all four wheels to increase comfort and performance. In the shock absorbers on the air-spring suspension, wheel-specific tensile and compression forces can be generated as required, generating more support, compensating for any jolts that occur or increasing the sportiness. The result: an even greater balance between comfortable travel and sporty driving dynamics. Compensating for surface irregularities reduces vehicle body noise. If the active cornering dynamics function is activated, the vehicle leans towards the inside of the bend and reduces the lateral forces for the occupants. Acceleration and braking comfort can also be increased via a selection function which lowers or raises the vehicle on the front and rear axles during the respective driving situation, in order to reduce the longitudinal forces for the occupants. When driving dynamically, the wheel load transfer is offset by rolling and pitching movement compensation when braking, thereby enhancing performance. In the Sport Plus driving mode, the body is even lower than the level of the air springs during dynamic cornering and heavy braking, which means that wheel load changes are significantly reduced and the performance of the vehicle is further enhanced. The height adjustment increases ease of entry and exit by quickly raising and lowering the entire body when opening and closing the doors.
Next chapter
Models & Data
Select and configure Panamera models.
Selected
Panamera
New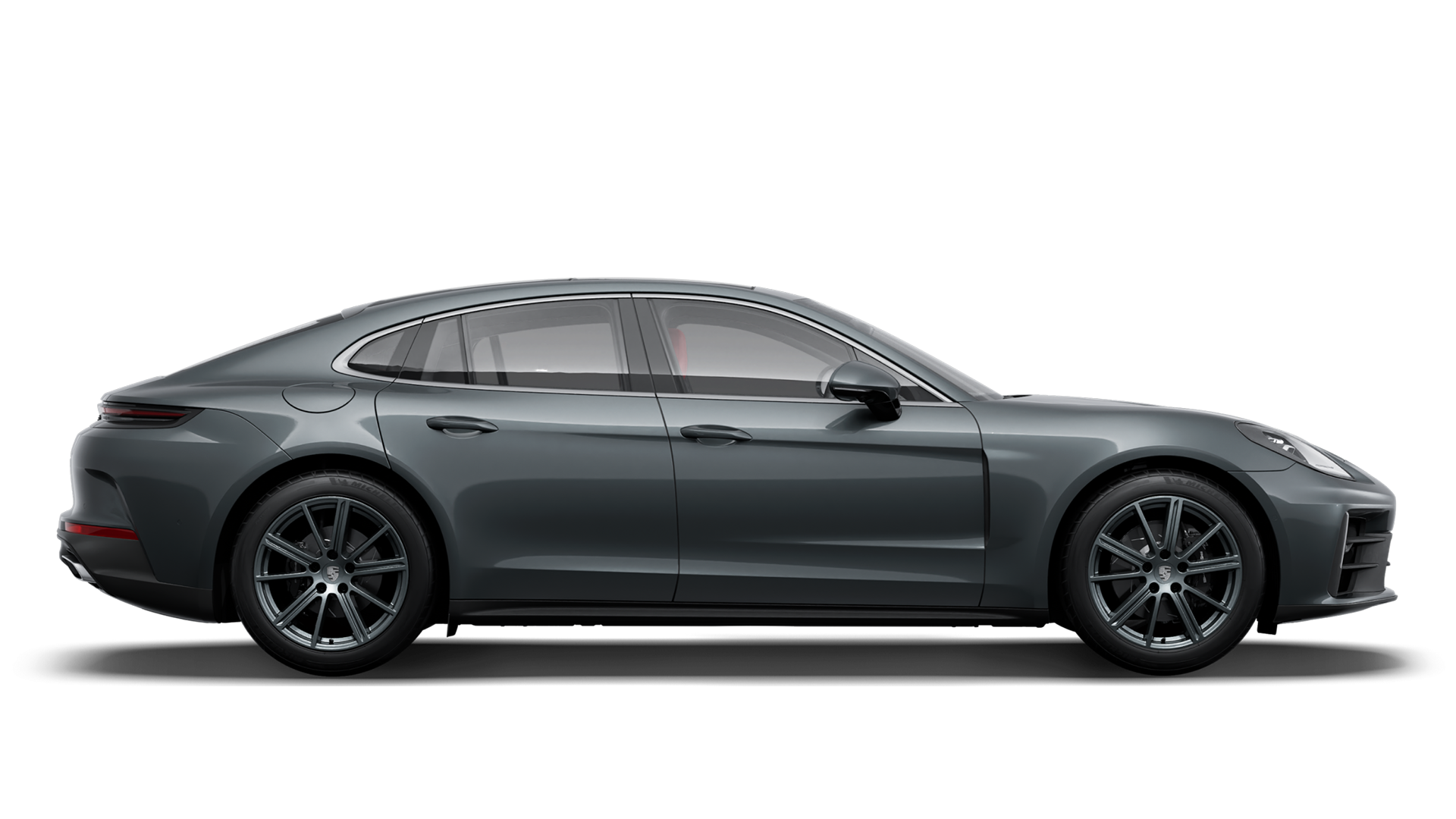 5.3 s
Acceleration from 0 - 100 km/h
272 km/h
Top track speed with summer tires
Selected
Panamera 4
New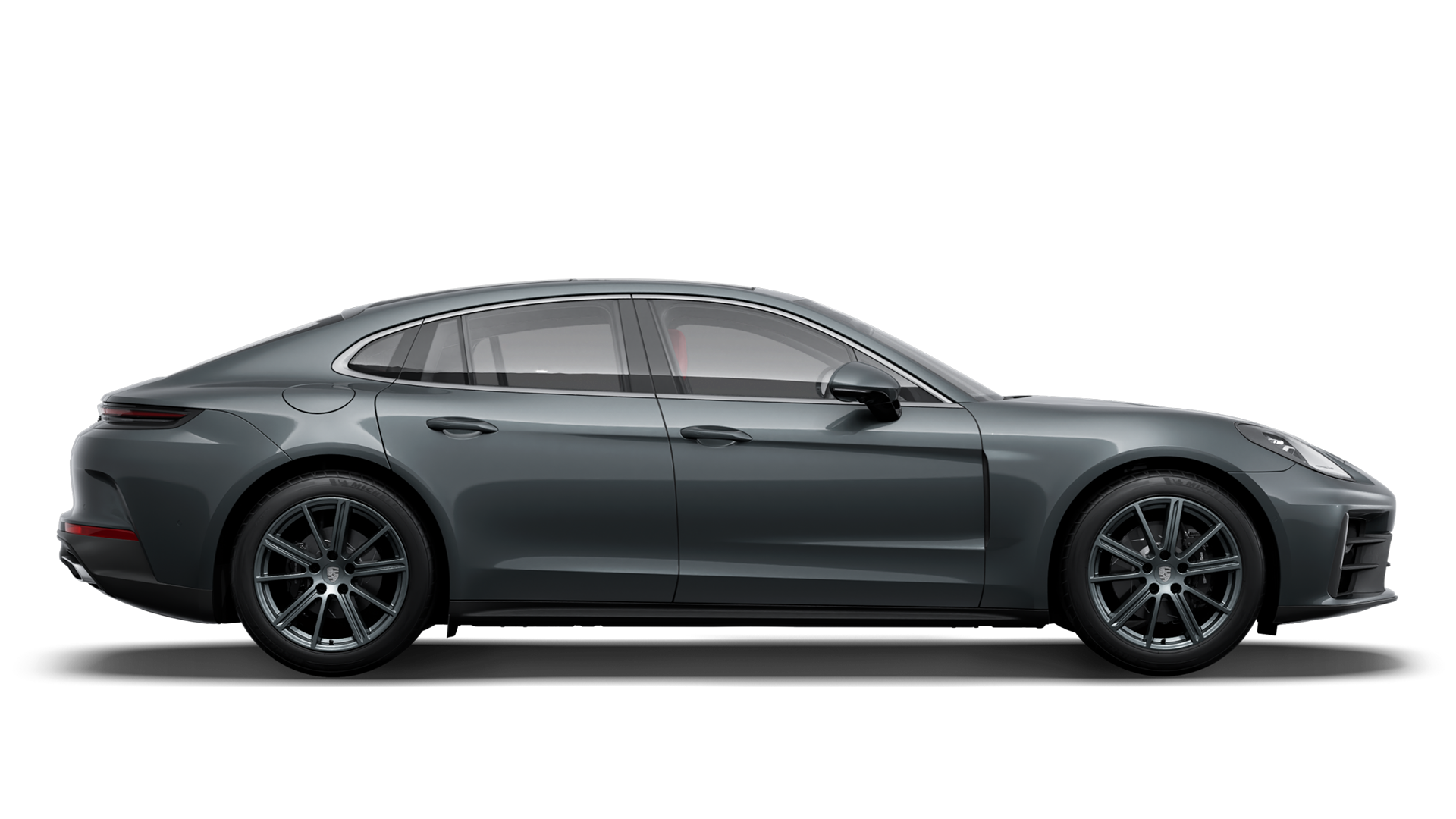 5.0 s
Acceleration from 0 - 100 km/h
270 km/h
Top track speed with summer tires
Selected
Panamera Turbo E-Hybrid
Coming soon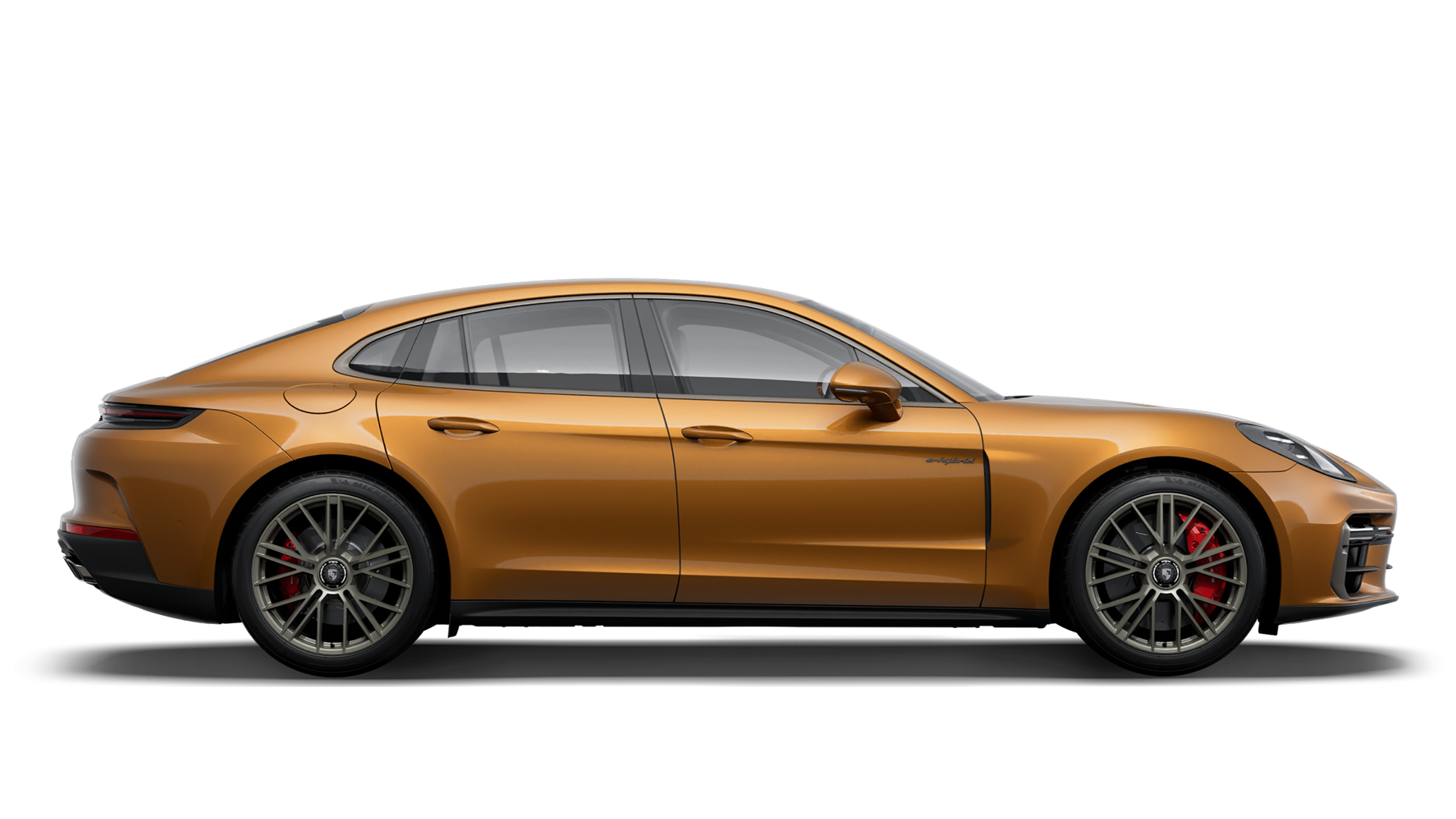 Panamera
5.3 s
Acceleration from 0 - 100 km/h
272 km/h
Top track speed with summer tires
Width (not incl. mirrors)
1,937 mm
Technical Specs
| | |
| --- | --- |
| Number of cylinders | 6 |
| Bore | 84.5 mm |
| Stroke | 86 mm |
| Displacement | 2.9 l |
| Power (kW) | 260 kW |
| Power (hp) | 348 hp |
| at rpm | 5,400 - 6,700 rpm |
| Maximum engine speed | 6,800 r/min |
| Max. torque | 368 lb-pi |
| at rpm | 1,900 - 4,800 rpm |
| Max. output per liter (hp/l) | 120 hp/l |
| | |
| --- | --- |
| Top track speed with summer tires1) | 272 km/h |
| Acceleration from 0 - 100 km/h | 5.3 s |
| Acceleration 0 - 100 km/h with Sport Chrono Package | 5.1 s |
| Acceleration from 0 - 160 km/h | 12.4 s |
| In-gear acceleration (80-120 km/h) | 3.4 s |
1) If your vehicle is delivered with all season or winter tires, top track speeds will be reduced.
| | |
| --- | --- |
| Max. ground clearance (air suspension, normal level) | 132 mm |
| | |
| --- | --- |
| Length | 5,052 mm |
| Width (not incl. mirrors) | 1,937 mm |
| Width (without mirrors folded) | 2,165 mm |
| Height | 1,423 mm |
| Wheelbase | 2,950 mm |
| Turning circle | 11.9 m |
| Unladen weight (DIN) | 1,885 kg |
| Permissible gross weight | 2,505 kg |
| Maximum load | 620 kg |
| Maximum permissible roof load with Porsche roof transport system | 75 kg |
| | |
| --- | --- |
| Trunk capacity | 494 l |
| Rear luggage compartment (with seats folded) | 1,328 l |
| Fuel tank | 90 l |
| | |
| --- | --- |
| Warranty period | 4-year/80,000-kilometer (whichever comes first) limited warranty and Roadside Assistance |
| Main service interval | 15 000 km / 1 year (whichever comes first) |
| Paint warranty period | 4 years / 80,000 km (whichever comes first) |
| Perforation Warranty | 12 years (unlimited mileage) |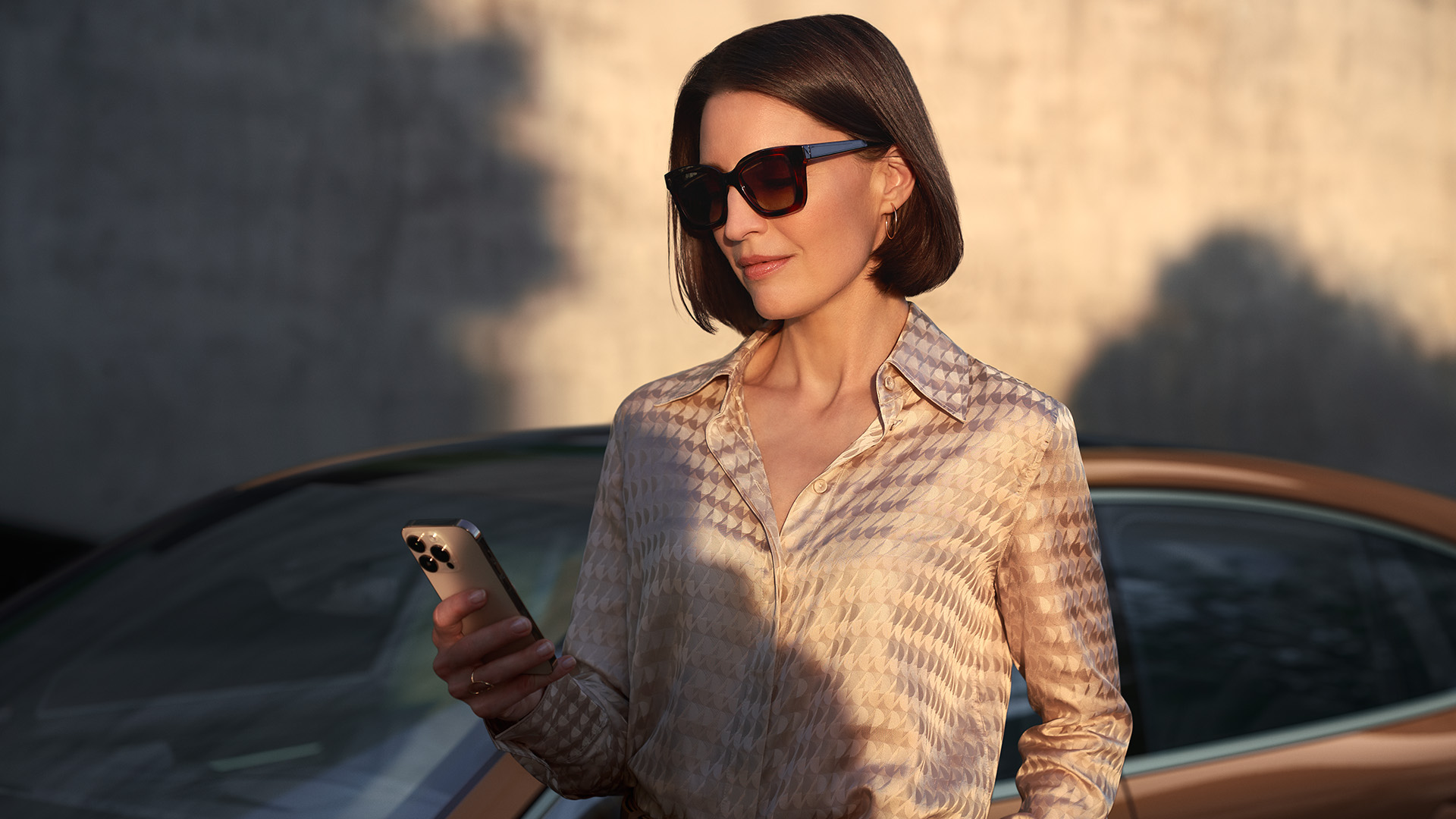 Porsche Connect.
Range, route planning, state of charge and so much more: Porsche Connect features for your relaxing driving experience.

Personalisation & finishing.
At Porsche Exclusive Manufaktur, we offer you a range of personalisation options for the exterior and interior of your car. For your own very personal vehicle.