An integral part of the performance.
To create the dynamic sports car performance and feeling of your Porsche, all its precisely matched parts must work in seamless harmony. But in the end, it's all down to the tires when it comes to bringing the driving experience to the road. After all, they are the only part of your Porsche in direct contact with it. So, every revolution of the engine, every nudge of the steering wheel and every touch of the brake pedal can only deliver the originally intended Porsche feel when the tyre characteristics precisely complement the overall design.
That is why there are tires specifically developed for your Porsche model by leading manufacturers to our specifications and marked with an "N" by us. Only N-marked tires are tested and approved by Porsche for their performance, handling and safety characteristics. Your personal Service Advisor will provide you with the information you need on the latest tires fitting your Porsche and your needs.
N-marked tires approved by Porsche.
N-marked tires are tested by Porsche engineers under severe circumstances in various disciplines to show whether they maintain their driving characteristics in different driving situations. This e.g. applies to braking manoeuvres and high-speed cornering as well as varied weather conditions. tires that are up to the forces a Porsche puts on the road and have been tested by us receive the N-marking.

Your Porsche Centre will be happy to advise you on the right tires for your car drawing on the entire Porsche approved tyre range. This range exclusively consists of tires specifically tailored to every individual Porsche model by leading tyre manufacturers to meet the high standard Porsche specifications and its special performance requirements. The fact that the tires have also been thoroughly tested and approved by Porsche is indicated by their N-marking.
Coding
Following the N, a second letter indicates the model line and a number the tyre version. Further details can be found in each tyre's technical data.
For example, the Porsche Macan tyre will be marked NE0, indicating:
N – approved by Porsche
E – fits the Porsche Macan
0 – the first specific configuration (of structure, compound, tread, etc.) with serial approval, higher numbers stand for later approved versions of the tyre with differing specifications.
Porsche N-marked tires are tested according to strict criteria that satisfy our high standards for dynamic and safe driving pleasure. Testing covers three main areas:
1. Subjective outdoor criteria, such as handling and driving comfort
2. Objective outdoor criteria, such as braking performance and service life
3. Indoor criteria, such as rolling resistance and high-speed performance
Tyre geometry and rubber composition are tailored to each individual Porsche model by leading tyre manufacturers such as Michelin. The N-marking indicates that these summer, winter, all-season and sport tires provide the driving stability and driving pleasure characteristic for Porsche. Porsche N-marked tires ensure that your vehicle retains its original driving performance and safety margins.
































Connections that make the difference:
Michelin Tires Developed for Porsche.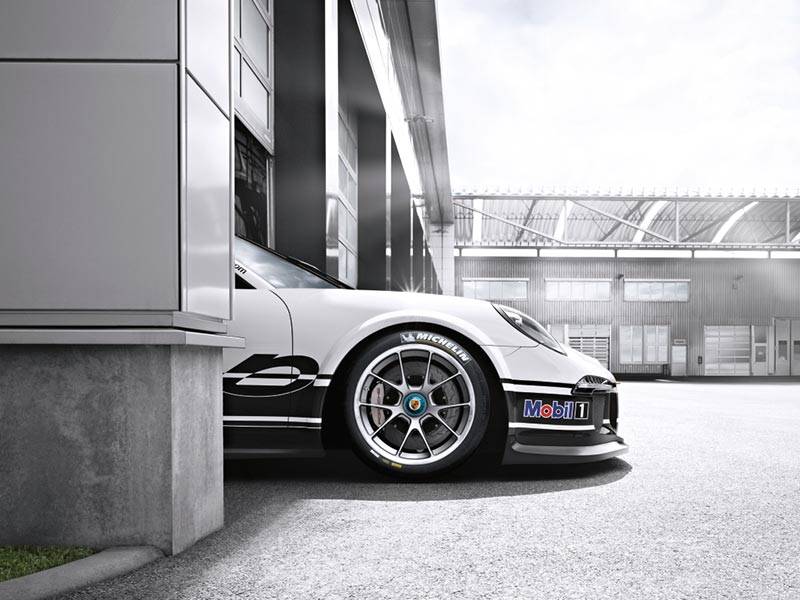 Porsche and Michelin have worked closely together for almost half a century. Since 2002, Michelin has also been Porsche's global tire cooperation partner. This means we collaborate long before any particular vehicle's market launch, to design, develop and manufacture tires specifically tailored to match the demands of the new model, and to enhance its safety, agility, control and performance.