The future within your reach.
Experience the Porsche of tomorrow with the 'Mission E Augmented Reality' app. Linking the physical and digital world for a unique and innovative customer experience.
Create reality.
The Porsche Mission E will be released on the market at the end of the decade. With its new Mission E Augmented Reality app, Porsche is already creating innovative access to the technology of the electric sports car. "We offer our fans a virtual taste of the first all-electric Porsche sports car," says Kjell Gruner, Head of Marketing for Porsche AG. "The augmented reality technology offers us the option of presenting complex, technical matters surrounding the new vehicle technology in an instructive and emotive way. It is important to us that our customers can immerse themselves in the technology of tomorrow early on and to convey our enthusiasm - anytime and anywhere."
Take a digital test drive now.
Your virtual vehicle appears in your garage or your living room at the touch of a button. Choose your desired vehicle size, launch the 'Explore' mode and experience all the highlights and features. Configure your colours however you wish or discover the technical functions that are otherwise hidden from view.
For example, the Augmented Reality app gives you access to animations that allow you to simulate the aerodynamics of the vehicle. Using so-called 'x-ray' views that allow you to see under the lightweight body, the drive and battery technology become visible.
Or climb in to see the unique interior close up. If you want to experience the Mission E while driving, launch the 'Drive' mode – for exclusive and interactive driving fun. Playfully discover complex functions, such as inductive and conventional charging.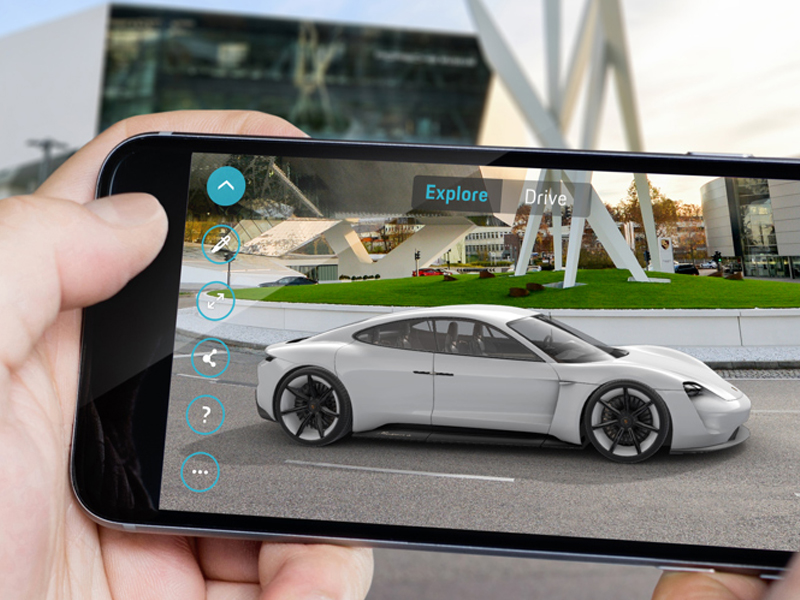 If you want to digitally discover the first all-electric Porsche sports car, you can download the "Mission E Augmented Reality" app for free.
An augmented reality-capable smartphone with Android or iOS operating system from Google or Apple is required.
Link to the Apple App Store and Google Play Store.

Apple App Store

Google Play Store
You can discover more about the Porsche Mission E experience here.