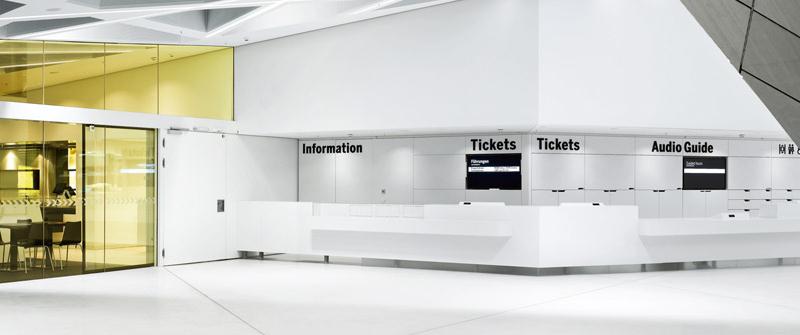 Opening Hours, Admission Fee
Address
Porsche Museum
Porscheplatz 1
D – 70435 Stuttgart-Zuffenhausen, Germany
Opening Hours of the Porsche Museum
Tuesday through Sunday
9:00 a.m. to 6:00 p.m.
Tickets can be purchased until 5:30 pm
Closed Mondays
Special Opening Days
May 30, 2013: Feast of Corpus Christi
October 3, 2013: German Unification Day
October 31, 2013: Reformation Day
November 1st 2013: All Saints' Day
November 20, 2013: Penance Day
Days off
December 24 and December 25, 2013
December 31, 2013
January 1, 2014
Admission price
Adult: 8 Euros
Reduced price: 4 Euros
Enjoy the museum for half-price admission at 5 pm.
Children up to the age of 14 get free admission when accompanied by an adult.
Children up to an age of 14 years must be accompanied by an adult or guardian.
Guided Tours: 60 Euro plus admission fee (in advance for groups of up to 25 participants)
Groups of 10 or more participants without guided tour pay 6 Euro per person incl. Audio Guide.
annual ticket: 32 Euro
reduced annual ticket: 16 Euro
Please ask for our vouchers at our ticketing counters or send us an e-mail to info.museum@porsche.de.
Do you plan to visit the Porsche museum on your birthday? We invite you to our museum. If you present your ID-card at our ticket counter we will not charge you on your birthday.
The Porsche museum invites bus drivers for a cup of coffee during the stay of their group. We kindly ask you to present yourself at our ticketing counter.
Group bookings and special guided tours
Tel.: 0049 (0)711 911 20911
Fax: 0049 (0)711 911 20356
E-Mail: info.museum@porsche.de
Please note: Factory tours can only be booked by e-mail: factorytours@porsche.de
Factory tours are only offered from Monday through Thursday.
Group Tours
Guided tours can be booked in advance for groups of up to 25 participants. We guide you in English and German. For an approx. 60-minutes guided tour we charge 60 Euro plus the admission fee. Groups of up to 10 participants have to pay the reduced admission fee of 6 Euro per capita.
Architectural Tours
Experience our museum from a different point of view. During a 60-minutes tour around our building we explain the architecture of Delugan Meissl Associated Architects. Afterwards we guide you through our exhibition. For an architectural tour for groups of up to 25 participants we charge 90 Euro plus admission fee. Children up to the age of 14 get free admission.
Students
Students get free admission when accompanied by a teacher. An advance reservation is required. Optionally we provide our educational material.
Audio Guides
Our electronic Audio Guide is free of charge. Visitors can use it to explore the exhibition in any sequence and at any pace they prefer. It contains sound tracks for motion pictures, information about individual vehicles, and topical information about Thematic Islands and individual arrangements. The guide is available in following languages: German, English, French, Spanish, Italian, Russian, Japanese and Chinese. For children we have a special version available.
No Barriers
All areas of the museum are free of barriers and accessible via ramps or the elevator. Our staff will be happy to respond to special wishes.
Parking
For our visitors we offer parking places in our parking garage. Only a few steps away we provide also a parking area for buses. Therefore please follow the signs.