Results for Porsche
919 Hybrid No. 02: Bernhard, Bamber, Hartley
2nd position; 197 laps; fastest lap: 1'40.705
919 Hybrid No. 01: Jani, Lotterer, Tandy
3rd position; 197 laps; fastest lap: 1'40.676
911 RSR No. 91: Lietz, Makowiecki
3rd position; 171 laps; fastest lap: 1'58.193
911 RSR No. 92: Christensen, Estre
8th position; 95 laps; fastest lap: 1'59.117
Overall result
P
Driver
No.
Team
Car
Class
Laps
Best Lap
Gap
1
Sébastien BUEMI
Anthony DAVIDSON
Kazuki NAKAJIMA
8
Toyota Gazoo Racing
Toyota TS050 - Hybrid
LM P1
197
1'39.804
2
Timo BERNHARD
Earl BAMBER
Brendon HARTLEY
2
Porsche LMP Team
Porsche 919 Hybrid
LM P1
197
1'40.705
6.173
3
Neel JANI
André LOTTERER
Nick TANDY
1
Porsche LMP Team
Porsche 919 Hybrid
LM P1
197
1'40.676
46.956
4
Mike CONWAY
Kamui KOBAYASHI
Jose Maria LOPEZ
7
Toyota Gazoo Racing
Toyota TS050 - Hybrid
LM P1
159
1'39.656
38 Laps
5
Oliver WEBB
Dominik KRAIHAMER
James ROSSITER
4
Bykolles Racing Team
ENSO CLM P1/01 - Nismo
LM P1
155
1'47.298
42 Laps
P
Driver
No.
Team
Car
Class
Laps
Best Lap
Gap
1
Andy PRIAULX
Harry TINCKNELL
Luis Felipe DERANI
67
Ford Chip Ganassi Team UK
Ford GT
LM GTE Pro
171
1'57.416
26 Laps
2
James CALADO
Alessandro PIER GUIDI
51
AF Corse
Ferrari 488 GTE
LM GTE Pro
171
1'59.035
26 Laps
3
Richard LIETZ
Frédéric MAKOWIECKI
91
Porsche GT Team
Porsche 911 RSR
LM GTE Pro
171
1'58.193
26 Laps
4
Stefan MÜCKE
Olivier PLA
Billy JOHNSON
66
Ford Chip Ganassi Team UK
Ford GT
LM GTE Pro
171
1'57.856
26 Laps
5
Davide RIGON
Sam BIRD
71
AF Corse
Ferrari 488 GTE
LM GTE Pro
170
1'58.687
27 Laps
6
Nicki THIIM
Marco SØRENSEN
Richie STANAWAY
95
Aston Martin Racing
Aston Martin VANTAGE
LM GTE Pro
170
1'59.297
27 Laps
7
Darren TURNER
Jonathan ADAM
Daniel SERRA
97
Aston Martin Racing
Aston Martin VANTAGE
LM GTE Pro
168
1'59.483
29 Laps
8
Michael CHRISTENSEN
Kevin ESTRE
92
Porsche GT Team
Porsche 911 RSR
LM GTE Pro
95
1'59.117
102 Laps
Race report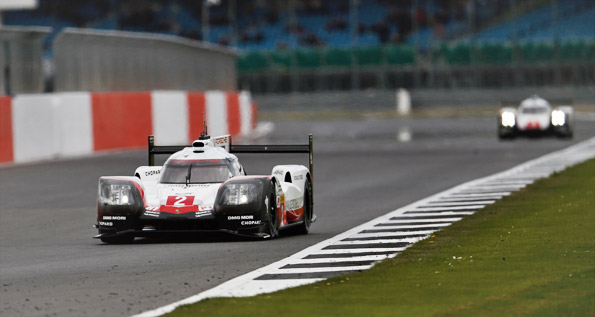 Stronger than expected: Porsche 919 Hybrids second and third in Silverstone
Stuttgart. Despite a well calculated but significant aerodynamic disadvantage, Porsche fought for the victory with the 919 Hybrid on Sunday in Silverstone. After six hours of racing in the FIA World Endurance Championship season-opener on the challenging British Grand Prix circuit, the trio of Earl...
Read more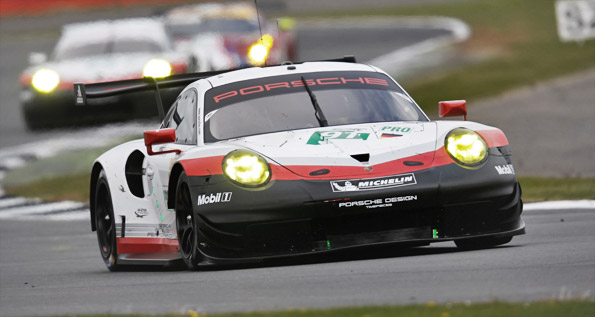 New Porsche 911 RSR starts its first world championship season with podium
Stuttgart. At the Silverstone six-hour race, the new Porsche 911 RSR started its maiden season in the Sports Car World Endurance Championship WEC with a podium result. Richard Lietz (Austria) and Frédéric Makowiecki (France) planted the 911 RSR with the starting number 91 on the third grid spot in...
Read more