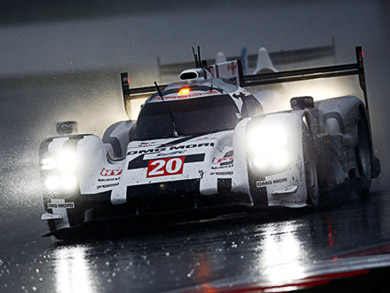 Race report
FIA World Endurance Championship, Sports Car World Championship WEC, round 1: Silverstone/Great Britain, LMP1, Race report
Porsche 919 Hybrid race debut was a success
Stuttgart. The eagerly awaited race debut of the innovative Porsche 919 Hybrid in the World Endurance Championship (WEC) was a success. The highly complex Le Mans Prototype took a podium at its first attempt in the action packed six hour race at Silverstone (Great Britain). Timo Bernhard (DE), Brendon Hartley (NZ) and Mark Webber (AU) came third in the Porsche 919 Hybrid after 165 laps on the 5.891 kilometre long track. The race was red flagged because of heavy rain 24 minutes before the planned six hours were completed. Webber brought the car home behind the safety car. The sister car of Romain Dumas (FR), Neel Jani (CH) and Marc Lieb (DE) had to retire after 1 hour 15 minutes because of a technical problem. The overall victory went to Toyota drivers Sébastien Buemi (CH), Anthony Davidson (GB) and Nicolas Lapierre (FR).

Wolfgang Hatz, Board Member for Research and Development of Porsche AG: "I am really proud. This was a proper comeback to the highest class of endurance racing. Preparation, operation, discipline in the garage and at the wheel of the two Porsche 919 Hybrids have been very good. The race itself was fascinating and this shows me that the new WEC rules work well – despite or even because of the great technical freedom. Three manufacturers, three innovative hybrid systems and exciting competition on the highest level. For me this is motorsport that contributes to road car development."

Fritz Enzinger, Vice President LMP1: "Regarding our pace, I'm not too worried because the entire project is in its very early stages. The retirement of car no. 14 is annoying for all of us. With car no. 20 we had an entirely trouble free six hour race. Returning home with a trophy from the very first race is a great result for us and I think we should all sleep well tonight."

Alexander Hitzinger, Technical Director LMP1: "Considering how complex this completely new technology is, it is very positive to have finished the race with one car. The no. 20 Porsche 919 Hybrid ran trouble free. We will have to have a long look into the reasons for the retirement of car no. 14."

Andreas Seidl, Team Principal LMP1: "We have been a strong team here and have done a straightforward job on the operational side. I want to thank all the guys and girls here at the track and back home at Weissach. Third place for the no. 20 Porsche 919 Hybrid is a well deserved reward for the hard work done since the first roll out in June 2013. During the race we have made the right calls and our drivers didn't make any mistakes in the most difficult conditions. This was a first class job."

Drivers Porsche 919 Hybrid #20
Timo Bernhard: "We could hardly have asked for more. To pick up a podium at the very first attempt at Porsche's return to the top class of Le Mans prototypes is just great. It was very important to finish the race and make the right calls. This way we have gathertred loads of data. I had a good start and managed to stay close to the cars in front of me. When the rain set in we were quite competitive and were able to close the gap quickly. At my pit stop we took exactly the right decision and went for intermediate tyres. This proved to be the perfect call. Many thanks to the entire team. We have come a long way."

Brendon Hartley: "It was an amazing feeling to bring the car back after my very first stint as a Porsche factory driver and hand it over to Mark. I had a difficult middle stint with rain on the windscreen. It was difficult to tell where the track was wet and where the line was dry. I didn't take much of a risk in terms of traffic, and I was careful with the tyres too. I am delighted with how this first part of my job went." Mark Webber: "It's been a brilliant day for us. I'm happy to have played a small role in the effort that's gone in from the team and everyone back at the factory to get to this point. Timo and Brendon drove exceptionally as well. It was unfortunate for the other car, but it wasn't their day. It was a tough race for all the drivers with tricky conditions, and drizzle on slick tyres is never easy. We managed to dodge a few bullets and survived some of the tricky phases. It was a great experience for me, I learnt so much today in the race. We were spot on with the pit stops in terms of the tyre strategy."

Drivers Porsche 919 Hybrid #14
Neel Jani: "Initially I had a good start, but in the first corner I went straight on and lost some positions. I had a bit of an issue with understeer, which made it difficult to follow the cars in front of me. On lap 24 I had a problem on the front left wheel and I had to pit again. The team got the car back on track within 16 minutes, which was a fantastic effort. Unfortunately on lap 30 we had to retire due to another problem."

The Porsche 919 Hybrid:
With two different energy recovery systems the Porsche 919 Hybrid is the most complex race car the sports car manufacturer has ever built, and serves as the fastest mobile research laboratory for future road cars. The lightweight prototype is trimmed for extreme performance and efficiency. Besides the kinetic energy recovery system (MGU-K) under braking, the 919 Hybrid recuperates thermal exhaust energy (MGUH) when accelerating. The combination of these two systems means a step into unknown territory for Porsche and a unique feature in the entire WEC. When the driver recalls the stored energy from the liquid-cooled lithium-ion battery packs, an electric motor drives the two front wheels with more than 250 hp. This power adds to the over 500 hp combustion engine (downsizing 2.0 litres V4-cylinder, turbocharged with direct injection) and this way the two systems result in temporary all-wheel drive.

"Home of British Motor Racing"
You can't miss the message that Silverstone is the Home of British Motor Racing – the slogan welcomes you in huge letters at the main gate. The first circuit was built in 1948 in the grounds of a military airbase. Today's track layout features a 5.891 km long and flat Grand Prix circuit with 18 bends. Many of their names are mentioned with great respect by drivers. For example the great combination of Maggots-Becketts-Chapel, which leads onto the Hangar straight, ending at the sharp right hander of Stowe corner. Silverstone is located in Northamptonshire, 130 kilometers Northwest of London.
Race result, LMP1, 6 hrs of Silverstone:
1. Davidson/Lapierre/Buemi (GB/F/CH), Toyota TS040 Hybrid, 167 laps
2. Wurz/Sarrazin/Nakajima (A/F/J), Toyota TS040 Hybrid, 1 lap behind
3. Bernhard/Webber/Hartley (D/AUS/NZ), Porsche 919 Hybrid, 2 laps behind
4. Heidfeld/Prost/Beche (D/F/CH), Lola B12/60-Toyota, 8 laps behind
5. Pla/Canal/Rusinov (F/F/RUS), Morgan-Nissan, 13 laps behind
6. Bradley/Howson/Matsuda (GB/GB/J), Oreca 03-Nissan, 15 laps behind
The Sports Car World Endurance Championship WEC
Sports prototypes and GT vehicles contest the sports car World Endurance Championship WEC in four classes: LMP1 (eg. Porsche 919 Hybrid), LMP2, LMGTE-Pro (eg. 911 RSR) and LMGTE-Am (eg. 911 RSR and 911 GT3 RSR). They all compete together in one race but are classified separately.
The 2014 races
20 April Silverstone/Great Britain
03 May Spa-Francorchamps/Belgium
14/15 June Le Mans/France
20 September Austin/USA
12 October Fuji/Japan
02 November Shanghai/China
15 November Sakhir/Bahrain
30 November Sao Paulo/Brazil
All reports on the previous season can be found in our archive.