Porsche Certified Collision Centres
The best solution when the worst happens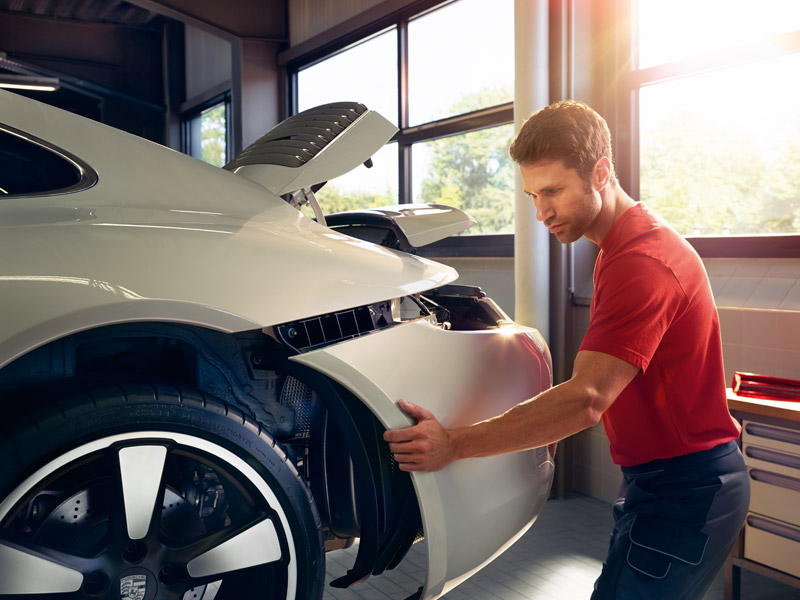 Your Porsche, back at its best.
Accidents can happen to even the most experienced driver. It could be a scratch on a bumper, a stone chip on a bonnet or major structural damage after a collision. Whatever happens to your Porsche, you will want to know one thing: that the repairer will restore the vehicle back to pre-accident condition.
So if anything ever does happen, it is good to know that we have already established a network of Porsche Certified Collision Centres to provide collision repair services that meet the high quality standards you've come to expect from Porsche.
It's your choice. Following an accident, it's your legal right to have your vehicle repaired wherever you choose. Therefore, you should make sure that if you're involved in an accident, it is repaired to the very highest Porsche standards.
Only the best are chosen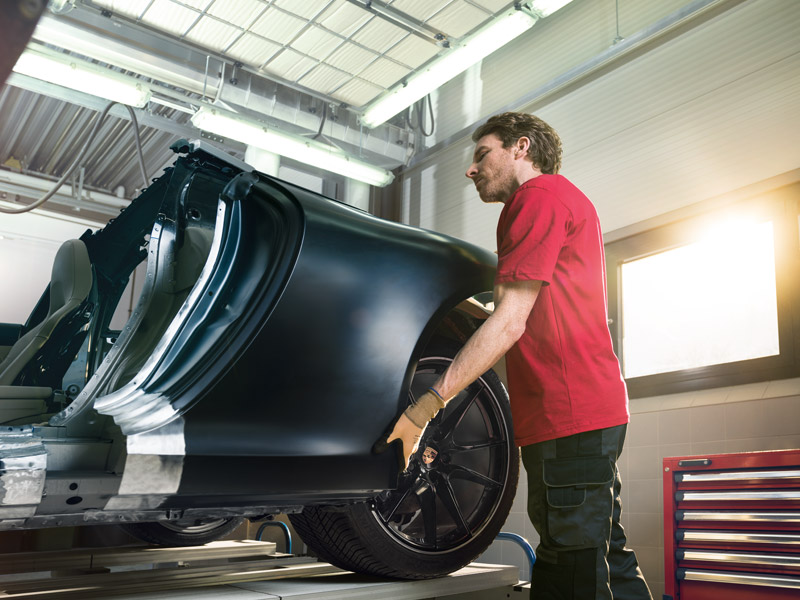 They cannot exceed your expectations until they have met ours.
Every Porsche Certified Collision Centre has been individually selected for their ability to repair and restore Porsche vehicles to the highest Porsche standards with an emphasis on both safety and value.
Every Porsche Certified Collision Centre must pass the strictest certification process, including tooling, thorough technician training, quality standards, and a commitment to maintaining the value of your Porsche through the use of only Porsche Genuine Parts.
Each Porsche Certified Collision Centre is audited regularly to ensure factory standards and procedures are always maintained.
With only Porsche Genuine Parts, tools, and equipment at hand, you can trust Porsche Certified Collision Centres to ensure every last detail of your Porsche retains its original, authentic glory. You will also continue to enjoy the backing of the Porsche body guarantee for up to 12 years.
Porsche Certified Collision Centres
Canberra Bodyworks
18 Faunce Street
Queanbeyan NSW 2620
Tel: 02 6297 5000
Col Summerhayes Crash Repair
377 Woolcock Street
Garbutt QLD 4814
Tel: 07 4779 3222
Cafasso Motor Body Repairs
98 Richmond Road
Keswick SA 5035
Tel: 08 8371 1933
RJP Official Body Repair Centre
622-624 South Road
Moorabbin VIC 3189
Tel: 03 9555 4540
ESR Prestige
419-431 Canterbury Road
Canterbury NSW 2193
Tel: 02 9735 1111
H. Harvey Prestige
3-7 Sierra Place
Upper Coomera QLD 4209
Tel: 07 5580 5900
Charlie Battisti & Co.
2-4 Moncrief Rd
Nunawading VIC 3131
Tel: 03 9894 4622
McCarthy Prestige
122 Gugeri Street
Claremont WA 6010
Tel: 08 9384 9400
Exclusive Body Werks
23 George Street
Clyde NSW 2142
Tel: 02 9760 0353
Miami Smash Repairs
10 Hibiscus Haven
Miami QLD 4220
Tel: 07 5535 9444
George & Co Bodyworks
98 Maddox Road
Williamstown North VIC 3016
Tel: 03 9397 5788
Mirage Spraypainters & Panelbeaters
187 Campbell Street
Belmont WA 6104
Tel: 08 9478 2404
LSR Collision Centre
55 Hotham Parade
Artarmon NSW 2064
Tel: 02 8458 0400
Shipstone Accident Repair Specialists
112 Bowen Street
Windsor QLD 4030
Tel: 07 3857 4142